Martha Cooper, an iconic American street photographer, lives the life that many would envy. Ever since the early 70s, she's been capturing the essence of street culture and art in NYC, which was and still is the very center and  melting pot of various lifestyles. Cooper started small, shooting her closest neighborhoods, but her immeasurable passion for street photography set her on the road to success and fame.  She has been capturing street art for more than forty years and her passion for photography hasn't vanished even after such long and arduous career.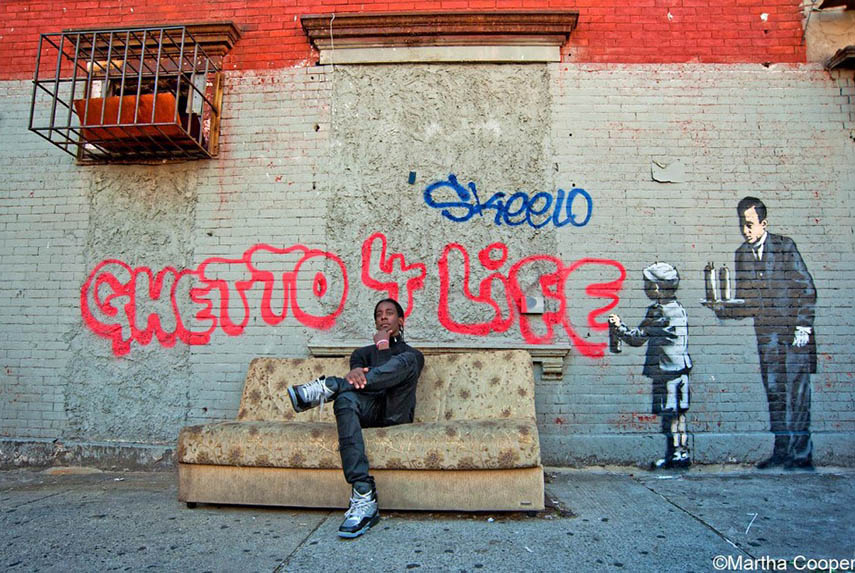 Camera Store Girl
Cooper was growing up surrounded by cameras and photo equipment, so it is not surprising that she took her first photos when she was just three years old. With her father who was a Baltimore camera store owner, she would hit the streets, looking for excitement and adventures. Even at that early age, she had the same need to look for pictures, or to put it more precisely, to look for ways to frame and preserve the reality. She graduated from high school when she was sixteen and quickly earned her art degree from Grinnell College – already when she was nineteen. Cooper was a very lively and dynamic teenager and didn't want to dedicate too much of her energy to education. She was excited to do many things and fill her life with as different projects as possible. She taught English at Peace Corps, became a volunteer in Thailand and did a huge motorcycle trip from Bangkok all the way up to London, where she eventually obtained a graduate degree in anthropology. Afterward, she started with various freelance jobs in Japan, Maryland and Rhode Island, but decided to settle down in NYC in the early 1970s because it was a great challenge to make a living in NYC and the photographer was ready to play it big. She was fortunate enough to get a job at The New York Post in 1977, which was her biggest achievement in that period. It was the life in NYC that helped Cooper understand what was her biggest interest in photography.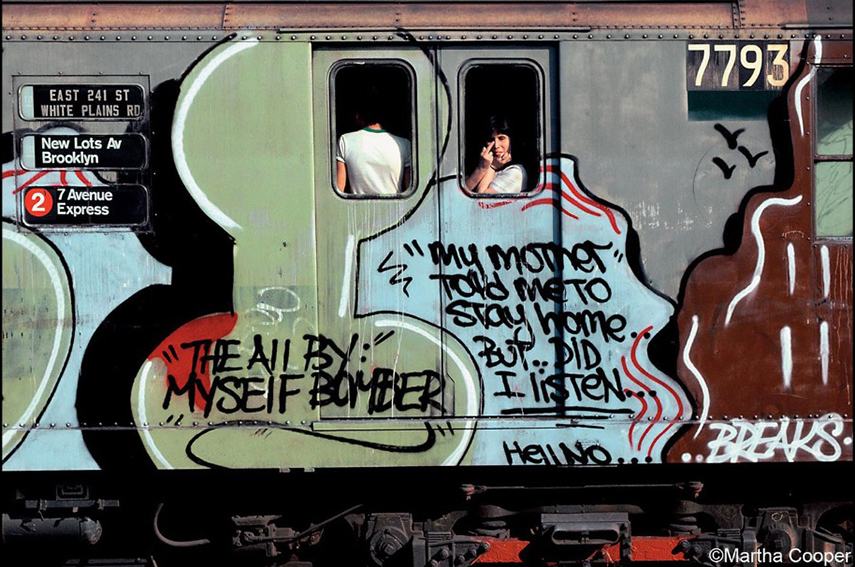 Capturing The Concrete Jungle
The artist's first encounter with street art and graffiti happened in the late 70's while she was working on a report for The New York Post. She was assigned to take photos of people and children for featured stories and during one of these assignments she met a young street artist who taught her about graffiti art and terminology. For example, he showed Cooper various graffiti tags (graffiti artist signatures), which make it possible to pin down the name behind the artwork. Later on, Cooper was introduced to famous graffiti artists of the 70s and the 80s, such as Dondi. Before meeting these people, the artist didn't know almost anything about street art. She said in one of her interviews: Until then I had not really understood how they had been able to paint such large pieces -- often covering an entire subway car -- in one night. Or how they could climb up to the top of the train and paint. After the close observation of the street artists' work, Cooper became fascinated with NYC underground subculture . She started to go for photo shoots at night and capture the graffiti artists directly while their work.
The artist was hungry for discoveries and adventures. She would spend her time at bombed-out neighborhoods, ghetto quarters, railway stations and abandoned buildings, waiting for the night and streets artists to come and resume their work. At the time she was about to finish her contract with New York Post in 1980, she wanted to dedicate herself primarily to her own photography and not photojournalism. Together with a  fellow graffiti photographer Henry Chalfant, Cooper published a book on NYC street art, containing a plethora of photographs they took in the 70s and the 80s. Many publishers rejected the book but eventually Cooper and Chalfant made a deal and the photo book called Subway Art was published in 1984. It wasn't an immediate success, but over time, it sold half a million copies and established their reputation worldwide.
Cooper's more recent assignments were international - she traveled to South Africa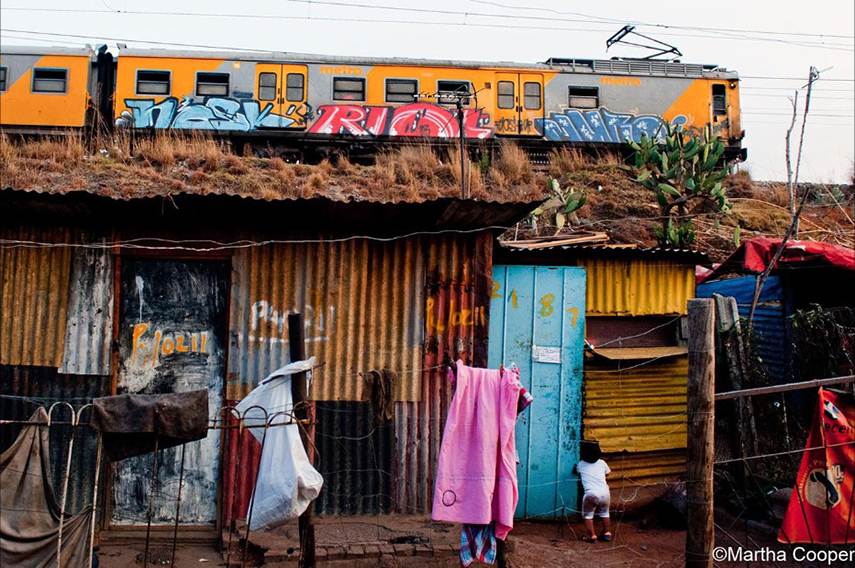 Four Decades of NYC Street Art
In 2009, a 25th-anniversary edition of Subway Art was published, meaning that Cooper and Chalfant made their long-term dream come true. However, even after this immense success, Cooper never stopped taking photos. She has published thousands of additional  photos in books such as R.I.P.: Memorial Wall Art, Hip Hop Files 1979-1984, and New York State of Mind. Her work has been exhibited in museums and galleries worldwide and published in the most prestigious magazines such as National Geographic and Vibe. She had also traveled abroad, to South Africa, for a couple of street shoots. Even though she is still shooting streets, some of her current project are featuring people and events in Sowebo, an infamous neighborhood in her native Baltimore, struck by drugs dealers and poverty.
A heart-warming tribute that NYC graffiti artists made in 2013, for Cooper's 70th birthday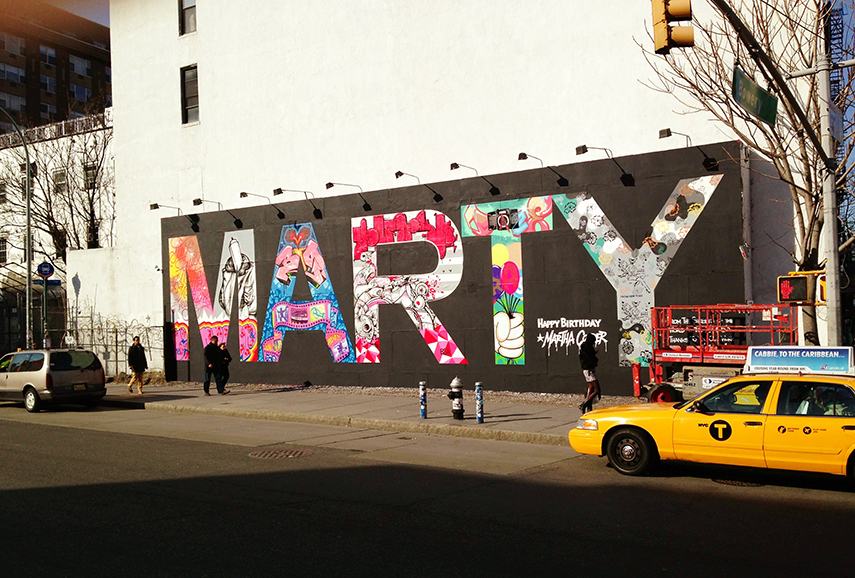 City that Never Sleeps
The photographer is now in her early  70s and just like the New York City itself, she rarely takes rest and still captures the novelties of street art on daily basis. Every day I see something that I've never seen before. Even today I stumbled upon stickers featuring tags I'd never seen before, she said in one of her recent interviews.  Cooper is a natural-born explorer of the urban art and thanks to her invincible and dynamic personality as well as her curious mind, she continues to rise and shine in the world of street photography.
Martha Cooper lives and works in New York City.
Featured image: Martha Cooper Portrait
All images copyright © the artist