Dealing with radicalism and sharp social commentary, Marvin Gaye Chetwynd or Spartacus Chetwynd, born as Alalia Chetwynd, creates performances that manage to process serious themes through the combination of epic ambition and hilarious free-form extravaganzas. Her picturesque and carnivalesque events involve the group of participants, mostly her friends and relatives, strange home-made costumes and accessories, reflecting the wide range of sources, from Hieronymus Bosch and Rabelais to Meatloaf and Conan the Barbarian. Merging the practice of performance, sculpture, painting, installation and video her work uses the elements of folk plays, street spectacles, literature and various other genres conjoined in the realm of her distinctive style, marked by improvisation and spontaneity.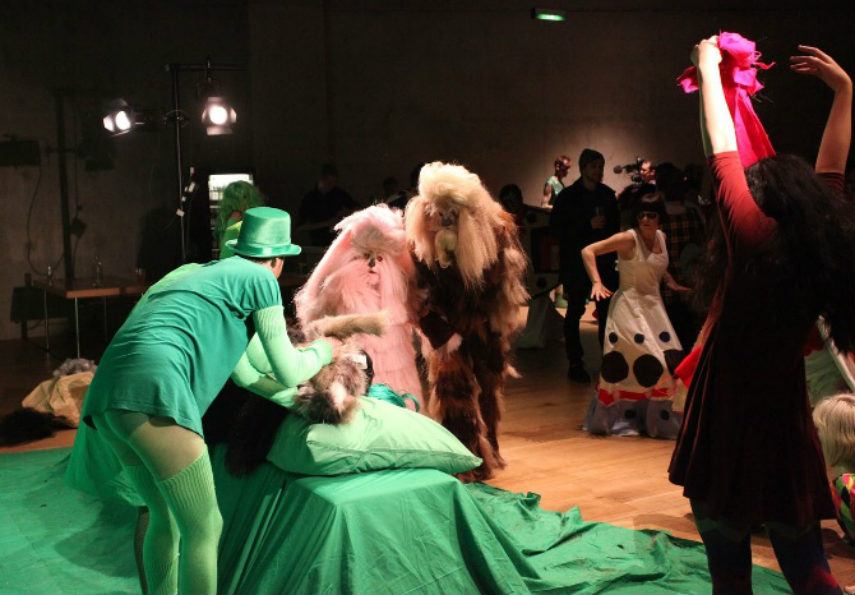 From Alalia to Spartacus and Marvin Gaye Chetwynd
Chetwynd was born in 1973 in London where she gained her education in anthropology at the University College London (UCL) and later in painting at UCL's Slade School of Fine Arts and the Royal College of Art. Working with her performance group in one project in 2006, she has thought she needed a more robust name that was Alalia and decided to change it to Spartacus, after the slave who drew together people of different nationalities and cultures to rise against the Roman empire. Seven years later, she changed her mind again, choosing to name herself Marvin Gaye, because of being so taken by his life, using that story as the reminder to herself to protect the most important thing she has in her life – the family[1]. Making the reinterpretations if the iconic moments from cultural history, particularly the examples of extremist behavior and belief, her performances erase the wisdom and insanity, revealing the creativity of utopian vision instead. Trying to completely immerse into the world of her subjects, the artist herself describes her approach as "unbridled enthusiasm" considering the aim of respecting their passions and contributions with her own.
Marvin Gaye Chetwynd was previously known as Spartacus Chetwynd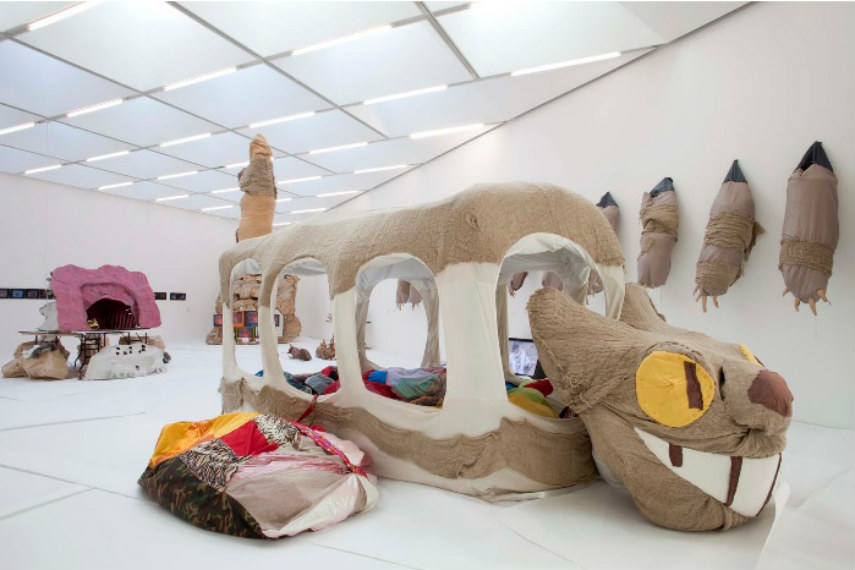 The Carnival Pieces made of Enthusiasm
Never using finished products, Chetwynd makes costumes from materials she dyes using paint and salt and creates masks and other accessories from latex molds or cardboard, emphasizing the importance of one person's efforts which always have real and meaningful consequences. "Enthusiasm makes sense to me," Chetwynd reveals. "My work is more like comedy or carnival rather than something that is professionalised; it has a fun rebellious energy. Humour is often marginalised, it's underestimated how hard you have to work to get or keep your ground. My performances are really gestural and are not meant to exist afterward. I wanted to burn the costumes after but really had to change my attitude. My heroes are the Marx Brothers, but I only know them from the video. They bothered to make their fun, gestural, off-hand experience package-able, not in a dark way but in a way that people can enjoy afterward forever. It's important to make an effort to make things that last so they can continue to communicate to people."[2]One of her prominent works, Hermitos Children (2008), twenty-minute experimental crime drama, took a form of a pilot episode on TV. Following the protagonist Joan Shipman, a transgender female detective who investigates sex crimes and bizarre murder of women who died from multiple orgasms on a dildo seesaw, the vague and abstract narrative use humor and amateurism as a counterweight to formalities of performance. Non-professional actors in hand-made costumes adopt the elements of parody, placing the film between reality, fiction and dreams. The second episode of Hermitos Children was shown in 2014, at the art gallery Studio Voltaire in London[3].
The Hermitos Children got its second episode in 2014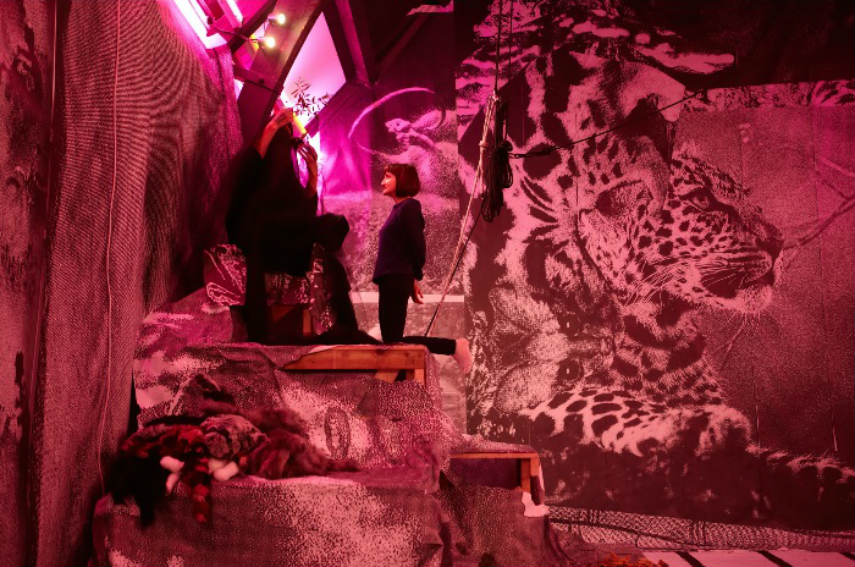 Exhibitions and Recognitions
After her participation in New Contemporaries in 2004, she was nominated for the Beck's Futures prize next year. Her puppet-play based on The Book of Genesis, Paradise Lost, and The German Ideology, named The Fall of Man was represented at the 2006 Tate Triennial, and on the next one, in 2009, Chetwynd contributed with her work Hermitos Children. This filmed performance was described as "Silly beyond words and teetered at times on the edge of porn – but once you start looking at it I defy you to tear yourself away." Her works are a part of collections of Saatchi Gallery, Migros Museum für Gegenwartskunst in Zürich, the Tate in London, and the British Council. In 2012, she was nominated for the Turner Prize.
The artist is represented by Massimo de Carlo in London and Milan.
Marvin Gaye Chetwynd lives and works in London.
References:
Benedictus, L. (2013) Why I changed my name to Marvin Gaye Chetwynd, The Guardian [September 14, 2016]
Anonymous. Marvin Gaye Chetwynd exhibited at the Saatchi Gallery, The Saatchi Gallery [September 14, 2016]
Fakhr, L. (2009) Hermitos Children, the pilot episode 2008, The Tate [September 14, 2016]
Featured image: Marvin Gaye Chetwynd - Artist's portrait - Image via bt.no
All images courtesy of Cadies Coles