Matt Bilfield is an American contemporary artist known for his bold pop art portraits in which he combines the cartoon style of Lichtenstein with the pointillism of Chuck Close. His works are made of a grid from thousands painted dowels, bringing them into focus while viewer is watching at them.
The Art of Matt Bilfield
Born in New Jersey, raised in Southern California, Bilfield taught himself graphic design and built a career around it. In the framework of the television graphics that artist has created, he noticed it was always the image that constantly changes as the viewer watches.
In conceptualizing a series of artwork, he wanted to create pieces where the vantage point dictates the image and abundance of color, in turn activating the viewer. Where the television screen has the screen framework as its boundary, he wanted to extend that boundary to the dimensions of the room itself. His idea was that everyone viewing the art gets his or her own unique perspective.
"Peggy"
Bilfield's most famous piece, Peggy, was constructed over the course of five months. Seven feet wide and three feet tall, "Peggy" is comprised of 2788 hand cut, sanded, and painted dowels that were then assembled together to recreate Roy Litchenstein's piece "M-maybe". The result is a cross between a graphic art image, sculpture, and installation which offers the viewer a different experience from every angle.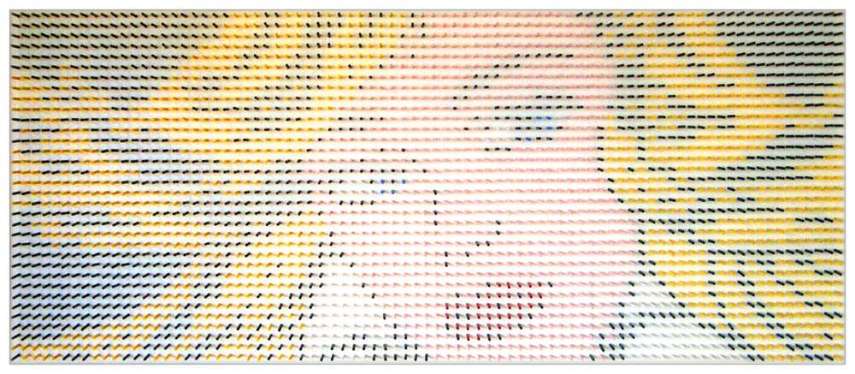 It's in the Eyes
Bilfield has been an animator for Fox for almost ten years now, and having always worked on a digital art format, his physical art is made up of tangible pixels that a viewer can not only see in person, but also walk around and experience on an emotional and physical level. In one of his latest series, "It's in the Eyes", by obscuring the eyes with various imagery or by obstructing the eyes altogether, he wanted to encourage viewers to connect their own individual experiences to the pieces, in turn creating an entirely unique experience for everyone beyond the computer or television screen. To achieve this, artist increased the density of the dowels and designed a frameless backing that allows the color and the images to take center stage.
Matt Bilfield lives and works in Los Angeles, California, USA.