Known for diverse themes and innovative aesthetic vocabulary, Matthew Barney is an American contemporary sculptor, photographer, draughtsman, and one of the most talented video artists working today. When he came onto the scene in 1991, with his surreal sculptures and videos, he was a phenomenon, reaching instant success. Since then, his work has only got better and stranger. One of the most important American artists of his generation, Barney is internationally famous as a producer of films and videos. He and his crew also make sculptures and objects for the films and turn out photographs, books, and installations derived from the film projects. He doesn't regard any of his works - the sculptures, the photographs, the books, the films - as subsidiary to any others. To him, they're all expressions in different forms of the same ideas.[1]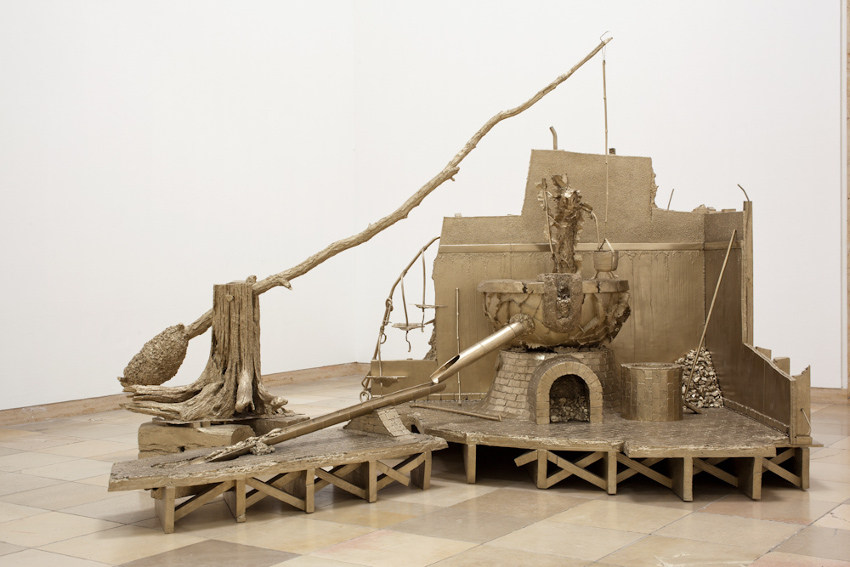 Matthew Barney – a New Kind of Contemporary Art
Barney was born in San Francisco. When he was 6, his father Robert got a job running the food services at Boise State University and the family moved to Idaho. When Barney was 12, his parents divorced and his mother Marsha Gibney, an abstract painter, moved to New York. Barney and his older sister Tracy remained with his father in Boise, but he frequently visited his mother in New York, where he was exposed to contemporary art. In high school, he played on the wrestling and football teams. The summer after graduation, Barney answered an ad for a modeling job. He was spotted by a model scout and paid his way through college working for the Click modeling agency (clients included Ralph Lauren and J. Crew). Modeling meant that he had to abandon football, but he frequently references athletics in his artwork. Barney left Boise to attended college at Yale University in New Haven, Connecticut. He entered as a premed student, thinking he would go into plastic surgery. However, after two semesters, he switched from premed to the art department. Barney's dedication and originality were recognized by other students at Yale, who convinced the school to allow Barney to participate in the program of its highly-regarded graduate School of Art while still an undergraduate. After graduating from Yale in 1989, he moved to New York. His first studio was in Brooklyn, but he quickly moved into a studio on Leroy street that he shared with Michael Rees, a sculptor he had met at Yale.
Barney's dedication and originality were recognized by other students at Yale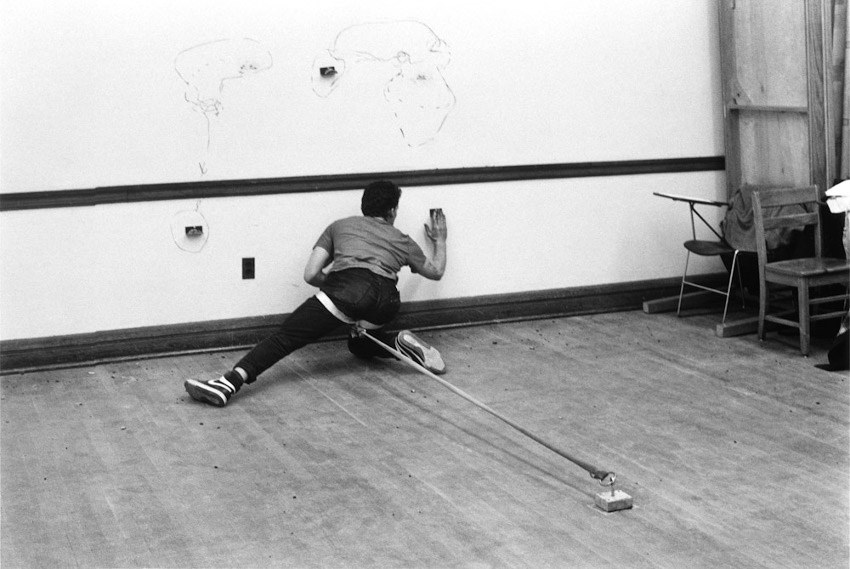 Cremaster Series
Arguably, Barney's best-known work is the Cremaster Cycle.[2] It's a series of five films with a total running time of just under seven hours. Biologically, the cremaster is a muscle that raises and lowers the testicles, and Barney used the descent of the cremaster muscle as a symbol for the onset of male gender (which appears about nine weeks after a fetus is conceived). The five films progress from a state of undifferentiated gender - a fully ascended cremaster muscle, represented by the floating Goodyear Blimps and other symbols; through the organism's struggle to resist gender definition, to the inevitable point where maleness can no longer be denied - the complete descent of the cremaster and release of the testicles. Over eight years, the artist looked beyond biology as a yaw to explore the creation of form, employing narrative models from other realms, such as biography, mythology, and geology.
Barney directed all five films and appears as an actor in all but Cremaster 1. The films were shot and released out of order; he first filmed Cremaster 4 (1994), then Cremaster 1 (1995), Cremaster 5 (1997), Cremaster 2 (1999), and finally ended in the middle with Cremaster 3 (2002). The films frequently reference one another, but each film follows a different set of characters (although Gary Gilmore and Houdini appear in multiple films). Barney has stated that the films not only trace the formation of sexual definition but also the creative process of the artist: Cremaster 1 is the spark of an idea; Cremaster 2 is the rejection of the idea; Cremaster 3 is the artist falling in love with the idea; Cremaster 4 is panic at the knowledge that the idea is about to come to fruition; Cremaster 5 is the final resolution.
Arguably, the Cremaster Cycle is Barney's best known work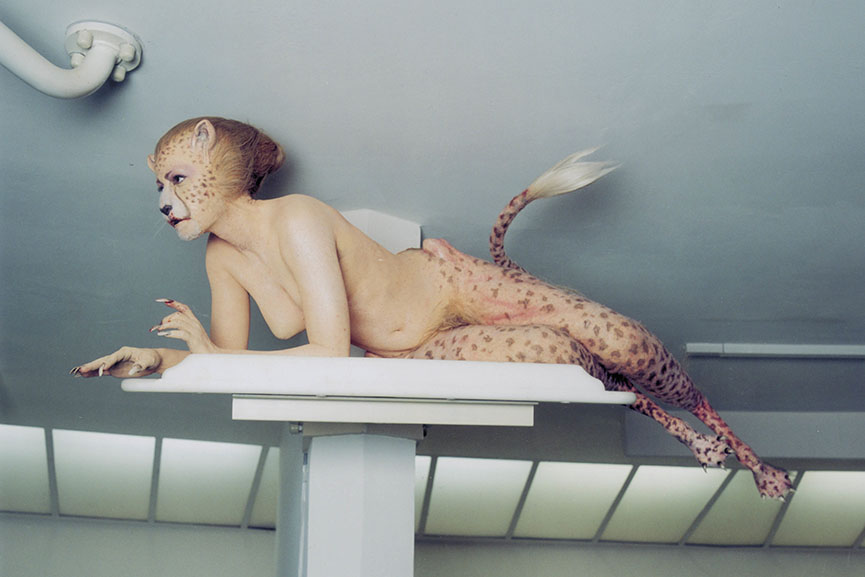 Matthew Barney – River of Fundament
Completed in 2014, River of Fundament is one of Barney's most challenging and ambitious projects to date, and certainly the first major series by the artist since the legendary Cremaster cycle. The Rived of Fundament and the Cremaster Cycle have a similar length and represent some of the largest filmic undertakings in contemporary video art. Over five hours long, River of Fundament is a liquid spectacle of words and music, mercury and sulfur, molten iron, blood and feces, polluted industrial rivers in New York and Detroit, a river in Idaho where sockeye salmon go to spawn and die. Rivers of shit run through it. "I am asking a lot of the audience, for sure. It's not for everyone."[3] This masterpiece is directly inspired by Norman Mailer's Egyptian novel Ancient Evenings, his infamous classic that chronicled the passage of a narrator through the stations of death and reincarnation.
In a sequence of unique live performances, a series of massive sculptures, and, finally, a marathon-length opera in cinematic form, made with the artist's longtime collaborator, the composer Jonathan Bepler, Barney has elaborated a richly perverse and complex universe in which mythology, iconography, narrative, sex, and death are inextricably entwined.[4] After playing the escapologist Harry Houdini in 1999 Cremaster 2, Mailer recommended his book to Barney. At first, the artist was dubious. Much of Mailer's lengthy novel is extracted from The Egyptian Book of the Dead, which itself exists in many variants. It took the author a decade to write it – Barney worked on this project for seven years. The ending result is an impeccably shot video, with stunning visuals. The music was composed and directed by Jonathan Bepler, whose works corresponds wonderfully with the magnificence of the visuals.
The River of Fundament is Barney's first major series since Cremaster Cycle
Drawing Restraint
Despite changing technologies, contemporary drawing, as a means to describe and think our world, remains central to the creative process. It is a basic form of human expression capable of communicating across all kinds of cultural borders. Drawing has always been an incredibly important part of Matthew Barney's practice: his first major work, completed while still at Yale Art School, involved him creating a wall drawing while harnessed to the ceiling of his studio.[5] In contrast to his films and live events, which have in some instances involved hundreds of participants, Drawing Restraint is Barney's solo mode of practice. Prior to his exhibitions being made public, Barney will typically deploy trampolines, hoists and technical climbing equipment to ascend and traverse the otherwise empty spaces. Through this process, these architectural confines become the restraining element of Barney's expanded drawing procedures. The residue and marks that result from these interactions index the artist's contact with his environment, resulting in site-specific works that make a subject of the artist's body and its physical limitations.
Matthew Barney lives and works in Long Island City, Queens.
References:
Kimmelman M., The Importance of Matthew Barney, The New York Times Magazine [November 14,2016]
Spector N. and Wakefield N., Matthew Barney: The Cremaster Cycle, Guggenheim Museum Publications (2002)
Searle A., Matthew Barney: 'My work is not for everyone', The Guardian [November 14,2016]
Enwezor O., Matthew Barney: River of Fundament, Skira Rizzoli (2014)
Kertess K., Horn R., Phillips A., Subliming Vessel: The Drawings of Matthew Barney, Skira Rizzoli; 1st edition (2013)
Featured image: Matthew Barney – portrait – image via hammer.ucla.edu
All other images courtesy of Gladstone Gallery