Matthew LaPenta is an American artist who works in painting, sculpture and installation, best known for his work that criticizes social networks, media, and our involvement with modern technology in general. He was born in Cleveland, Ohio. While growing up, Matthew showed remarkable talent and interest in art, which eventually led him to Chicago Portfolio School.
Internet things
LaPenta's artistic expression spans several media, primarily painting and sculpture. As he would concisely put it: "I paint and sculpt Internet things." But his artwork goes beyond that. In today's world, where information travels fast, quicker than a mouse click, people are forced to live a life online. Through his work, LaPenta explores the relationship people have with technology – the effect it's had on us (and will continue to have), and on society.
Trolling Mark Zuckerberg
Trolling Mark Zuckerberg is LaPenta's installation, ironically highlighting our dependence on and addiction to Facebook. He plastered Mark's face on streets signs, with words "Big Brother Is Watching You", thus comparing Mark to Orwell's Big Brother in 1984 novel. The signs were then installed in Menlo Park, California, home of Facebook headquarters since 2011. The artwork remained there for several days, until finally taken down.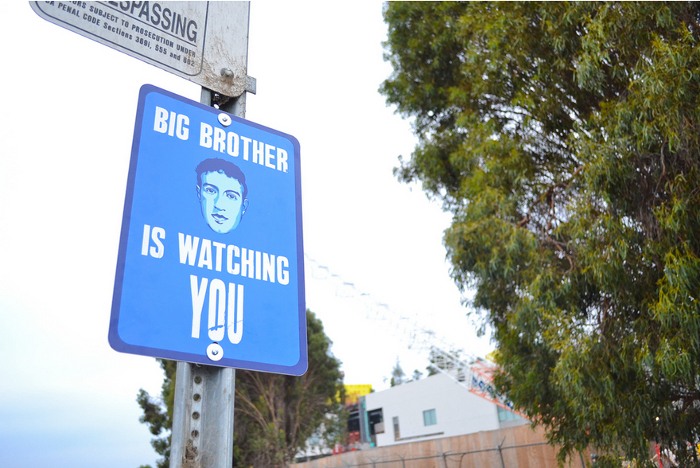 Like in everyone else's lives, Facebook became an integral part of the artist's, as well. Facebook's trademark blue color that complemented his minimalist artwork was one thing that inspired LaPenta. Another thing was the power Facebook has over its users, and the information about us that it has. All the personal data that we feed into the network becomes the property of Facebook, making it susceptible to manipulation. As Matthe says about the reasons behind this installation: "maybe it was their use of controlling your news feed to do psychological mind experiments."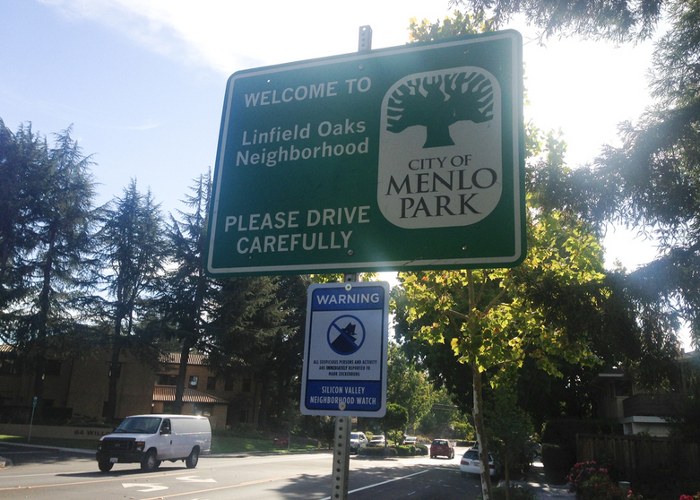 LaPenta calls it a reality check, dedicated to both the mastermind behind the social-networking giant, and its consumers – us. At the end of the day, nothing matters, because we will all continue to use it. What is important, and what Matthew tried to prove with the installation, is that we should be aware of the power and reach Facebook has. If we are aware, than we should talk about it.
All You Need Is LIKE
All You Need Is LIKE is a 2014 series of paintings inspired by Robert Indiana's sculptures and paintings titled LOVE, and ultimately, the Facebook. In LaPenta's words, "LIKE has infiltrated every aspect of our lives, both virtual and real." The lines between liking and loving something have become blurred, which is what the artist points out in the series. Furthermore, our interests have broadened, and we are not dedicated to only one thing – instead of LOVING one thing, we LIKE many.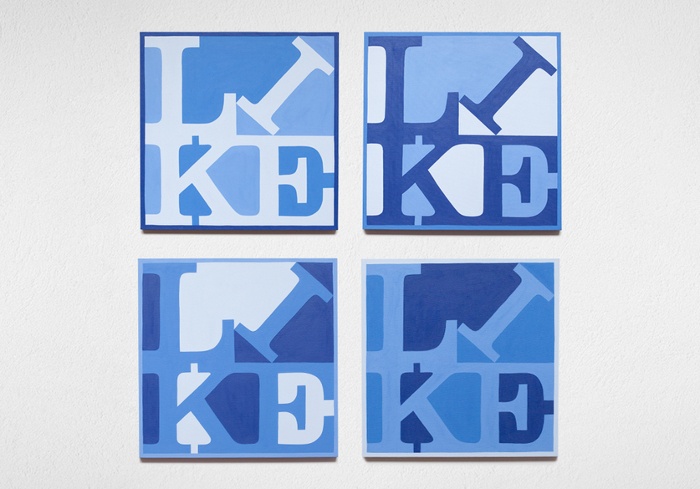 Matthew LaPenta is represented by Santa Monica, Axiom Contemporary and C.O.A Gallery from Montreal. Since 2012, he's been living in Venice, and working all around California.
Images copyright © the artist