Matthew Plummer-Fernandez is a British-Colombian digital artist and researcher who explores the relationship between digital aesthetics and artistic production.
Academic Background
Born in London, UK and raised in Colombia, Matthew Plummer-Fernandez earned his MA in Design Products from the Royal College of Art in 2009, after studies in Graphic Design at UCCA, and a BEng in Computer-Aided Mechanical Engineering at Kings College London.
The academic background informs his art practice; it provides the artist with a new toolset for producing art, as well as with a social-technical context to work with. In his artistic practice, Plummer-Fernandez examines sociocultural entanglements with technologies.
3D Printed Objects
Matthew Plummer-Fernandez uses scanning, digital fabrication and computational approaches to making artefacts, both physical and digital, that often blur the distinction between the two.
Customized software, replicability and generative techniques are the focus of his exploration of the automated systems that operate within digital culture and the physical world.
Using 3D printing Plummer-Fernandez transforms everyday images into sculptural glitches; he makes modified data-files and distorted 3D printed objects as "recomposed" abstract geometric shapes.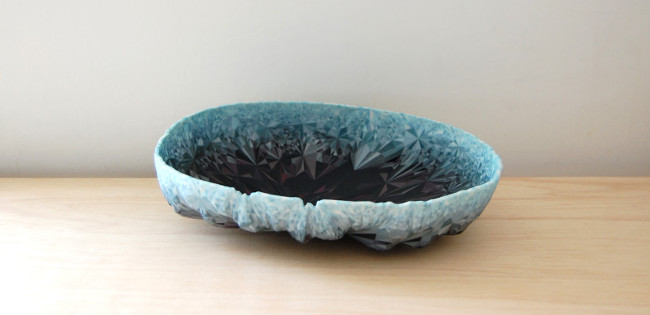 SekuMoi Mecy - 3D Scan of Mickey Mouse
Everyday items such as toys and watering can be 3D scanned using a digital camera and subjected to algorithms that distort, abstract and taint them into new primordial vessel forms. In some cases only close inspection reveals traces inherited from their physical predecessors.
SekuMoi Mecy is an ongoing exploration of derivatives of a 3D scan of Mickey Mouse, one of the most recognizable cartoon characters in the world. Each derivative shows the progression of scanning and remixing processes the artist is developing.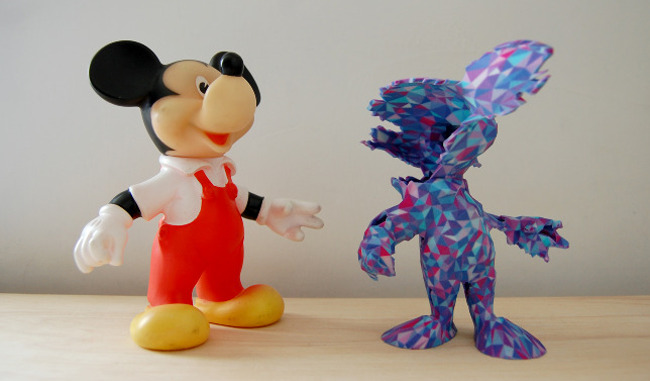 Disarming Corruptor
Matthew Plummer-Fernandez interests span algorithms, bots, automation, copyright and file-sharing.
In 2014 London-based artist was awarded a Prix Ars Electronica Award of Distinction for the project Disarming Corruptor; a free software application for disguising 3D Print files as glitched artefacts. Inspired by encryption rotor machines such as the infamous Enigma Machine, Disarming Corruptor scrambles a 3D printed file, encrypting it in such a way that the user would be greeted with a glitched-out visual treat if it was loaded into any 3D editing software.
The file recipient would need both the application and the decryption keys – the unique seven digit settings used by the sender - to reverse the process, reveal the object's true form and share the file. Entering the incorrect settings would only damage the file further.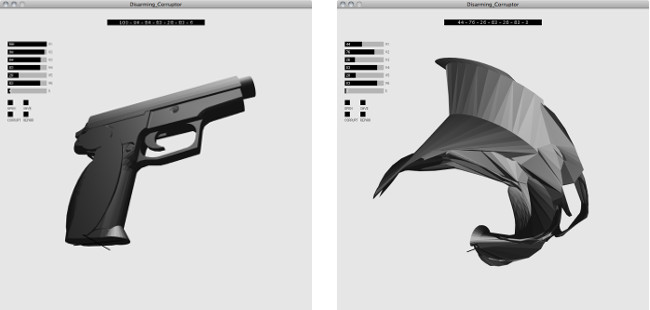 Devised as part of his art practice, Disarming Corrupter has provoked a compelling critical debate around the pros and cons of wide distribution of files to print 3D objects, from low-cost prosthetic limbs to guns.
Algopop
Matthew Plummer-Fernandez shares his research on his well-regarded blog Algopop; a popular tumblr that documents entanglements with algorithms in everyday life, and is furthering his research with a practice-based PhD at Goldsmiths, University of London, where he has worked as a research assistant and technologist for the Interaction Research Studio, as well as a visiting tutor for the BA Design course and MA Interaction Design programmes.
Novice Art Blogger
Plummer-Fernandez is also the creator of Novice Art Blogger, a tumblr bot based on Deep Learning algorithms developed by scientists at the University of Toronto for analyzing and reviewing art. The automated art blog takes images and meta-data of abstract art from the online archive of the Tate, and processes those images trying to decode the art and identify its content, generating captions for the image. It also finds the image in the database that is similar. Novice Art Blogger then reformats those responses into blogposts.
The project, lunched in January 2015, has now reached over 10.000 followers.
Exhibitions and Commissions
Matthew Plummer-Fernandez has exhibited work in galleries and museums worldwide, including Musée d'Art Contemporain de Montréal (2015); Zhulong Gallery, Dallas (2015); The Nieuwe Instituut, Rotterdam (2015); Onassis Cultural Centre, Athens (2014); Good Work Gallery, New York (2014); Phoenix Gallery, Brighton (2014); and Bensimon Gallery, Paris (2013), among others.
Plummer-Fernandez gives regular talks at conferences and leading festivals such as Future Everything, Manchester; Transmediale, Berlin; and Bartlett School of Architecture, London.
His work has been commissioned by arts organisations such as Rhizome, Arts Co, It's Nice That, and Selfridges. It has been featured in Forbes, The Guardian, Wired UK, Dazed and Confused, Dezeen and many other publications.
Matthew Plummer-Fernandez lives and works in London, UK.