An artist, writer, anarchist, musician, cyclist and painter, Maurice de Vlaminck is remembered in history of art as one of the most important figures of French modern art at the turn of the 20th century. Influenced by Paul Cézanne and Vincent van Gogh and supported by Henri Matisse, Vlaminck's expressive landscape images and exuberant vivid colors with use of wide brushstrokes earned him a place of one of the founders of Fauvism art movement, a new and exciting exploration of form, color and light.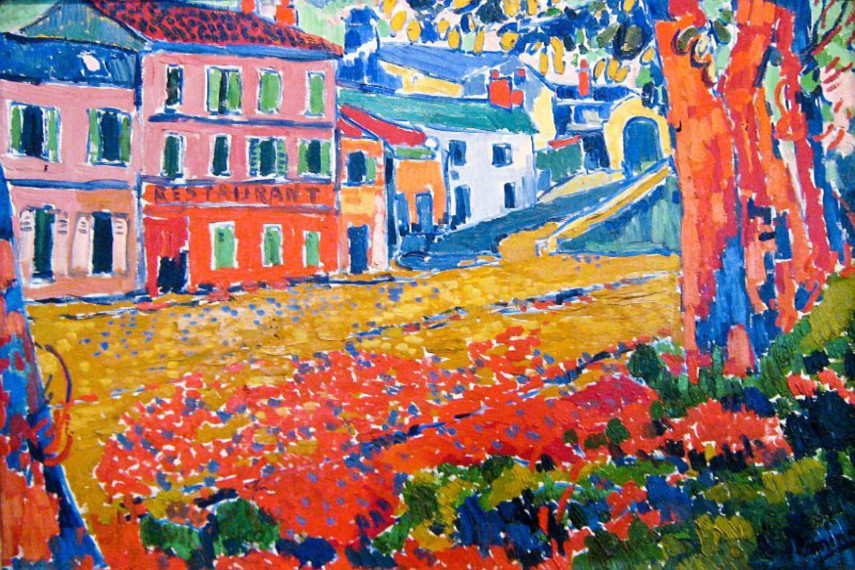 Becoming an Artist
He was born in 1876 in Rue Pierre Lescot, Paris into a family of musicians. In 1892, as a 16 year old he moved away from home to a small Paris suburb, Chatou. After a short career as a professional cyclist, Vlaminck joined the army at 22, even though he exhibited strong anti-military sentiments. It was at this time that Vlaminck went through his anarchistic phase which lasted for several years, being a strong supporter of Alfred Dreyfus and Émile Zola. Upon returning from his service he supported himself as a music teacher and orchestra player, pursued writing on the side. Until his death in 1958 he produced dozen of works, among them pornographic novels, articles, memoirs and screenplays. With no professional training, afraid he could never live from his art and pressed by responsibilities of his 1894 marriage to Suzzane Berly and their three children, he kept this work up until 1906. His most famous early painting is of a lonely prostitute sitting in a bar titled At the Bar from 1901.
In those early days Vlaminck never believed a day would came when he would live as a professional painter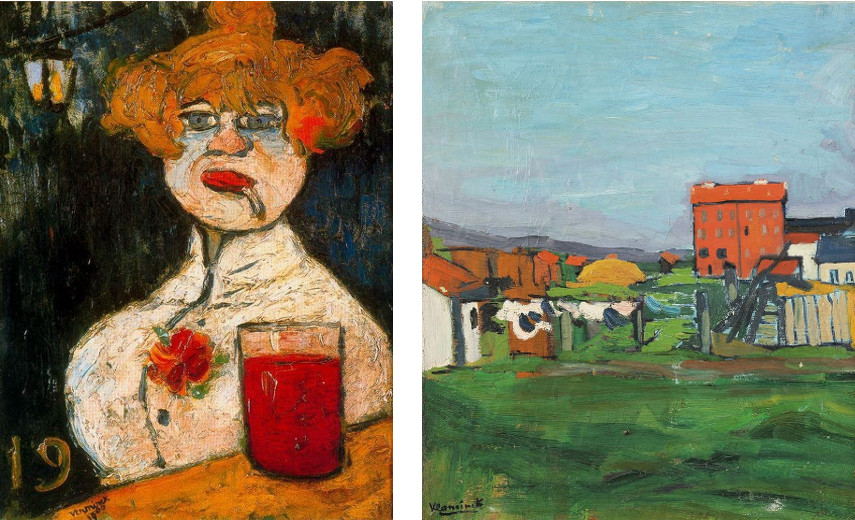 Chatou, Seine and André Derain
Maurice de Vlaminck was one of the "Chatou men" of the Fauvism art movement. Living, together with Andre Derain, in Chatou, the small French suburb on the river Seine near Paris, it was here, painting its landscape that his artistic sensibilities developed. After three years of military service in 1900 he'd accidentally met Darain while riding on a train. Derain with whom he struck a lifelong friendship was the one who encouraged him to pursue career of an artist. Before him, Vlaminck use to scrub away paint from all of his works as soon as he'd finish them. The two men spent a short year living together and sharing a studio on a small island on the Seine.
I had no other ambition than to discover with the help of new means those deep inner ties that linked me to the very soil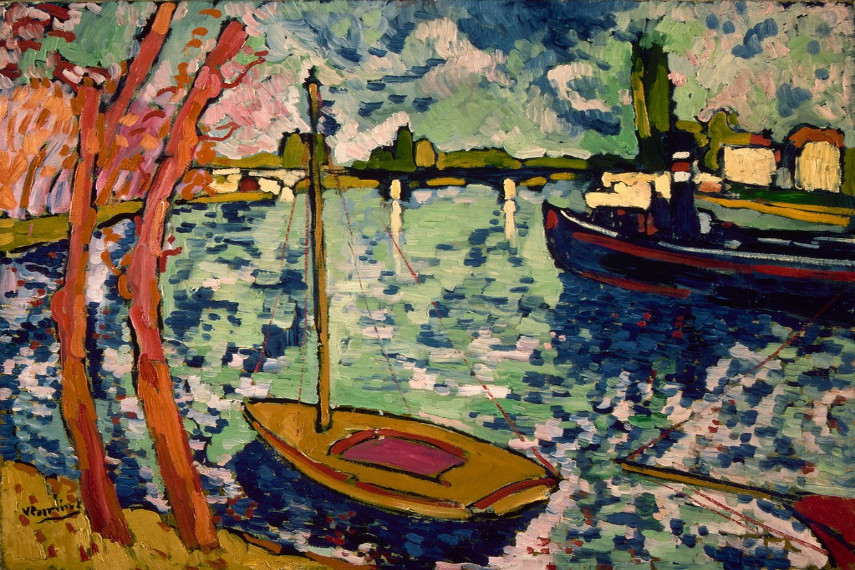 Vincent van Gogh and Vlaminck the Tender Barbarian
It was the first years of the 1900s when Vlaminck's art world transformed completely. In 1901 Derain introduced him to Henri Matisse at the largest van Gogh exhibition held to time at the Bernheim Jeune gallery in Paris. Works of Vincent van Gogh propelled the full force of Vlaminck's creativity. Like for other young artists in his generation, the 1901 show revealed yet unknown world of expression on canvas, dance of color and design. Vlaminck started using unmixed, pure paint, applying it in thick daubs and smears, often directly from the tube. Characteristic artwork from this phase is Barges on the Seine from 1906. On experimenting with style of the post-Impressionistic master, Maurice said: I translated by instinct, without any method, not merely an artistic truth but above all a human one.[1]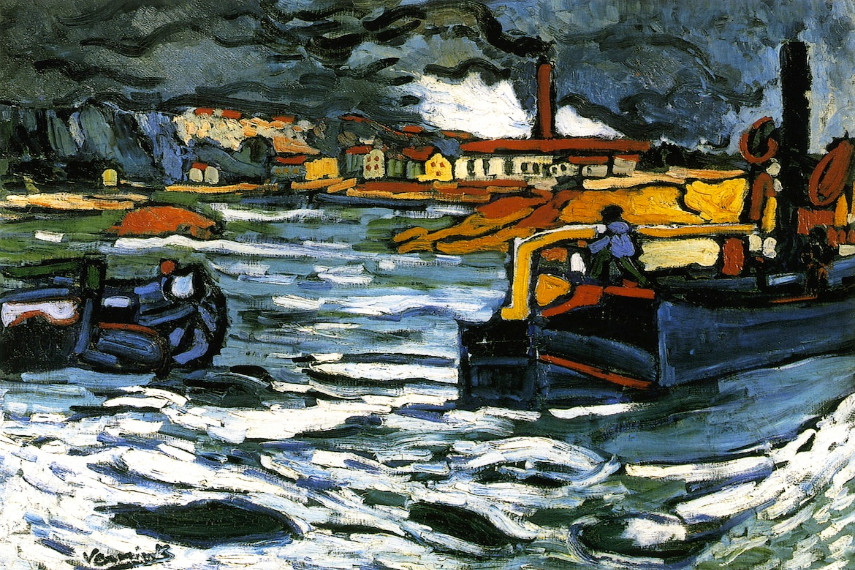 Fauves and the Historic Exhibition of the Salon d'Automne
It was the father of the Fauve movement, Henri Matisse who helped Vlaminck's make contact with the public. After visiting Derain and Vlaminck's studio on the Seine and seeing his work he reported not being able to sleep that night.[2] Matisse's involvement with Salon d'Automne society ultimately brought Vlaminck and other fauvists to independent's Salon gallery. Unlike Matisse, Marquet, Rouault, Manguin, Camoin, students of Gustave Moreau in Paris École des Beaux-Arts, Vlaminck had a strong disdain for academic painting personally taking only drawing lessons. He created his works on his own terms. Uninterested in the richness of the Louvre muesum, gallery splendors, but also for the modern art circles in Paris, he'd confounded himself to the Chatou nature from where he drew his "candid ignorance" - free and unrestrained use of color which gave him the nickname Beast among beasts - Fauve of Fauves. Even though Henri Matisse was eventually recognized as the leader of this French painter movement, Maurice de Vlaminck, up until his death in 1958 was in many ways its pioneer and strongest advocate. For him, Fauvism was but a manner of being, of acting, of thinking, of breathing. He once wrote: I wanted to burn down the École de Beaux Arts with my cobalts and vermilions and I wanted to express my feelings with my brushes without troubling what painting was like before me... Life and me, me and life.[3]
One of the vivid color landscapes exhibited at 1905 Salon d'Automne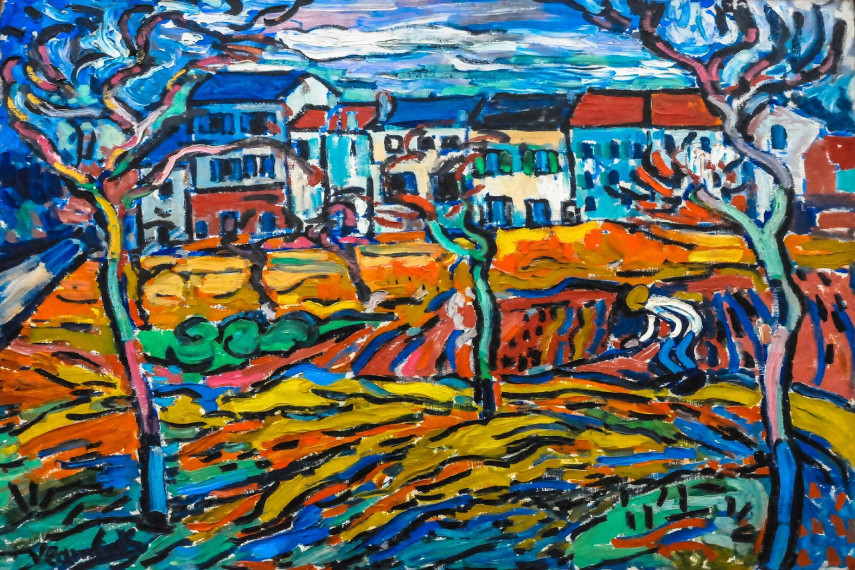 Cézanne and the Mature Phase
Short after the 1905 exhibition Henri Matisse introduced Vlaminck to Ambroise Vollard, important art dealer of the time, who after seeing his work bought his entire studio collection for 6,000 francs and signed him on a five year contract. The next year Maurice Vlaminck had his first solo art exhibition which launched his full time artistic career. Even though selling his works allowed him to turn a new page, it wasn't until retrospective exhibition of Paul Cézanne's work at the 1907 Salon d'Automne that Vlaminck's style truly evolved. Like he once immersed himself in color and light, so now he began a Cézanne like conceptualizing of structure and form. His colors assumed much lighter and calmer tones and his subject matter became more intuitive and defined. He continued paining in this style up until his drafting in 1914.
Secluded in his new forest home this was the happiest and most productive time of Vlaminck's life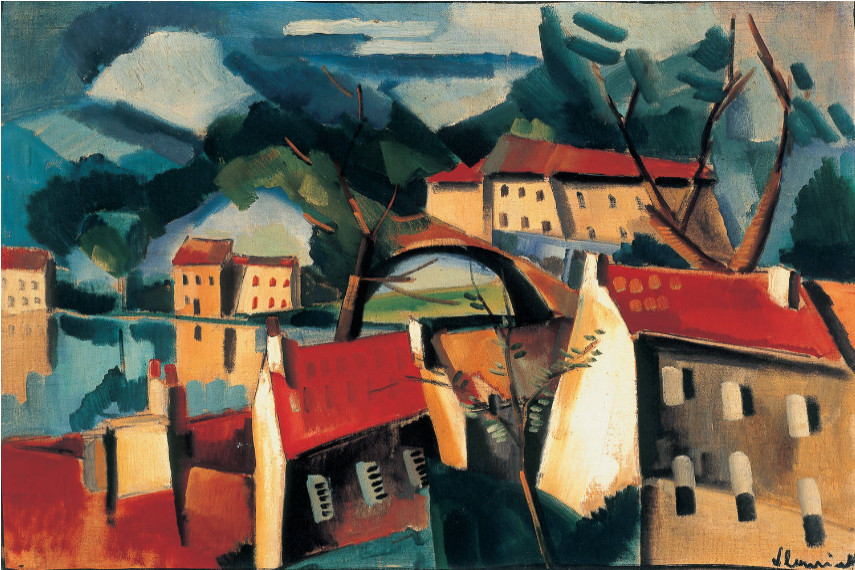 Later Years
In the interwar years Vlaminck's popularity continued to grow. With several solo exhibitions and successful sales of his paintings he managed to steadily continue his studies of still life, cities and landscapes. With his loud criticism of abstract art, especially Cubism and Picasso, he drew the attention of Nazi's and spent some time touring the Third Reich during World War II, for a time earning himself a tag of traitor among his fellow artists. In his last productive years Vlaminck became increasingly distanced from the art scene. As a mature artist, he brought much more structure and methodology into his paintings, but he never abandoned his focus on expression through color, often displaying a darker palette, and according to many returning to his violent colors in his later years. He died in Rueil-la-Gadelière in 1958.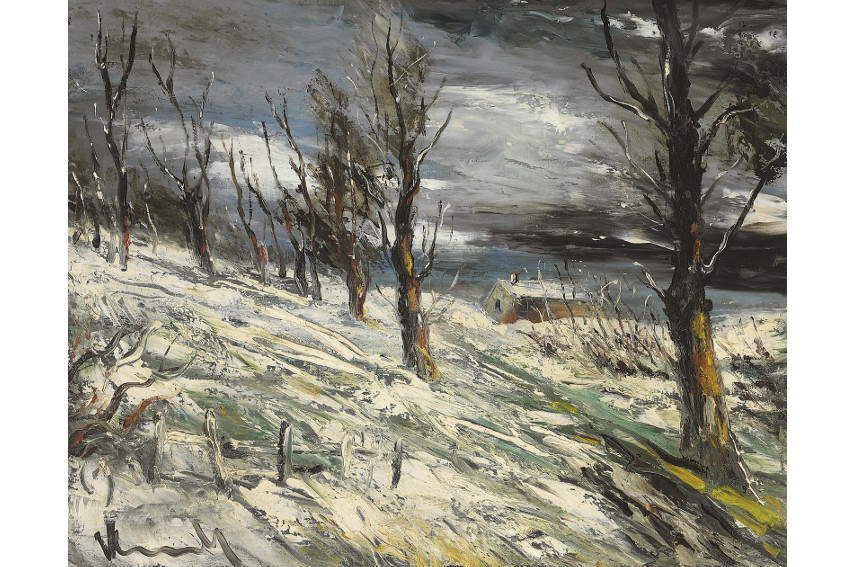 Beast among Beasts
Maurice de Vlaminck was a true vanguardist. His brave search for expression through vivid colors and his unique view of nature earned him a place among the fathers of Fauvism movement. Famous for his pure color landscapes, cityscapes, still life, portraits of ordinary men and women, play of light and structures without stressing the detail and complicating the form, Vlaminck remains one of the most important artists of the 20th century.
References:
The Museum of Modern Art, Les fauves, Simon & Schuster, 1952
Roe, S., Picasso, Matisse and Modernism in Paris 1900-1910, Penguin Press, 2015
Leymarie, J., Fauves and Fauvism, Skira, 1987
Featured image: Maurice de Vlaminck at his studio, Normandy, 1949 - photo by Gjon Mili
All images used for illustrative purpose only