Playing the role of the art world's resident jokester for the last two and a half decades, Maurizio Cattelan is a contemporary Italian artist who has been amusing and horrifying viewers for the entirety of his career. Appreciated equally for both his dark humor and his vivid sculptures, Cattelan frequently depicts celebrities, political individuals, figures from art history and animals in comically absurd scenes with deep meanings. Also a prolific curator and a talented writer outside of his artistic practices[1], Maurizio Cattelan's mix of humor and realism is matched by no other author out there. Finding inspiration in the notions of Dadaism and Surrealism, his concepts and ideas are so impressive that many experts believe this artist is one of Duchamp's greatest contemporary heirs.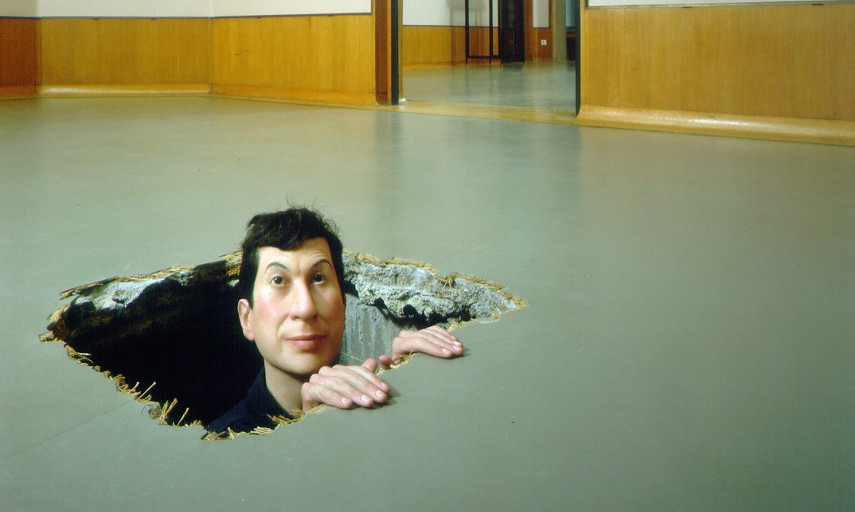 The Path to Success
Initially, Maurizio Cattelan started his career in the 1980s when he was making wooden furniture in Forlì, a city in Emilia-Romagna, northern Italy. During this time, Cattelan met some very talented designers who helped him set up his artistic manner and basis of his future artworks. One of these individuals was Ettore Sottsass, an Italian architect and designer. Eventually, Maurizio was given an opportunity to break into the scene of design and contemporary art when he optimistically sent out a catalog of his works to local galleries. Back then, Cattelan created a sculpture of an ostrich with its head buried deeply in the ground and wearing a costume of a figurine with a giant head of Picasso on it. The Italian galleries were fascinated by his creation and were lining up to get a chance at displaying Maurizio's pieces regardless of the author's demands and requirements. During this period which proved to be Maurizio's climb to the top, he also created the Oblomov Foundation - an engraved glass artwork which further catapulted the Italian artist to the elite of his country. Since the time of his emergence, Maurizio Cattelan has been establishing himself as an art scene's joker who lacked any sort of compromise and had no trouble conveying any message he desired. All were fascinated with the ability this artist presented - Jonathan P. Binstock, curator of contemporary art at the Corcoran Gallery of Art, described the early Cattelan as "one of the great post-Duchampian artists and a smartass, too". This was in part due to this author's ability to utilize media in order to expose reality as well as blur the lines between fact and myth[2].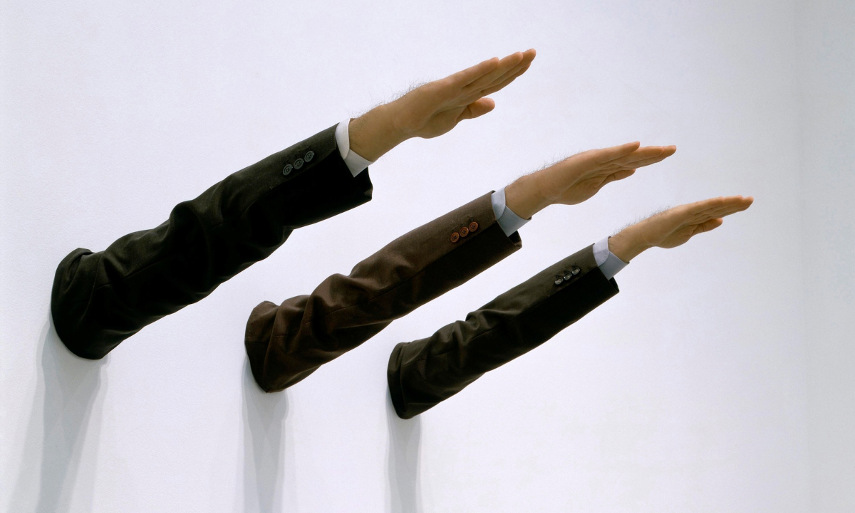 Incorporating Taxidermy and Exploring Boundaries
Since his climb to the very top, Cattelan established a style which oftentimes utilized taxidermy, a practice that flourished during the mid-1990s. This method of art-making demands that one connects humans and animals through the projections of human emotions which the former places on the latter[3]. One such piece is Novecento (1997), an artwork which involves a horse named Tiramisu which alludes to a sense of hopelessness and desperation. A similar example of taxidermy is Bidibidobidiboo (1996) - for this piece, Maurizio created a miniature depiction of a squirrel slumped over its kitchen table with a revolver at its feet. Not Afraid of Love (2000) may also serve as a fine indicator of how Cattelan uses taxidermy. In 1999, the Italian author started making life-size wax models of various people, himself included. A definite highlight of such pieces, although a bit controversial one, is La Nona Ora. This composition presented the museum viewers with an effigy of Pope John Paul II in a full ceremonial dress - being crushed by a meteor!
As he matured both as a persona and as an author, Maurizio Cattelan turned more towards publishing and curating, spending most of his time between 2005 and 2010 doing exactly that. However, Cattelan's visual arts remain this artist's greatest contribution to the scenes around the world. All of his works make fun of various systems of order, including smaller aspects such as social niceties and much larger notions such as the main concepts of religion and faith[4]. His themes and motifs are carefully chosen so they are able to convey the message in a best possible way, often leading to dark humor situations which are now considered to be the tip of Cattelan's creative spear. Ultimately, Maurizio aims to highlight the bizarre nature of the world and our interventions within it no matter where they may lie. In such attempts, no method nor motif is off the table. Cattelan's artworks were awarded on numerous times during the author's career[5], with the gold medal granted by the 15th Rome Quadriennale serving as a crown achievement so far.
Maurizio Cattelan has a unique visual vocabulary that mixes dark humor and realism, presenting the audiences with characteristic and multi-layered results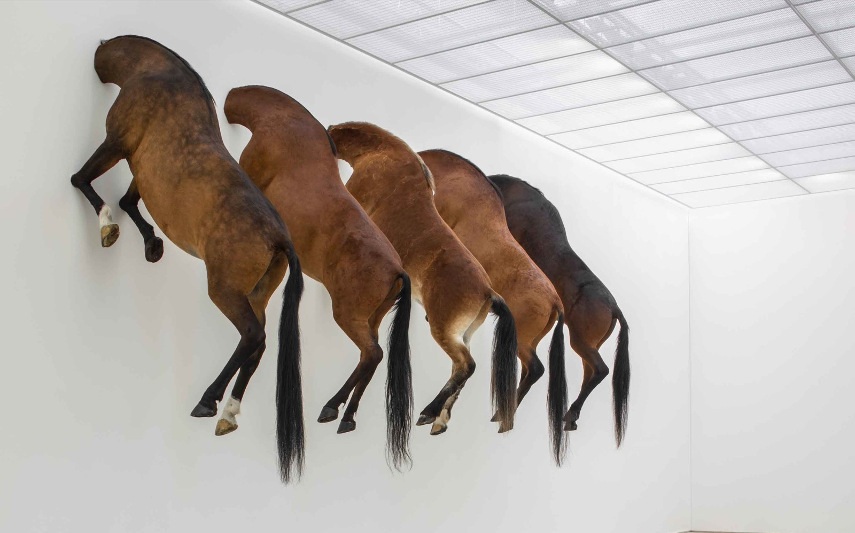 Appreciating the Uniqueness of Maurizio Cattelan
Enacting morbidly humorous transformations on objects and figures, there are not many artists out there capable of delivering such a unique artistic punch to the audiences. Cattelan's biting and surreal satire is one of the most characteristic visual vocabularies found in the contemporary scene. The way Maurizio is able to manipulate our emotions is unmatched by any other author as no one is able to make us wonder, laugh and be frighten at the same time as Cattelan's art is. This alone should be enough to cement this author's name in the art history of Italy, making Maurizio one of the key authors of this nation's contemporary scene.
This artist is represented by Galerie Perrotin New York, Galerie Perrotin Hong Kong, Gagosian Park & 75 New York, Galerie Perrotin - Turenne Paris, Gagosian West 24th Street New York, Gagosian Beverly Hills, Gagosian Britannia Street London, Massimo De Carlo Milan, Massimo De Carlo London, Me Collectors Room Berlin, Kunzt.gallery, Gagosian West 21st Street New York
Maurizio Cattelan lives and works in Milan, Italy and New York City, United States.
References:
Verzotti, G., Maurizio Cattelan, Charta; Revised edition, 2000
Corbetta, C., Maurizio Has Left the Building, Le Dictateur Press; Box edition, 2012
Spector, N., Maurizio Cattelan: All, Guggenheim Museum Publications; 1st edition, 2011
Sirmans, F., Maurizio Cattelan: Is There Life Before Death?, The Menil Collection, 2010
Cattelan, M., Maurizio Cattelan Is Dead: Life and Work, 1960-2009, Triple Candie, 2013
Featured image: Maurizio Cattelan - Photo of the author - Image via huckmagazine.com
All images used for illustrative purposes only.