As is the case with all aspects of our modern life, art must also be fueled by young and bright minds that provide the entire scene with originality and freshness. One such burgeoning artist pulling his weight for the French contemporary art scene is Max Blotas - a young drawer who has been showing massive potential with his illustrations displayed at the Molin Corvo Gallery in Paris, the City of Light which serves as this artist's hometown. From here, this artist has been presenting remarkable glimpses of creative greatness and it will be rather interesting where his talent will eventually land him.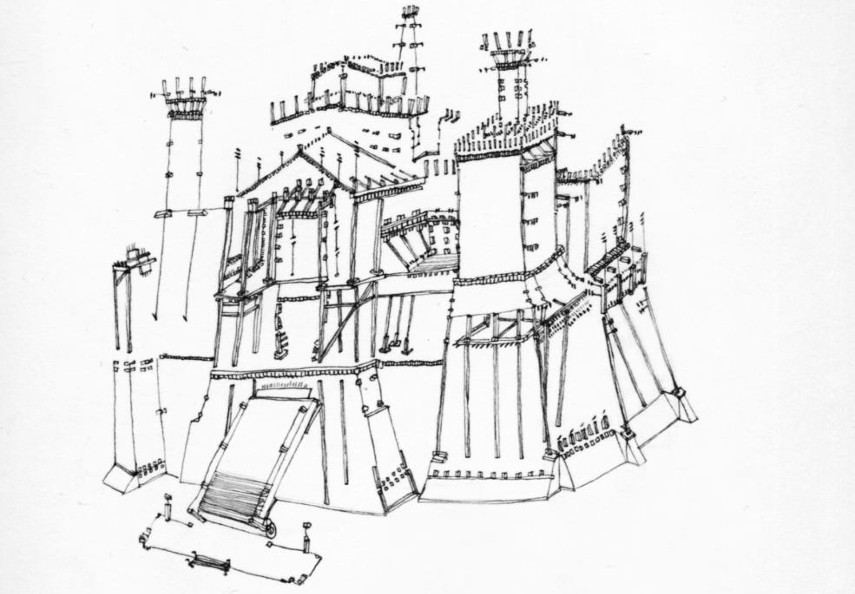 Art You Can't Teach
Max Blotas is a student from the National School of Fine Arts in Paris, a prestigious university that acquired a reputation over the years for sending out smoothly shaped young talents into the world of art. Although Blotas concentrates most of his efforts on various types of drawings, this young artist has also been prone to experimenting with different mediums such as sculpture, video, painting and digital art - although he is yet to shine as bright in those fields as he does with drawing. Nevertheless, that kind of a positive proneness for experimentation only shows what a wide creative arsenal this Paris-based painter is capable of handling and maintaining. All of Max's works explore some deeper meanings even though these motifs are hard to spot from time to time - most notably so far in his career, Max has been exploring the notions of space and mysteries of the universe, namely through what a function, a structure, a system be translated through. These hard topics are common in Max's artworks as he obviously enjoys tackling such subjects, as evident by notions such as The divisible one and The complexity of the entirety that often appear in his pieces. Arguably Max's strongest piece so far in his relatively short career is Chinese immersion - a 64cm x 140cm, recycled paper and ink drawing that looks a lot like some sort of an architectural plan when looked from afar, but it becomes quite obvious as you approach the piece that it represents a group of chaotically organized structures that are far from an engineered project. The piece is rather impressive even though it may appear to be simple in nature - Max hinted a bit at the drawings meaning by stating the following: I'm glad to present you a fresh complex of spaces, specially developed to honor the big urban centers in continental China.
This drawing represents Max Blotas's current period, but it's virtually impossible to predict where his art will take him next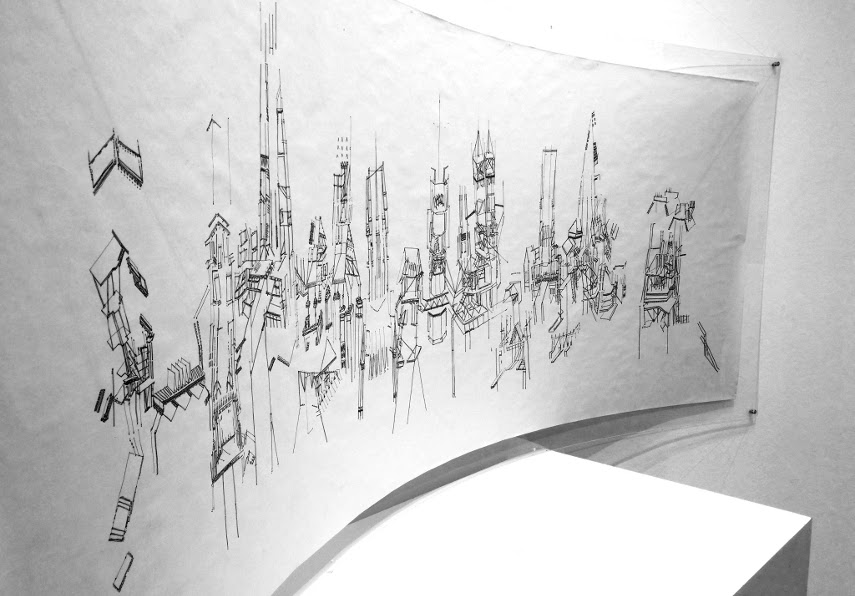 Amazing Potential
As was said before, fresh minds that bring new things to the table are always welcome in the world of art. Is Max Blotas the world-shaking revolutionary artist that will alter the state of contemporary art scene? Of course not - at least, not yet. Due to his young age, we would not be surprised if Blotas develops rapidly in the years to come and eventually grows up into a confirmed painter who will be able to impact the world as not many before him managed to do. Who knows, maybe in a decade or two, these years will be known as Big Max Blotas's black and white period that will help us define his later projects and pieces. You never know, so we'll just have to wait and see how things turn out.
The artist is represented by Molin Corvo Gallery in Paris, France.
Max Blotas lives and works in Paris, France.
Featured image: Max Blotas - Artist in front of his work - Image courtesy of Molin Corvo Gallery
All images courtesy of Molin Corvo Gallery