Best known for his outstanding post-apocalyptic folk tales on canvases, Max Kauffman is an American contemporary artist who doesn't afraid of taking more risks or traveling the longer road to get to an idea for his work. A bit of a hodgepodge of things, Kauffman's paintings shift deftly between abstraction and figuration by blurring the distinction between real and imagined, conscious and unconscious. The suggesting and exploding forms presented in his amazing body of work invite the observer's own imaginative references and conjure the joyful mess of living.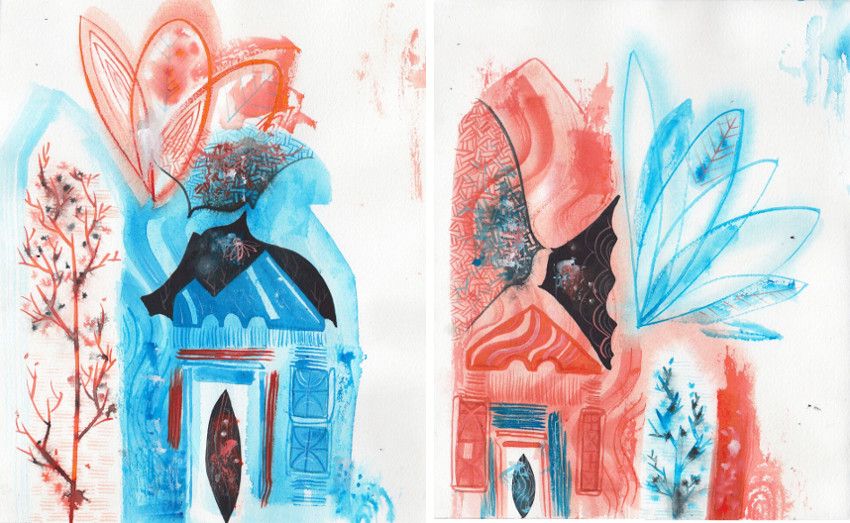 Max Kauffman's Spacescapes
Kauffman grew up in South Bend, Indiana, where he had a very adventurous childhood spending time outside exploring swamps and woods, which had a lasting effect of the work he produces. Taking influence from his childhood dreams, music, the dichotomy between the urban and bucolic and South American folk art, as well as from his vision of how our civilization will end, Max Kauffman creates stunning spacescapes with a limited color palette and a strong architectural underpinning. The hustle of urban life and deep woods hermiting the realms of real and magic, Max's pieces encompass a sense of uncontrollable chaos and an almost folkloric approach to their subject matter.
Kauffman's pieces encompass an almost folkloric approach to their subject matter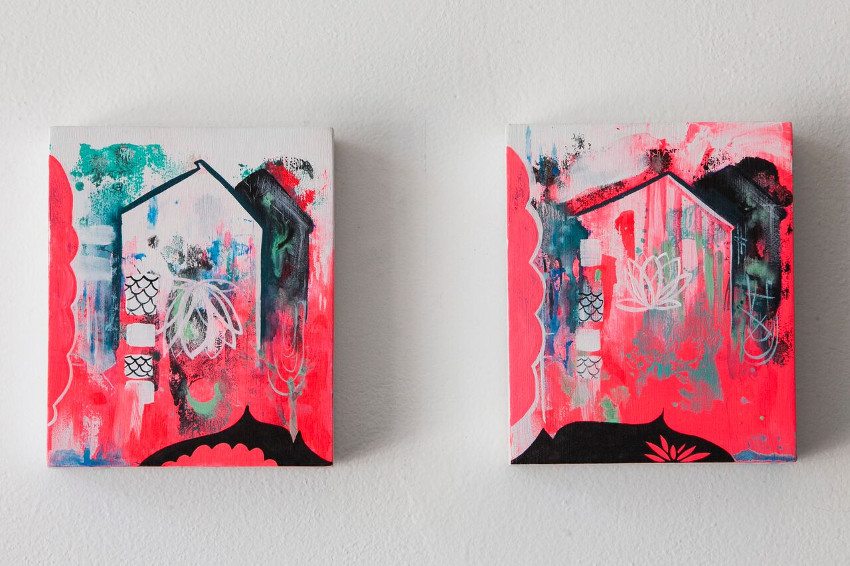 When the Current Dictates
Kauffman has spent last several years on the road exploring new possibility, embracing risk, and adapting to plans on the fly. As the results, he got new ideas and openness to the possibilities in practice. The fact that he was not able to have a daily routine he used to, inspired the artist to get out of his comfort zone and push his work in new ways. After almost a decade of working on paper, he decided to apply that technique to panel, into an entirely new direction with linen. On September 16th, 2016, Max Kauffman opened his first solo show after almost two years presenting his latest body of work. Entitled When the Current Dictates, the show is featured in CASS Contemporary's permanent satellite gallery located on the ground level of Tampa's chic Epicurean Hotel. In one of his earlier two-man show Meta Structures, he investigated how we draw comfort from inanimate objects and habitats that we occupy, letting them shape us.
He investigats how we draw comfort from inanimate objects and habitats that we occupy,
letting them shape us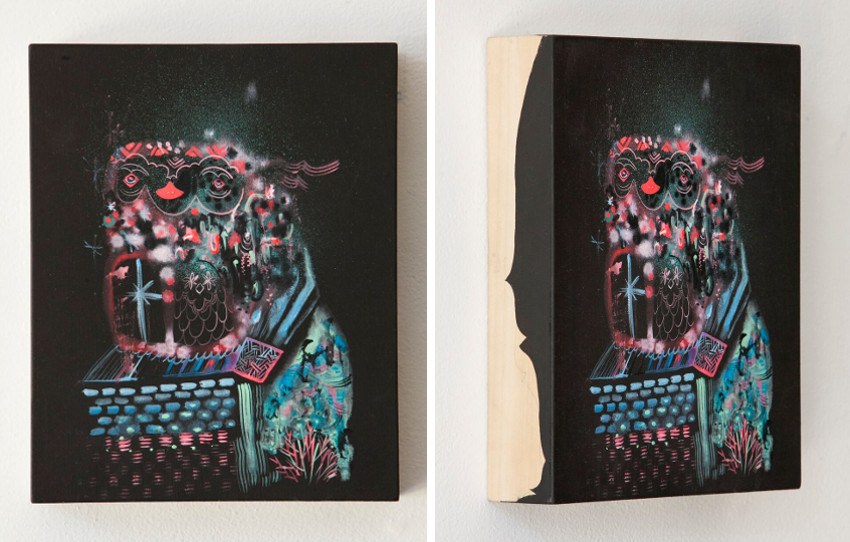 Mural for LeQuiVive Gallery
Though Kauffman typically works small-scale with media such as watercolor and acrylic, his work also encompasses sculpture, drawing, installation, and outdoors. He created an amazing mural for LeQuiVive Gallery's mural project in Oakland, California in late 2014. Filled with folk art motifs, the triptych spans an entire city block. Loosely rendering the forms of animals, flowers, and houses, Kauffman uses figurative elements as a jumping off point to explore organic patterns and textile-inspired designs. Despite his creative personality, Max keeps his color palette minimal.
Amongst painting, he also makes sculpture, drawing, installation, and outdoors





Max Kauffman — mural for LeQuiVive Gallery's project in Oakland, California, 2015

"Messy, Clean, Really Messy, Clean Again, Done"
Max Kauffman was born in 1981. He earned his Bachelor of Fine Arts in Ceramics, with a minor in Anthropology from Arizona State University in 2004. The painter describes his creative process as "messy, then clean, then really messy, then clean again, then it's done." Most recently, he enjoyed working on two or three pieces at the same time and having them all inform each other. However, with big complicated pieces, he works on one at a time but jumps to smaller works to take a break. He has participated in many solo and group shows across the United States as well as Italy, Canada and Israel. His work has been featured in publications like Boom, Lost at E Minor, Beautiful Decay, Wallfarmers, and Supersonic Electronic, to name a few. Max has collaborated with Mountain Dew, Nike, and Arbor on projects, and have written for Hi Fructose on and off since 2008.
Max Kauffman currently lives in Oakland, California.
Featured image: Portrait of the artist
All images courtesy of the artist