Megan Diddie is an American contemporary artist who explores the relationship between humans and nature in her paintings and drawings. Born in Los Angeles, CA in 1985, the artist earned her B.A. in Fine and Studio Arts/Art History from Santa Clara University in 2008. After graduation Diddie moved to Chicago, where she did post-baccalaureate study at the School of the Art Institute. Recently, she received her MFA from the School of Art and Design at the University of Illinois at Urbana-Champaign with a focus on painting and drawing.
Artworks by Diddie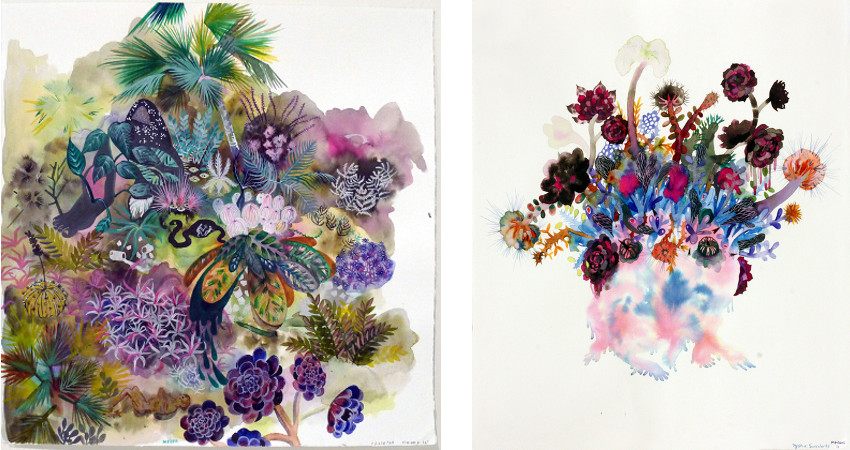 Art by Megan Diddie
In her ink and watercolour pieces, Megan Diddie depicts whimsical and transparent figures that interlace and intertwine with plants, insects, and one another in gorgeous displays of color and texture. Her lurid, jungle-like pieces are astonishing but haunting and at times, grotesque showing stunning images of human doing all sorts of uncommon things like eating small bony creatures, breathing flora into their lungs, and tarring and feathering themselves. Diddie's art is based in the thin line between life and death at place where growth meets decay.
Art by Diddie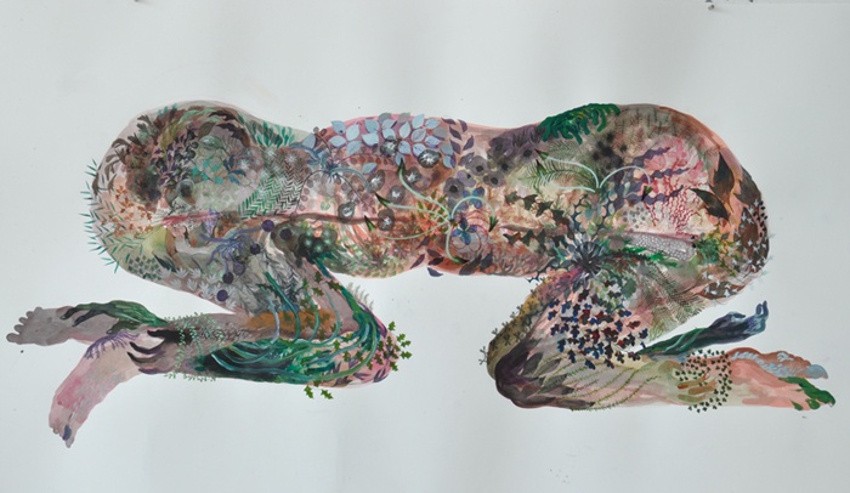 Food and Agriculture in Megan Diddie's Work
Many of her works focuses on food and agriculture, although she has not always been interested in these themes. Originally Diddie explored the human digestive system and the interaction between the brain and the gut. She was making her own versions of anatomical drawings. Subsequently, she got in food and then in agricultural issues. After reading about corn and how it's in everything she started drawing this large grain plant used for food. Over the years Diddie's work has evolved into something that is more witty and absurd, with dark humor. Pollinate/Pollute is a series of ink and brush drawings depicting imagery related to agriculture.
Haunted Harvests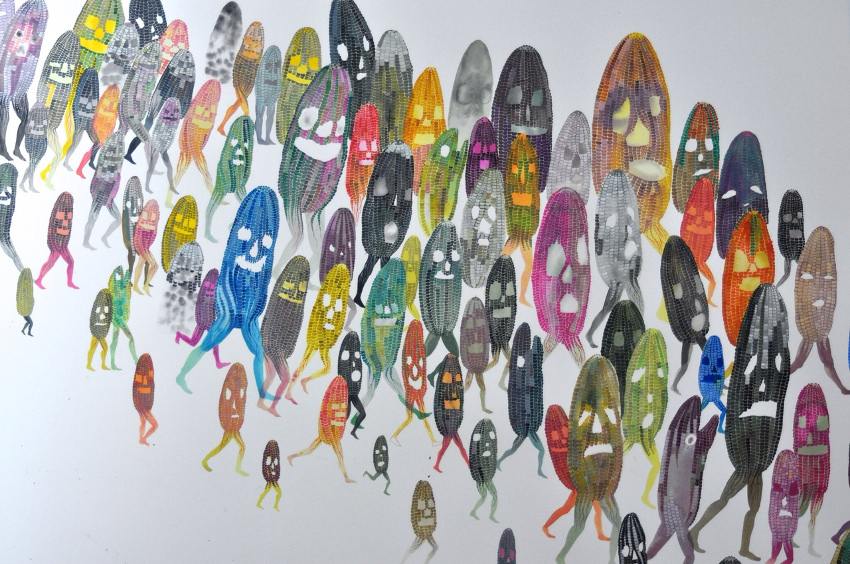 Fresh Press
She is the 2014 Student ACE Award winner for her work at the UI's Fresh Press, an agricultural waste-fiber papermaking research studio. Fresh Press project began as a collaborative effort between graphic design associate professor Eric Benson and assistant professor Steve Kostell in 2011. Diddie, who has been their graduate assistant for a year and a half, has done many workshops with UI students and Prosperity Gardens in Champaign and with visitors to campus.
Diddie is represented by Galerie C.O.A. in Montreal.
Megan Diddie lives and works in Chicago.
Images copyright © the artist