Mel Ramos was an American artist best known for his provocative yet humorous paintings and prints inspired by Pop-Art and Pin-Up style. Ramos mixed the imagery of idealized nude women with popular, ubiquitous items such as Coca Cola bottles and movie posters. From the 1960s onward, Mel Ramos was inspired by various voluptuous celebrities, from Marylin Monroe to nowadays star Scarlett Johansson. His style is based on the sensuality typical for Playboy materials as well as the appropriation of the imagery from mass media and consumer products. Ramos' paintings are based on surrealism and absurd connections between unrelated objects.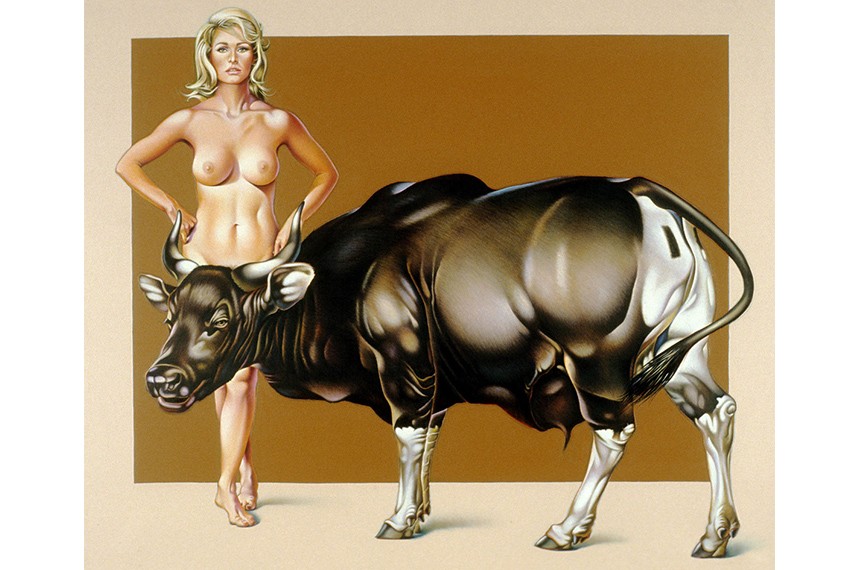 Ramos' Early Career: Pop Art Superheroes and Girls
Mel Ramos was born in 1935 in Sacramento, in a Portuguese-Azorean immigrant family. He was a figurative painter specialized in the creation of luscious female nudes. Even though his work is clearly figurative, it also incorporates various elements of abstract art. Mel Ramos started to gain his popularity during the expansion of the pop art movement in the 60s. At the time, he was creating prevalently images of popular superheroes and gradually started to include female nudes emerging from bizarre objects, such as cornstalks, bananas, candy wrappers, martini glasses or famous cigar and cigarette brands such as Havana. The nudes and objects that Ramos depicted are usually bathed in cool neon lights, which is typical for this specific type of pop art. In pieces like Butterfinger from 1995 and Miss Lucky Lulu from 1965, Ramos coupled youthful, ironically perfect female bodies with American candy bars, cigarettes, and other branded items. His pieces are well-known for exploring the ways in which modern American and Europea culture has cast the female body as interchangeable with beauty and consumerism. He also superimposed his trademark females on famous nudes from art history and classical mythology. When it comes to his education and academic career, Ramos went to Sacramento Junior College and San Jose State College. One of his art teachers and mentors was the famous Wayne Thiebaud, whose work strongly influenced Mel Ramos. The artist graduated in 1958 - he received his B.A. and M.A. from Sacramento State College. From 1958 to 1966, he became a teacher himself and taught art courses at Elk Grove High School and Mira Loma High School in Sacramento.
Ramos couples youthful, ironically perfect female bodies with candy bars and cigarettes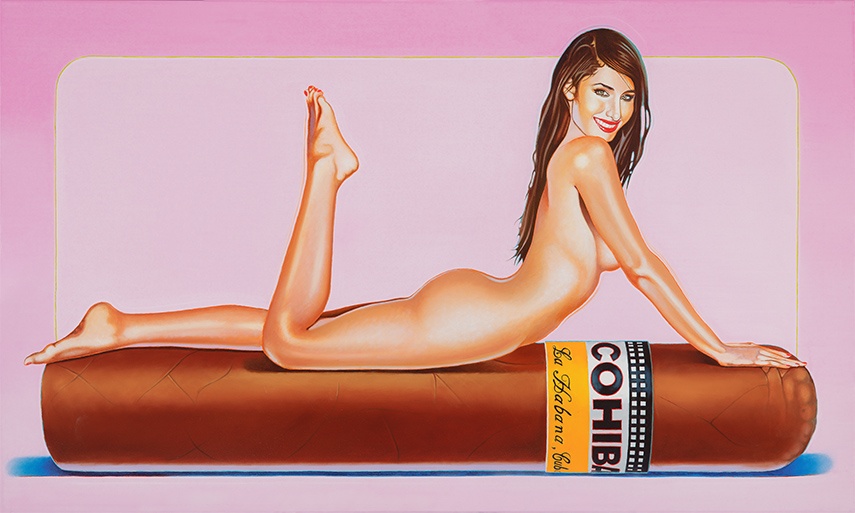 Exhibition History and Recognition
After he finished his early teaching assignments, Ramos began a career at California State University, which enriched his biography a lot. He also worked at the same university as Professor Emeritus. Mel Ramos started to gain recognition since the early 70s and until today he participated in roughly 120 group shows. Together with legendary pop artists such as Roy Lichtenstein and Andy Warhol, Ramos was one of the first artistic figures who based his painting on the images from comic books. Warhol, Lichtenstein and Ramos have exhibited their pieces together at the Los Angeles County Museum in 1963, which was a tremendous success. Later on, Ramos started collaborating with his mentor Wayne Thiebaud and produced prominent artworks that celebrated humorous aspects of popular culture and mass media. Ramos is represented by a number of influential galleries, such as the Louis K. Meisel since 1971, San Francisco's Modernism and Galerie Ernst Hilger in Austria. When it comes to his most recent exhibitions, a major solo show was held at the Albertina in Vienna in 2011 and a large museum retrospective of his work opened at the Crocker Art Museum in Sacramento, in 2012. This show is considered Ramos' first major museum exhibition held in his home town in the last three decades. Ramos's work isn't thematically uniform and during his long career; he was incorporating new elements to his art every now and then. For instance, from 1972 until his death, he worked on a series of prints inspired by famous nude paintings and prints by artists such as Willem de Kooning and Amedeo Modigliani. He also started experimenting with landscapes and self-portraits since the mid-80s.
Mel Ramos produced artworks that celebrate humorous aspects of popular culture and mass media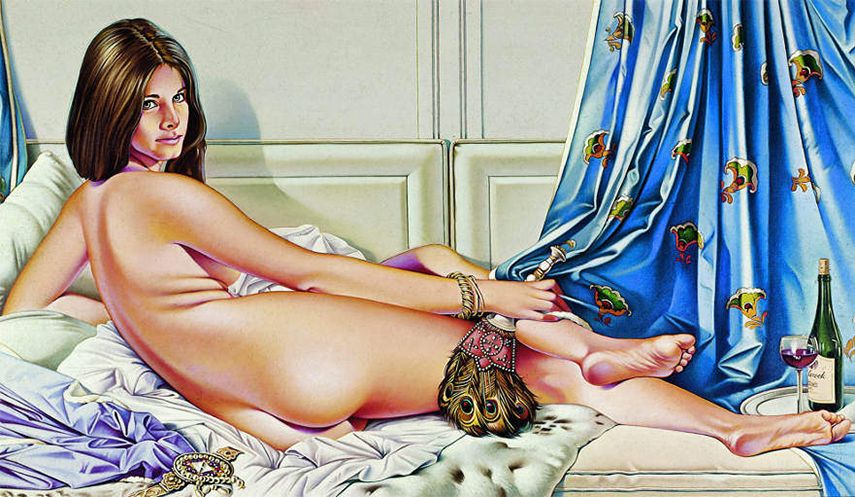 Reaction to Cliches in the Popular Mass Media
Mel Ramos' seductive works have been shown in many major exhibitions of pop and pin-up art across the United States and Europe. His pieces have been regularly reproduced in numerous books, catalogs, and periodicals as well. Even though Wayne Thiebaud had an important influence on Ramos' work, the artist's rich imagination helped him built his very own artistic style. In the 60s, he started using the motifs of pin-up girls much more frequently, which contributed to his fame and popularity. In a nutshell, the art of Mel Ramos represents an ironic reaction to the cliches we often see in the advertising industry and in the mass media.
Mel Ramos died in October 2018 at age 83. According to his daughter and studio manager, Rochelle Leininger, the cause of death was heart failure.
Featured image: Mel Ramos' Portrait - image via the-talks.com
All images used for illustrative purposes only