Mentalgassi is a name for a trio of young German street artists, known for their use of large photographs (usually portraits) pasted onto outdoor objects.
Mentalgassi and their Metalheads
Mentalgassi's artistic proposals are 100% urban, and through different techniques they interact with the street objects to create forms and shapes that make a passerby smile. They combine photography, image manipulation, sculpturing and street art; they manipulate photographs and expose them around the cities of Europe – creatiung a connection between the public and them.
"We found out that we are actually considering our work as "urban entertainment": our first aim is to make people see the world through our eyes and that hopefully this leads to a smile, because it changes a daily routine of going to work alongside the same buildings, until there is a break, a smart new little contribution to your everyday life."
Mentalgassi are insisting on anonymity for legal reasons. These three friends met at secondary school at the age of sixteen. They became graffiti writers, spraying images on walls, buildings, U-bahn stations and trains, until a situation with the police tempered their productivity – luckily, just temporarily. A trio then decided to combine their passion for graffiti with their love photographic portraiture.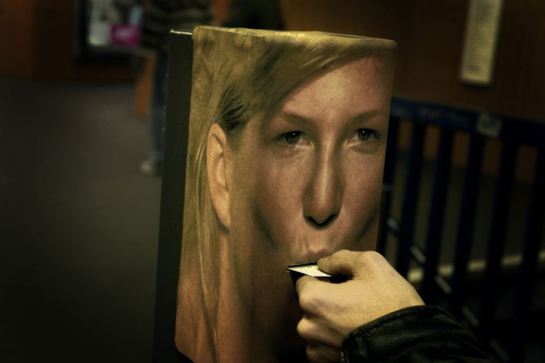 "'It was around the time that we finished school that we became interested in new media techniques -- photography, printing, image manipulation – and wondered how those techniques might be applied to three-dimensional objects."
In 2007 the friends created their first three-dimensional work. With a digital camera, Photoshop software and a large commercial printer, Mentalgassi produced vast black-and-white portraits which they then glued with wallpaper paste onto on some of Berlin's recycling bins. The photographs exposed showed a lot of emotion and face expressions that could leave the public confused and intrigued by them. They called it Metalheads, and each one was part-street-art-part-sculpture-part-photograph. Metalheads were portraits of mostly families and friends.
Public Intimacy
Since then, Mentalgassi have made things such as a hilarious face stickers attached to U-Bahn ticket validation machines, or a 'Public Intimacy' series of six fleeting Berlin installations: a photo booth converted into a lavatory, a U-Bahn driver's platform mirror redressed as a domestic bathroom mirror with shelf, toothbrushes and deodorant… Most of those installations lasted for less than five minutes, until removed by authorities. Or even public sometimes…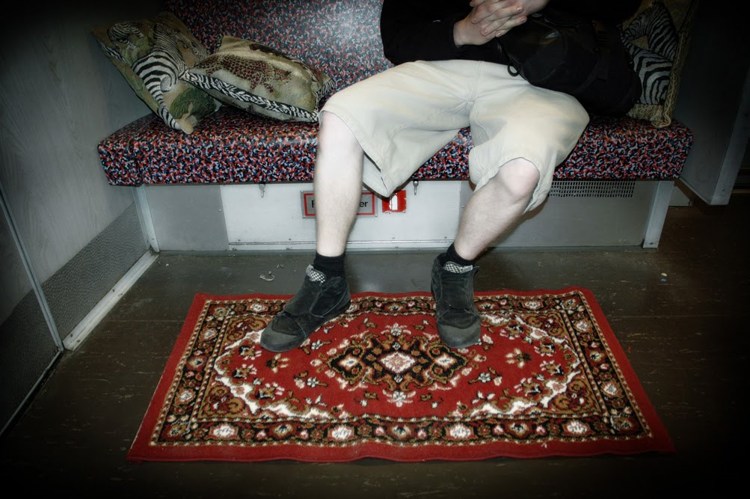 Mentalgassi: the Origin of the Name
The exact translation of word Gassi is: to take the dog for a walk. So, Mentalgassi basically means that everybody should have the need to go and let the thoughts run free. The name comes from one routine these three friends had in their youth: each Sunday, usually after an all-night Saturday party, they used to meet to walk a flat mate's dog, and let their minds wander.
"So "gassi gehen" became a euphemism for us talking about our art, for making a kind of mental journey. Hence the evolution of our name Mentalgassi" explained one of the trio.
Mentalgassi, Berlin and the rest of the World
As Mentalgassi trio admits, Berlin is vital in their work. This city gave them the possibility to play with street art, something that would never have been possible in other cities, such as Munich, they say.
"Berliners are either very interested in our work, or couldn't care less about it."
With their growing success, the three friends began to export their work along with the anarchic, humorous spirit of Berlin. At Getxo Photo near Bilbao, in response to the festival's 'In Praise of the Elderly' theme, Mentalgassi created faces on two-meter-diameter balloons and set them adrift in the harbor. In Serbia at the Novi Sad EXIT music festival they launched smiling, illuminated helium. In Poland Mentalgassi transformed a Katowice city bus into a mobile ghetto blaster…
Stadtmöbel Art
"Since we are doing our work outside like many other street artists do as well, there are less and less things in our urban environment that you would call ugly and just ignore them, but a lot of things that have not yet been transformed into something special and beautiful."
These artists mostly choose to intervene on objects that belong to the streets and that will stay there. The German word Stadtmöbel, could be translated as "urban furniture" and includes things like recycling bins, phone cells, park banks, advertising displays and whatever else that is not a building. Mentalgasse mostly stick to cylindrical objects, as they work the best with the photos-portraits they are taking.
"They are functional and we give them a face to break with the anonymity that mostly reigns in a metropolis like Berlin because we think that this makes people happy. We are all surrounded by so many things and so much advertising and it is important to remind people that it is important to do your thing and not always ask for opportunities but create them yourself."
Mentalgassi and Activism: Amnesty International Project
In 2010, Mentalgassi collaborated with Amnesty International to bring attention to Troy Davis' case. Troy was convicted of the murder of officer Mark Allen Macphail in 1991 in Savannah, Georgia, USA and has been on death row for 19 years. As a means of bringing attention to the case of Troy Davis, Mentalgasse and UK-based Brothers and Sisters (duo of Lisa and Kirsten) have developed lenticular
fence poster installations across London. The poster project entitled 'making the invisible visible' depicts the face of Troy Davis painted on fence railings.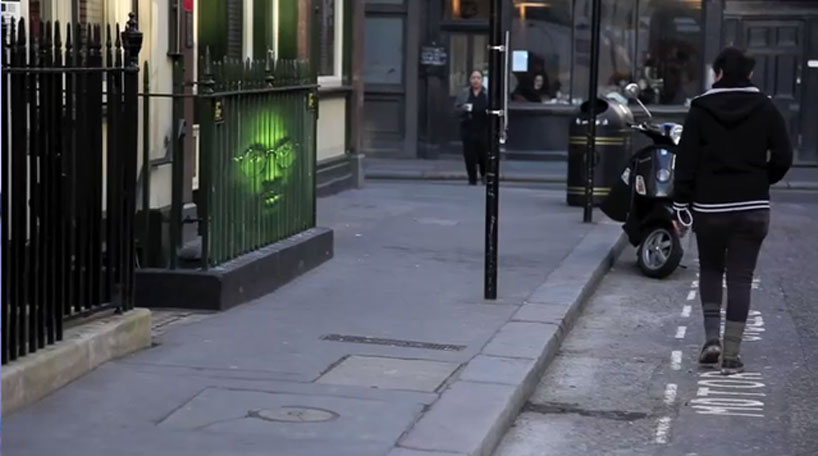 In 2011 Mentalgassi have created work that appears in 26 sites across Wales, Ireland, Germany and Denmark. The 6 individuals highlighted in this work include Fatima Hussein Badi, who faces the death penalty in Yemen after an unfair trial, Jabbar Savalan, who is in prison in Azerbaijan for his peaceful anti-government activism (including comments he made on Facebook), and Natalia Estemirova, a Russian human rights activist whose murder has not been brought to justice.
Mentalgassi and Activism: Free Pussy Riot
In 2012, for the day when the sentence proclamation was announced for the three arrested Pussy Riot activists Maria Alekhina, Nadezhda Tolokonnikova and Ekaterina Samucevich, among the several solidarity events (that took place around the world) was the one where Mentalgassi put up one of their well-known urban faces showing one of those famous Pussy Riot woolen masks…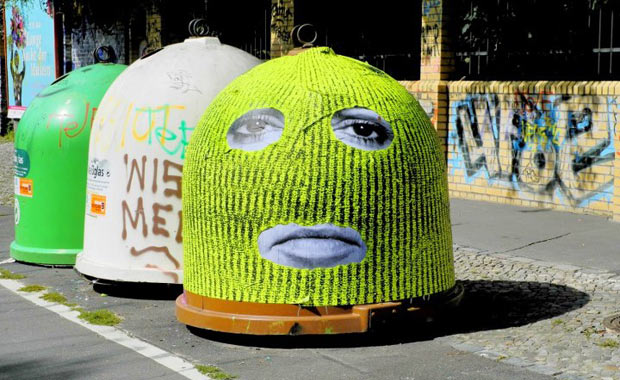 Mentalgassi in Brasil: Pimp My Carroça
In 2014, Mentalgassi visited South America and Brazil where they linked up with Mundano to work on a new series Pimp My Carroça of characters donning their customized trash backpacks. The idea was to add a little color and humor to the importance of recycling and not littering. The message was particularly on point with the hordes of tourists for the World Cup, who were leaving a trail of garbage behind.
They have also worked with Converse sports shoes and in Finland created vast 'fence pictures' as part of the Pori Art Museum 'Street Art: the New Generation' show.
Mentalgassi trio lives in Berlin.