Méret Elisabeth Oppenheim's name does not need much introduction if you've ever picked up any book related to the art history of the 20th century. She was a German-born, Swiss-based artist that represents the key female figure attributed to the Surrealist movement. Alongside André Breton, Luis Buñuel, Max Ernst and a few other visual artists, Oppenheim wrote one of the most important chapters of the 20th-century modern art. Besides creating art objects, Oppenheim also famously appeared as a model for photographs by Man Ray - these images are some of the most iconic photos of all time. Before we begin, we find it appropriate to start with an immortal quote this artist said whilst accepting the Art Award of the City of Basel in 1975: Freedom is not given to you — you have to take it.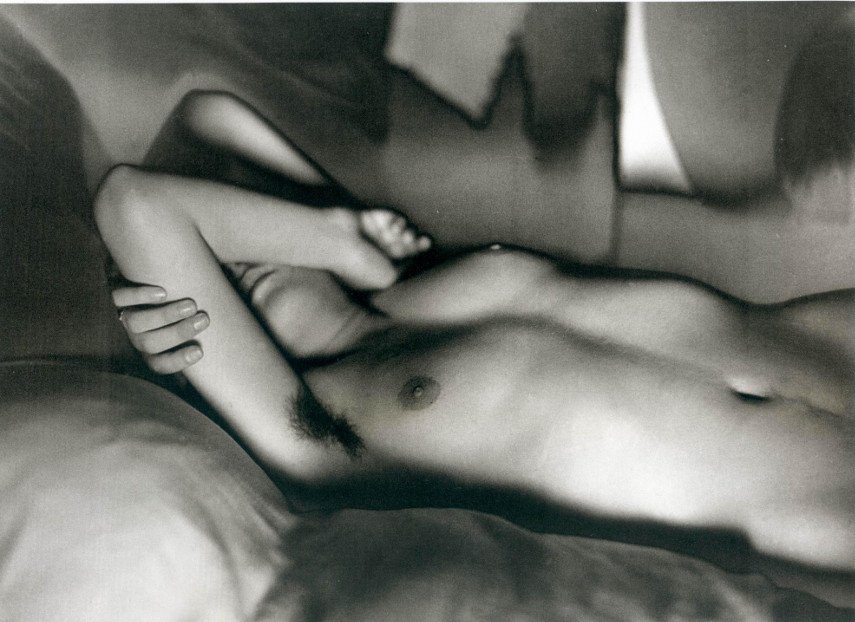 Escape From Wartorn Germany
Meret Oppenheim was born on the 6th of October 1913, in Berlin, Germany. She was named after Meretlein, a character from the novel of Green Henry by Gottfried Keller - in the book, Meretlein is a wild child that lives in the woods all on her own. Meret had two siblings, a brother Burkhard that was born in 1919 and a sister named Kristin, born in 1915. Oppenheim's father was a German-Jewish doctor and when he was enlisted into fighting for his country at the beginning of the First World War, Meret was taken by her mother and the family moved to Switzerland where the atmosphere was far calmer than in Germany. Oppenheim moved in with her maternal grandparents in Delémont, where she subsequently grew up. It was at this big house full of people that she had her first contact with art - her aunt, Ruth Wenger, was an artist and little Meret was fascinated not only by her aunt's work but also the modern way of life she was a part of. Another great inspiration to young Oppenheim was Carl Jung, a close friend of her father. Jung's writings really influenced Meret into falling in love with theater and drama - years later, she would record a personal drama based on Carl's books. These early influences helped the artist establish an excellent basis for her future work, far superior to what any academy or school could have offered her.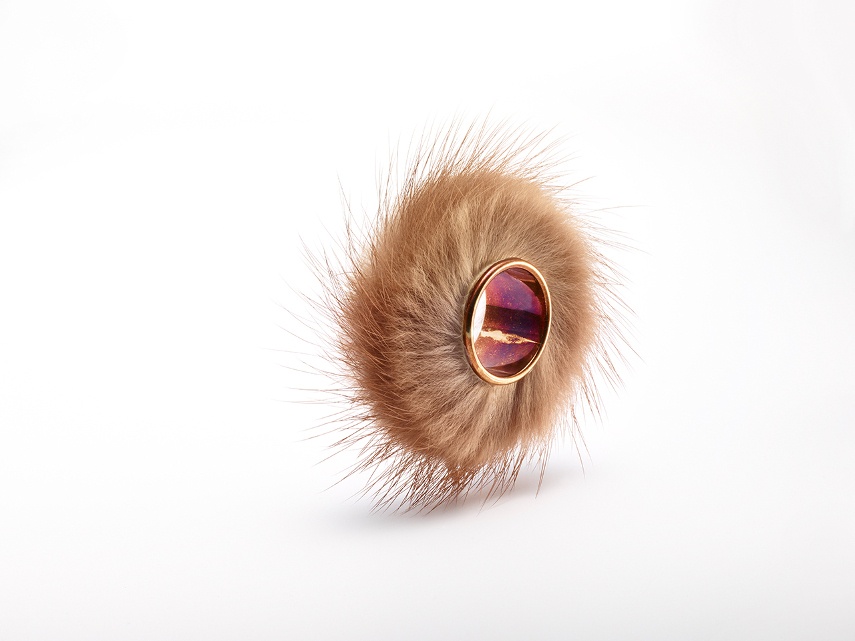 Young Girl's Dreams
Besides being influenced by her aunt and father's companions, the girl's dreams also served Meret Oppenheim as an important source of artistic creativity - this formula didn't really change for the entirety of her career. When she was in her teen years, the young girl would fantasize that one day she would be an artist worthy of being a part of Oppenheim's house - little did she know that she would not only be the most important person from her household but also one of the most influential artists of all time. A key moment of her early career was the time she observed the works of Paul Klee - this experience provided yet another strong influence to Oppenheim, arousing her to the possibilities of abstraction. Armed with all the knowledge she assembled over the years and hellbent on becoming a revolutionary artist, Meret Oppenheim moved to Paris at the age of eighteen. She sporadically attended classes at the Académie de la Grande Chaumière, but like most of the contemporary artists at the time, she was also basically self-taught and learned about art by reading unofficial manifests and visiting unacademic exhibitions.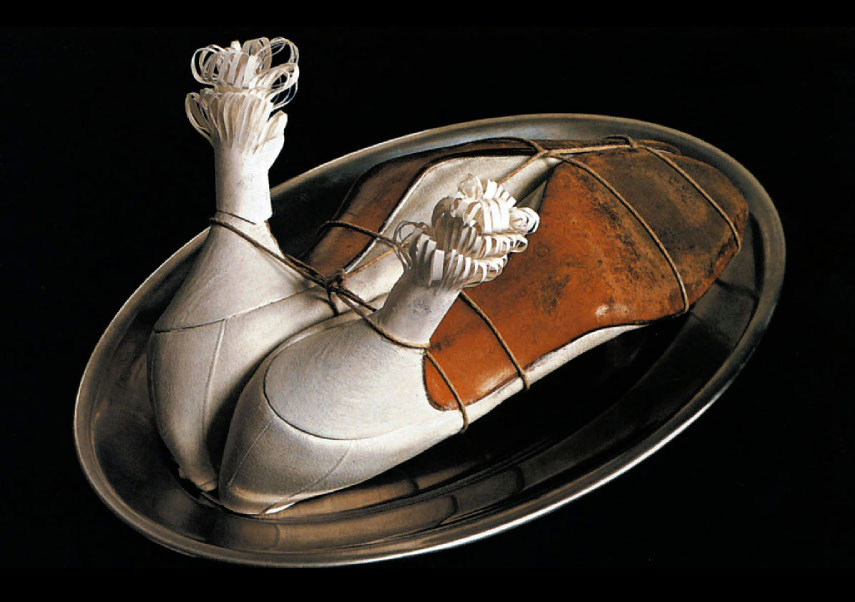 First Exhibitions
During the year of 1933, Oppenheim met the legendary Hans Arp and Alberto Giacometti. The duo visited her humble studio and saw her work, after which Meret was invited to participate in the Surrealist exhibition in the Salon des Surindépendants. The works of the Surrealist artists were on display between 27 October and 26 November that year, and although Oppenheim's pieces did not attract too much attention, she was offered an opportunity to meet the head of the new French artistic movement - André Breton. After that, Meret began to partake in meetings at the Café de la Place Blanche and became a vital part of the Surrealist circle. At the time, she famously posed for Man Ray's Erotique voilée, instantly becoming an object of romantic idealization to the Surrealists for her seemingly direct and spontaneous access to experiences of the dream world through her youth, charm and openness. Just like that, Meret became the main female of an entire movement.
Oppenheim's grand entrance into the art scene happened through the photos by Man Ray, taken during the year of 1933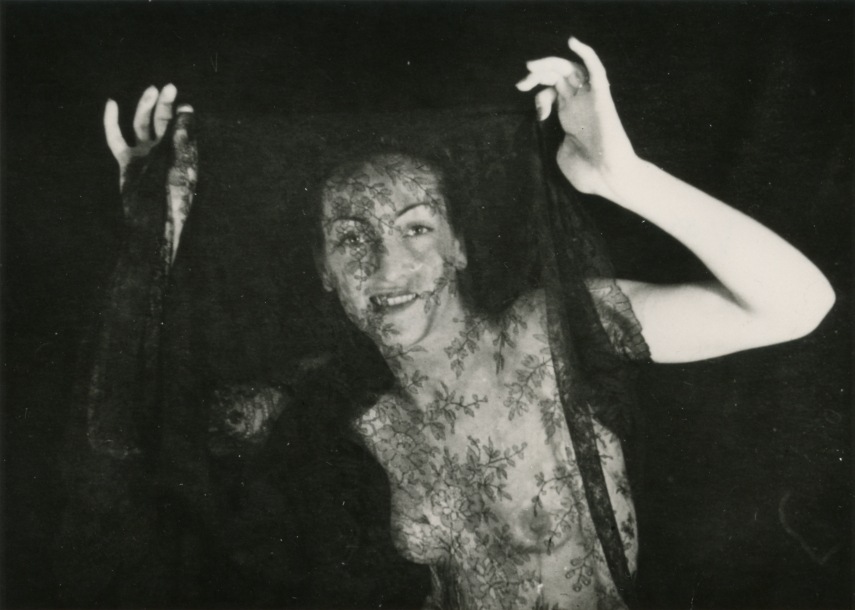 Oppenheim's Art
Although Meret's art was Surrealistic in nature, her work was also quite similar to some ideas shared by the artists of other movements, such as the concepts of Marchel Duchamp, Max Ernst and Francis Picabia - logically, she as well got along with her photographer Man Ray, although his concepts were far away from Breton's. She held her first solo exhibition in Basel, during the year of 1936 - Oppenheim continued to contribute to Surrealist exhibitions until 1960. During the early days, Meret's works consisted of everyday objects arranged as such that they allude to female sexuality and feminine exploitation by the opposite sex. Soon after she held the aforementioned exhibition at the Galerie Schulthess, Oppenheim became a leading female figure of the Surrealism movement. Her most famous work at the time is the piece called Object (Le Déjeuner en fourrure), created in the year of 1936 - the sculpture consists of a teacup, saucer and spoon that the Meret covered with fur from an actual Chinese gazelle! After the early success, Meret tackled the problem of an artistic block - she struggled to think of original ideas and usually worked in spontaneous bursts. It is even known that she often destroyed her work during this artistic block. The problem lasted for over ten years and she did not share any art with the public again until the 1950s. Even though she did not create too many successful pieces during the time of her blockade, Meret stayed true to her core ideas of painting dream narratives and using impossible juxtapositions of everyday objects to explore ideas of sexuality and identity.
Meret's most famous early piece - and arguably of her entire career - is The Object from 1933, also known as The Breakfast In Fur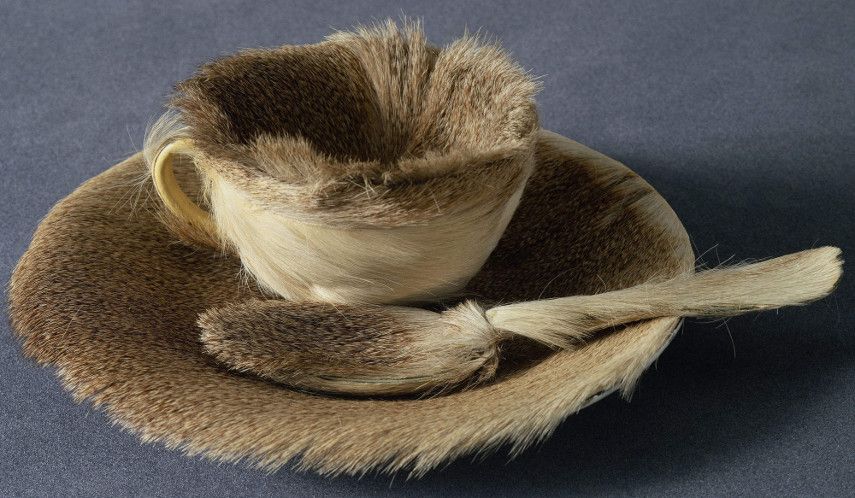 Overcoming The Dreadful Artistic Block
To this day, it is not clear why Oppenheim went into an artistic stagnation after the initial success. It was simply unbelievable that a woman so full of original ideas could simply run out of them. Probably the best explanation is that she drifted away from things that made her famous and at which she was good at, as she desired to not simply be a part of a whole but an artist for herself. For those reasons, Oppenheim partially abandoned the other artists of Surrealism and tried to build something new - this, as you have guessed, did not go as well as planned. However, Meret managed to find a solution to the mental blockade during the 1950s - at that time she reverted to her initial style and based all her new work on old sketches and creations. Simply put, that older work had the spark and fire that Oppenheim has been missing for years. In 1956, Oppenheim designed the costumes and masks for Daniel Spoerri's Le Désir attrapé par la queue, a Picasso's play in Berne. In 1959, she organized a Spring Banquet in Bern for a few friends at which food was served on the body of a naked woman. It seemed that Oppenheim's edge has returned.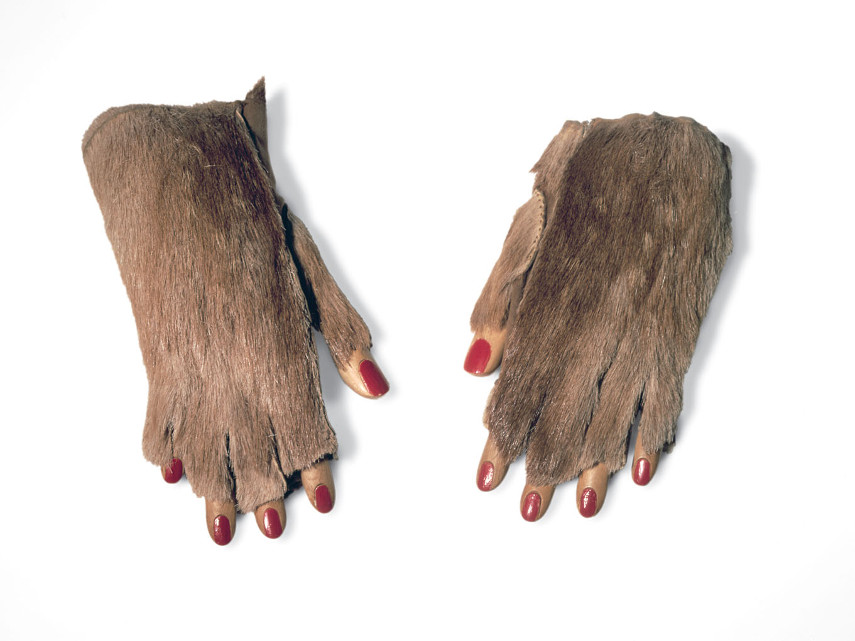 Later Life And Work
In the 1960s, Oppenheim decided to settle for good in Bern, subsequently giving this city an important note od importance in the world of art. She continued to live and work there, with only brief spells spent in Paris where she also had a studio. Meret was an important figure in feminist debates in the early 1970s, although it should be noted that the artist herself always refused to identify as a feminist, supporting some but not all the ideas behind the 70s movement. Of her mature works, we should probably highlight the The Spiral Column, unofficially known as Meret Oppenheim Fountain. It was created in the 1983 and was placed on the Waisenhausplatz in Bern. The piece was a tall concrete column wrapped with a garland of grass over a small watercourse and was deemed so inappropriate that a petition was actually signed a few years later, demanding that the sculpture is taken away. It was moved to Paris, where it was a lot better received. Three years before Méret Elisabeth Oppenheim passed away, she was awarded an international recognition at the 1982 Berliner Kunstpreis. This was the last award of many this artist received during her lifetime.
A provocative tall concrete column, The Spiral Column stands as Meret's most important mature work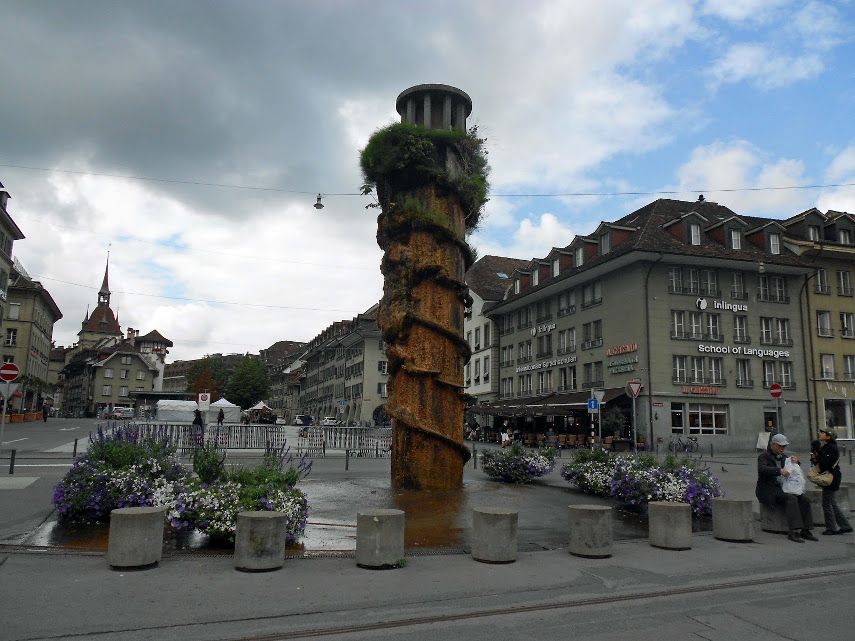 Forever A Legend
Méret Elisabeth Oppenheim decided to do something quite extraordinary as she was nearing the end of her life - she left behind her notes that dictated which patrons and colleagues she liked and where her work should end up. She directed which of her writings should be published and when, keeping an incredible amount of control over her artistic legacy for someone that passed away. Unfortunately, in one of her many mental bursts, Meret burned some of the notes so a few decisions that were lost had to be improvised according to what was believed her wishes may have been. This, however, did not interfere too much in the building of her artistic heritage - to this day, Meret Oppenheim remains one of the key figures of the Surrealist movement and without a doubt one of the greatest female artists to have ever lived.
Featured Image: Meret Oppenheim - Erotique voilée (Veiled Erotic), 1933 - Photo Credits Man Ray
All Images Photo Credits Meret Oppenheim