Meryl Donoghue is a British artist, born in 1984, in Reading England. She works in different media, from pencil drawings to animation. Her work is concerned with the power of strangeness, the in-between and the outcasted. She finds inspiration in nature, literature, folklore and mythology. The artists who influenced her work include Chris Cunningham, Jan Saudek, Kiki Smith, Salvador Dali and Jeff Wall.
Donoghue attended Bath Spa University in Bath and obtained her first-class honors degree in Fine Art in 2007. Her final show was awarded the Bath Spa University School Prize. Meryl received her Masters degree in Fine Art from the Slade School of Fine art in London.
Drawings by Meryl Donoghue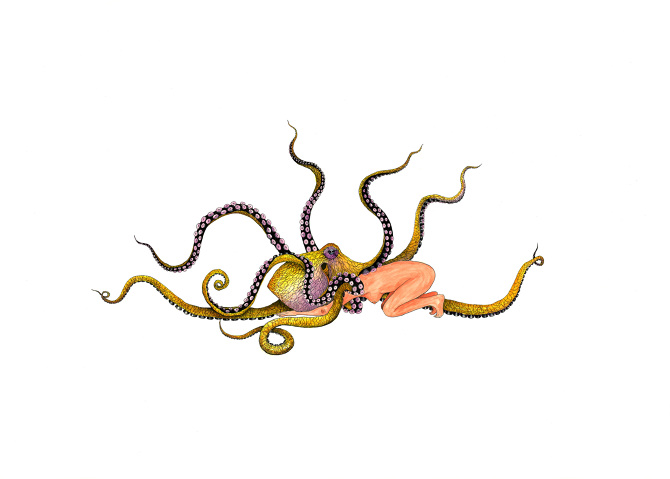 Her body of work includes pencil drawings, photographic prints, experiments in sound and animation, installations and porcelain works. She aims to create strange, unsettling and grotesque pieces, which are seductive and repulsive at the same time. Donoghue is interested in the type of beauty which is spoiled and imperfect. In her works, she explores the themes of death, wasted time and opportunity, isolation and the difficult transitions of human life.
The artist has exhibited her works in many group and solo exhibitions, both in the United Kingdom and internationally, in Amsterdam, Netherlands; and Culver City in the United States. She had solo exhibitions at StolenSpace Gallery in London and KochXBos Gallery in Amsterdam. Donoghue participated in several art fairs, such as Rotterdam Contemporary Art Fair in 2015, and Miami Scope in 2008.
Porcelain and Paper
Apart from Bath Spa University School Prize, Donoghue received AHRC Block Grant in 2010, and Julian Sullivan Award in 2012. She is represented by Arusha Gallery in Edinburgh, United Kingdom.
Meryl Donoghue lives and works in London, United Kingdom.
Featured image: Meryl Donoghue - Viviane, 2008
All images copyright © the artist