During her study at Academy of Art in San Francisco, Meryl Pataky started to do sculpturing, but besides doing the regular sculptures, she decided to experiment with elements. Taking the inspiration from the periodic table, her multidisciplinary work involves nobles gases and many other elements. This relates to her view on art as a medium to express her views about cosmos and life in general. Her crafting medium and message often intervene or are related in some way. Meryl combines her learned technical expertise with her own views and ideas.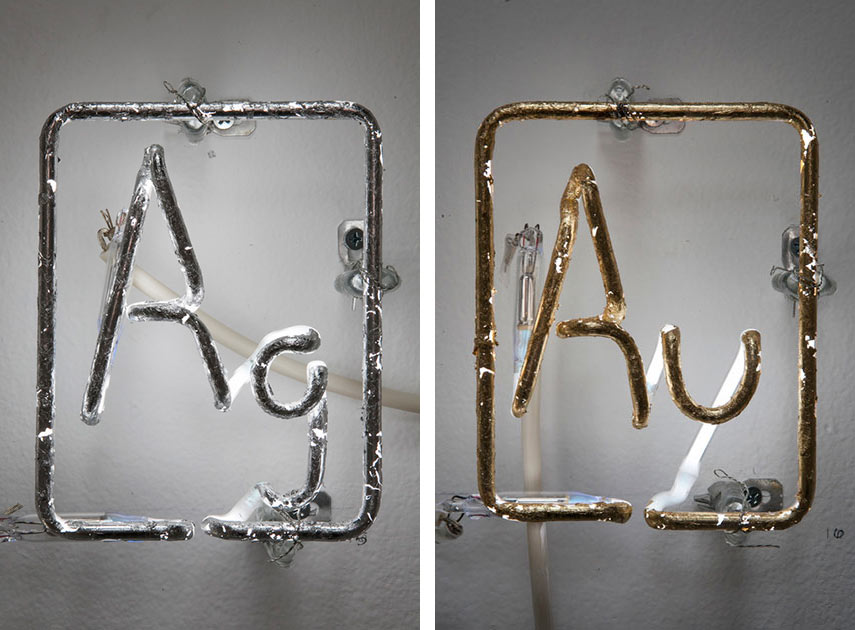 Scientific & Resourceful Art
Pataky is known to create or adjust the materials she needs for her work. For instance, using a vat of water, mesh screen and a blender she creates a paper which is later used in her art. Her work could be called resourceful art. She creates with anything she can get her hands on, most of the things other people would probably ignore. Science plays a big role in her creations and it's often required to do testing before starting the actual creation. For example, when heating silver, you need to be careful for it to not get too hot, and you'll know that by its color. These are all things Pataky learned over the years and its practical knowledge which she now uses in her work. The key to her creativity is the adaptation of elements and materials, shaping them to form new objects and giving them a new meaning. As a standalone, many of these materials wouldn't have usage in the art, but by being combined, they result in fascinating art pieces.
Using a vat of water, mesh screen and a blender she creates paper which is later used in her art
Neon Creations
The largest portion of her work is with neon, which she uses in many different ways. Meryl used neon in her recent work with words and also in her Rorschach art. By hand bending the glass tubes, she "writes" phrases or creates shapes. After that, she connects the electrodes on both sides and vacuums the air out of them, in order to be replaced with noble gases such as neon, krypton, helium, xenon and argon. In her 2013 project Cellar Door, she went step further and combined noble gases with plants and nature. The end result was a green plant wall decorated with neon lights that said: In the Forest Silent Whatever Happens Happens. In collaboration with David Brenner, she also installed a water filtration system which enabled it to be self-sustainable. She also recreated the elemental symbol of the mentioned noble gases through glass tube bending and filled each sculpture with the appropriate gas.
In her 2013 project Cellar Door, Meryl combined noble gases with plants and nature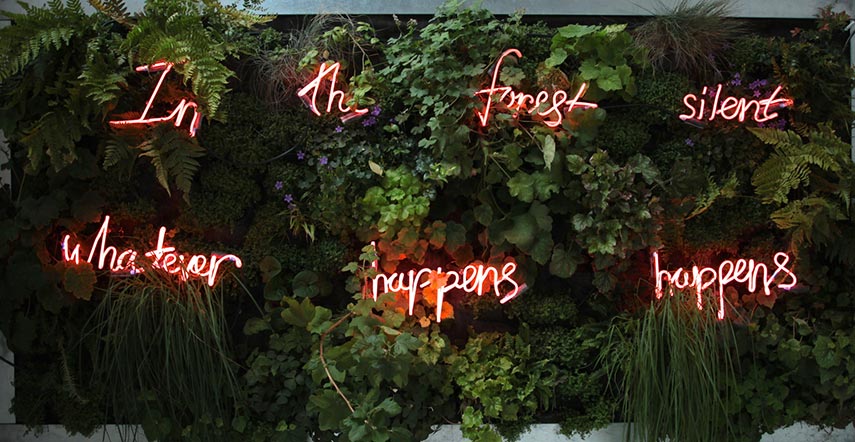 Artistic Mad Scientist
Meryl's studio is more of a laboratory where she experiments in what ways materials could be used. With this, her creation process goes through two stages. The first is the adaptation of the material and the second is using the material to create the actual art. Her approach gives her best of the scientific and art world. In a way, Meryl could be called an artistic mad scientist. A scientist who uses both her knowledge and intuition to create art pieces which unique and special.
She is represented by Stephanie Chefas Projects in Portland.
Meryl Pataky lives and works in San Francisco.
Featured image:Meryl Pataky - Photo Credits: www.galleryhijinks.com
All images copyright © Meryl Pataky