Mia Bergeron's dazzling photorealistic paintings are paying homage to various aspects of female identity. The American artist is interested in depicting the intricate realm of femininity, composed of complex physical and mental features that only combined create the entire representation of a woman's world. Bergeron's portraits are diverse, consisting of both close-ups and full-body portraits of women, but all of them carry a trait of certain dark and alluring mystery. Bergeron claims that her paintings have an autobiographical quality since depicting the female gender undoubtedly relates to her own world.
Daughter of Graphic Designers
Mia Bergeron's interest in art has developed quite early because she was born in a family of graphic designers. Bergeron was constantly exposed to designs made by her parents who own a graphic design company  in New York City. Following the example of her parents, Bergeron excelled in drawing and design and as a high school student she decided to pursue visual arts seriously, as she was quite aware of her own talent and supported by her parents. In 1998, she enrolled in the Rhode Island School of Design, which is the top art and design school  in New York area. However, after a year spent there, Bergeron decided to leave RISD because she discovered, surprisingly, that she is interested in more traditional painting. Bergeron explained that it took her some time to understand that graphic design was just a major influence in her life, but not her true goal -  Growing up with two graphic designers for parents, I was always drawn to bold shapes and colors. Emphasis on patterns and design were household commonalities.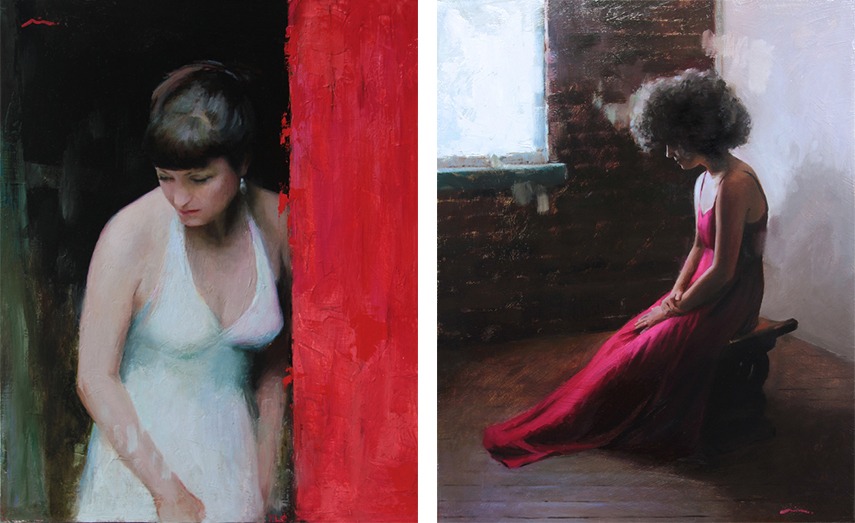 Models Mirroring the Artist
After leaving RISD, Bergeron spent a year at Harvard Extension School and three years at Charles H. Cecil Studio in Italy studying classical painting. These years were the decisive years in her career, the time when she passionately explored and developed her own style. Bergeron mastered the art of photorealistic portraits, which represent a combination of the traditional figurative art and more expressive, gestural approach. To put it simply, Bergeron's work resembles a powerful mix of painting and photography. Her imagery is bursting with life and emotions, and unlike photographs it never appears static. It is highly dynamic, personal and open to interpretations. Bergeron chooses to depict women because she can deeply identify with their emotions and life stories, which means that her portraits are, in a way, her own mirror even if they are not the actual self-portraits. This ambiguity of Bergeron's work and her expressive depiction of the female form is creating an unusual effect which is best described as a merging of painter and model.
Bergeron's work is transcending the genres of both photography and painting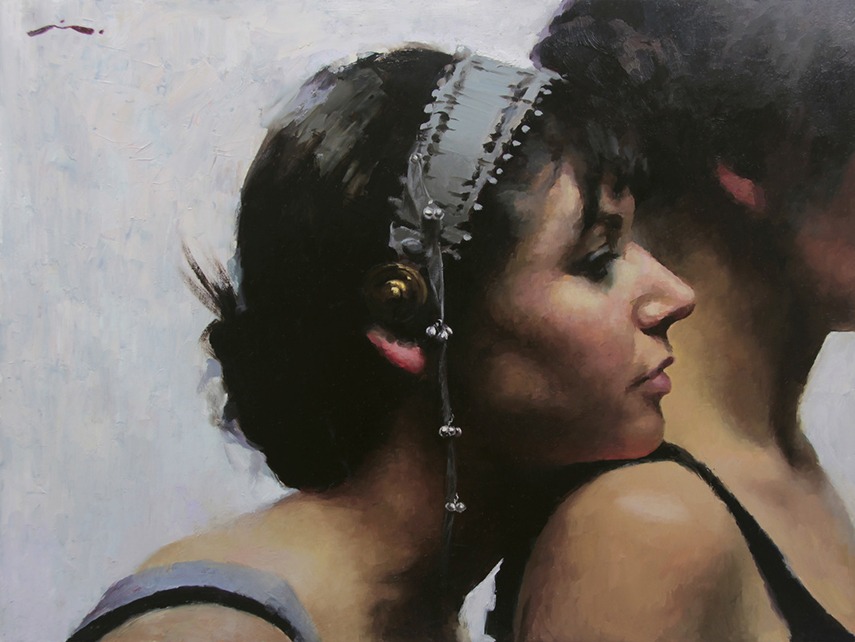 Power of Photorealism
Bergeron's artworks have been shown at more than 20 exhibitions all over the United States and in 2013 she had her first solo show at Robert Lange Studios in Charleston, South Carolina. Her work is highly esteemed by both art critiques and collectors because she pursued the vision of revealing female identity in an innovative way, through psychological portraits which are skillfully executed, transcending the genres of both photography and painting and emphasizing the ambiguous and unfathomable nature of the female inner world.
Mia Bergeron lives and works in Chattanooga, Tennessee.
Featured image: Mia Bergeron working on a portrait
All images courtesy of the artist