Micha Patiniott is a Dutch artist, known for his paintings that often reflect everyday reality, although portrayed with a twist.
Patiniott as a Story-teller
Micha Patiniott was born in Amsterdam and in 1996, he has received a degree in art at the Hoge School voor de Kunsten Utrecht. In 2006 and 2007, Micha was a resident at the Rijksakademie voor Beeldende Kunsten in Amsterdam. Next year, in 2008 as well as 2009, he was a resident at the Fine Arts Work Center in Provincetown, Massachusetts, US. His work is part of several art collections, such as the Rabo Bouwfonds collection, the Eneco collection and other private collections.
Micha Patiniott's Small Plane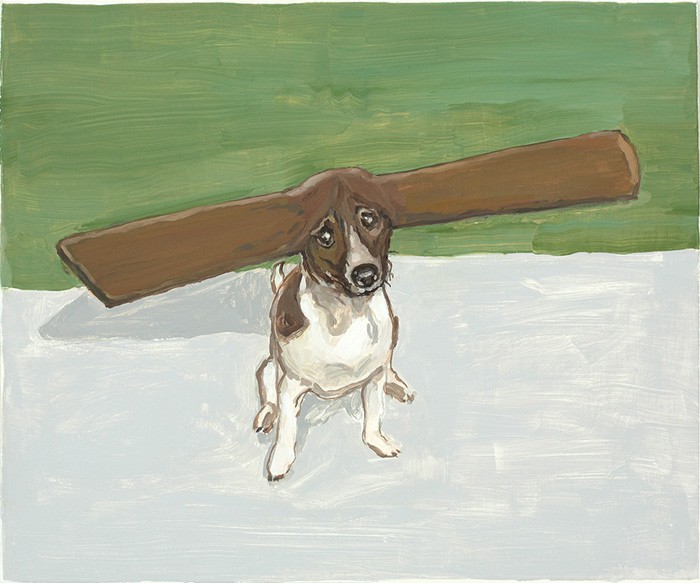 Patiniott's art is unmistakably rooted in his own personal experience and the world of imagination. Objects, body parts, people, and animals are made to act in ways that do not occur in reality. As he admits, his work has always dealt with people and objects engaging in playful and somewhat problematic forms of self-expression; the spectators are free to apply their own imagination on the artwork. So, they can project emotions, or simply use the ingredients made available towards their own interpretation. This artist's stories are mostly unfinished, they do not confirm images, but they create ones. Patiniott is primarily a story-teller.
Broken Stereo Collection
Micha Patiniott dedicated his 2007 collection to (as he says) "the ability and failure of the human voice." Broken Stereo is a series of paintings created while he was at the Fine Arts Work Center in Provincetown. For this collection, Patiniott had in mind the idea of human ability and failure, especially when it applies to art. Broken Stereo focuses on the imagery of the book: the book as object, and the act of writing.
The pieces such as The Full Story and Paper Cut illustrate Patiniott's attitude towards the mystery that artists must engage with in order to create successful work. The object depicted In Paper Cut is simple, an open book. The texture of the cut paper draws viewer's eye down to the blank page, into the book – as if the book is seeking our attention… Patiniott is deliberately stressing this relationship between the gazer and the book. There is the mystery of the blank page, and there is the attempt of human beings to wrest knowledge from it. Paper Cut is just one of many portraits of that kind of experience.
"Objects may have human properties and become filled with presence. Vice-versa, human body parts sometimes become object-like, evoking the idea of being containers."

Patiniott's Pencil Play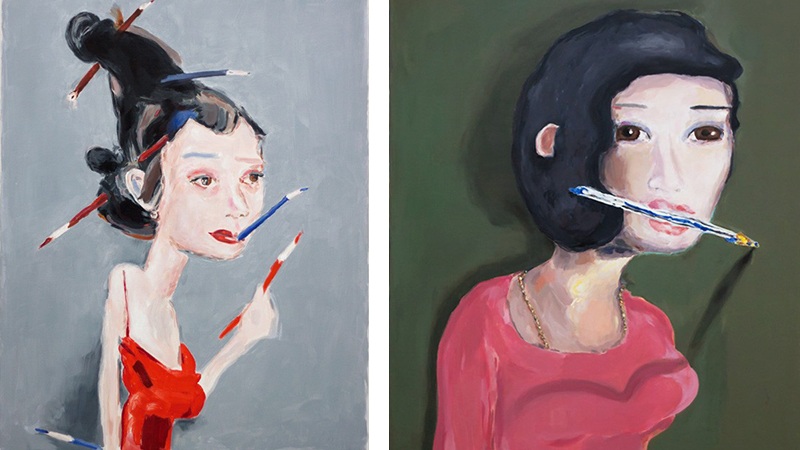 Curiously Human
In 2010, the prestigious Stedelijk Museum Schiedam showed Micha's first solo museum exhibition titled Curiously Human. The exhibition presented an overview of more than fifty works that were and still are mostly in private or corporate collections.
As always, the main characteristic of those artworks is his playful and humorous way of looking at everyday occurrences - his paintings are impulses to anecdotes or scenes from a narrative.
"I guess my work has always dealt with people and objects engaging in playful and somewhat problematic forms of self-expression. Being quite literal about the theme allowed me to simultaneously carve out a lot of room to disrupt it with some serious quirkiness."
In his studio, Micha has a drum skin, loosened from its barrel and leaning against the wall next to the paintings – this object helps him to continually think of empty surfaces as loaded screens or skins – it helps him to draw inspiration.
ZzzzzZzzZzz
For his first New York solo exhibition, in 2014, Micha chose a title ZzzzzZzzZzz - it refers to a state of suspended consciousness, sometimes mistaken for sleep or lack of awareness (the thing invaluable for artists and others open to expanding their experience of the world). However, according to Micha, this state can easily lead to a complete absorption or to find that area between presence and absence that allows for a simultaneous perception of multiple realities, even opposing ones.
"The tragic-comic nature of these expressions is fused with mixtures of fragility and strength, awkwardness and beauty, failure and success, accidents and purpose."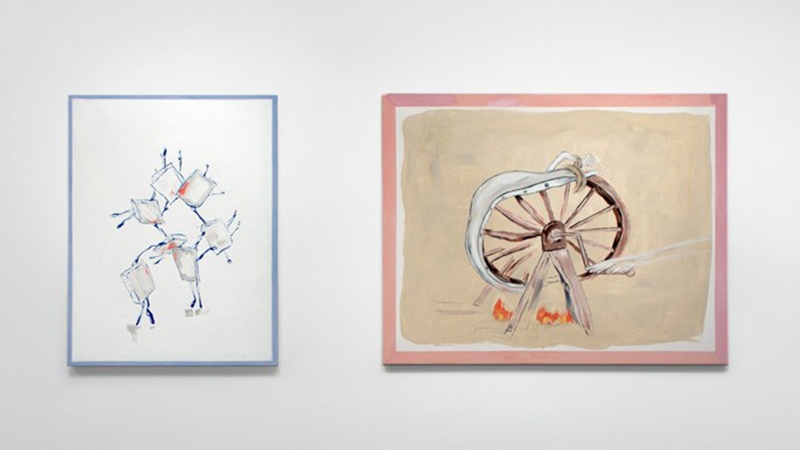 Huizinga's theory of Homo Ludens
Micha Patiniott, the master of the ambiguous, holds his basic understanding of the world - and of art's role in life – in theory of Homo Ludens (Man the Player). It is a book written in 1938 by Dutch historian and cultural theorist Johan Huizinga. The book discusses the importance of the play element of culture and society. The author is suggesting that play is primary to and a necessary (though not sufficient) condition of the generation of culture. Play is originally how most animals, including humans, get to know their world and determine their place in it, but that exploratory curiosity and openness simply diminishes and eventually disappears as we get older. For Patiniott, art is the best way to keep this faculty alive.
Micha Patiniott has received multiple grants and fellowships, including the Louise Bourgeois Fellowship and the Mondriaan Foundation stipend.
This artist is represented by Anna Zorina Gallery.
Micha Patiniott currently lives and works in Amsterdam, Netherlands.
Featured image: Micha Patiniott, courtesy of Pim Blokker
Other images copyright © the artist