Trees have always played an important role not only in the very preservation of life but the progress of civilization as we know it today. From the toothpick to the tallest of buildings, wood is the one material you cannot miss in your everyday. Creating a new type of bond between man and the material of wood through art, Michael Pickl instills it with a beauty and emotion symbolic of humankind itself. In his decision to cast aside the necessity for detail and strict form when producing his sculptures, he makes his works spiritual by nature, wrapped around thoughts and ideas that force a unique experience for each viewer.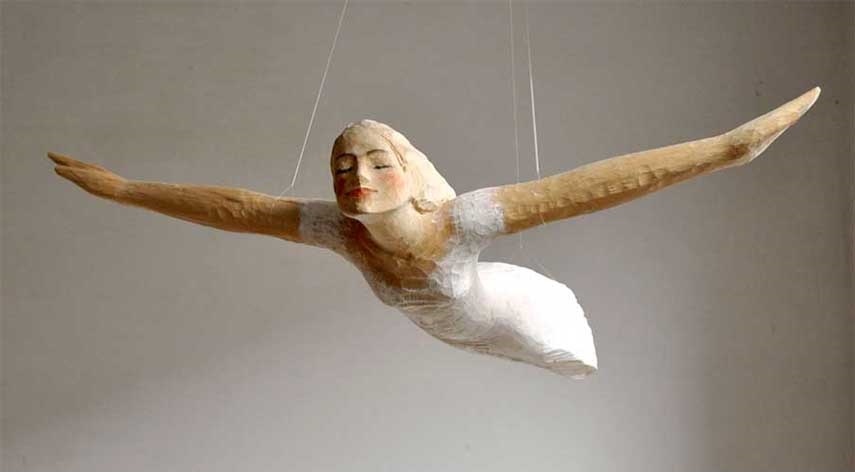 Triviality of Details
After ten years of studying sculpture in different schools in Germany, Michael Pickl has developed his practice to the point of putting a lot of thought, emotion, ideas, and dreams into it, translating the energy to the viewer. Focusing on the spirituality of his sculptures made out of wood, Pickl disregards any necessity for details or technical corrections of the accidental moves applied to the wood. The artist sees them as trivialities and the more natural look that is thus produced in addition to the simple form emphasize the relationship that is easily formed between the viewer and what the sculpture represents. Aware of the characteristics that attract people to one another, Pickl's nimble women sculptures embody beauty, inner strength, and faith in oneself, creating pieces that are almost able to stand as individuals of their own.
Michael Pickl puts a lot of thought, emotion, ideas, and dreams into his practice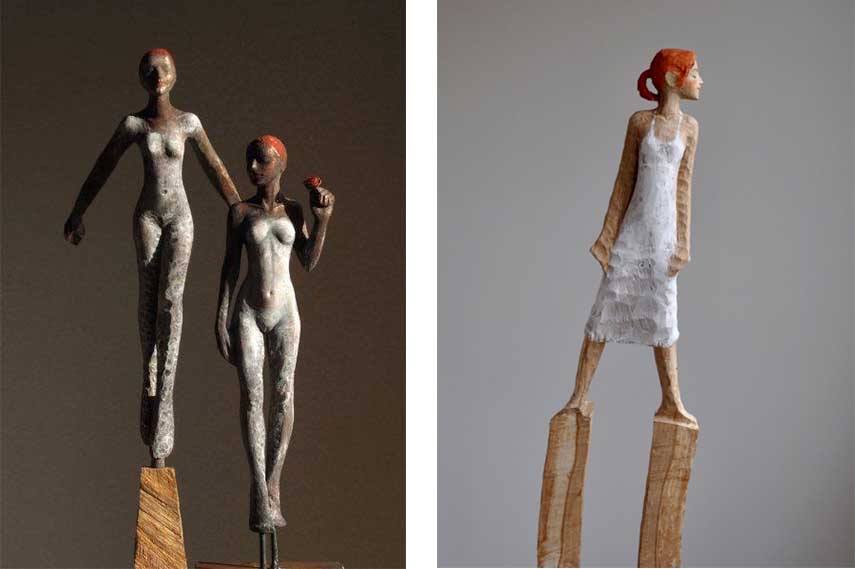 Emotion in Sculpture of Michael Pickl
Although there's a doubtless physical beauty in the sculptures of Michael Pickl, it's not the main reason why anyone might be enticed by his works. Nesting grace and various emotions into his sculptures, Pickl does so believing in the beauty of that which is hidden; a mystery that gouges the curiosity that can be found in any man and woman. The closed eyes of his subjects denote an inner security, believing in themselves and drawing the viewer to do so as well while watching them. It is this exact connection that sparks imagination in the observer, changing his perception and the thought process and thus transforming himself as a final result. Each of his sculptures bears a different, yet always powerful emotion, giving viewers a unique experience with each piece.
The closed eyes of Pickl's subjects denote an inner security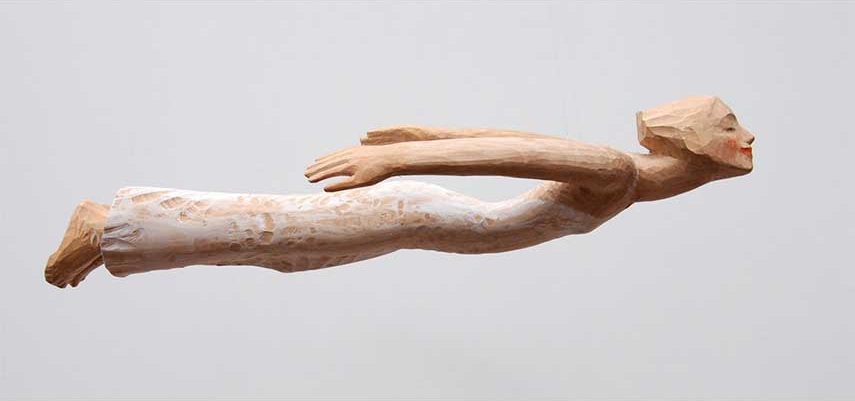 Relating to an Instilled Idea
Though they might be "rough around the edges," sculptural pieces made by Michael Pickl bring with them an array of relatable emotion. The wooden plateau they often rest upon further validates their inner sense of stability, emitting an almost reassuring aura to those around them. Whether for the natural feeling of their aesthetics or the idea instilled into them, the wooden sculptures entice both the eye and thought, making a connection that stays with the viewer.
The artist is represented by Galerie Hegemann.
Michael Pickl lives and works in the Upper Palatinate, Germany.
Featured image: Michael Pickl - Flieger (detail), 2007.
All photos courtesy of the artist.