"Every city and town has a street, never downtown, lined with strip malls, fast food, and discount stores. Here, I am inspired. It is the most prolific evidence of our current culture. As an obsessive observer I am fascinated, repulsed and hypnotized by the tidal wave of imagery that our visual culture crashes down upon us everyday. I challenge this onslaught and examine it. I want to sort out the cacophony of visual noise and rethink meaning, motive, perception and narrative. In the middle of this infinitely chaotic flow of information, I have a nagging desire, the desire for truth and beauty. Images, moments, situations, spaces, and environments can be so coldly anonymous and at the same time so loaded with meaning. The closer I look the stranger it all becomes. Nothing is as it seems. In a world where mind-numbing volumes of stimuli assault my consciousness and elevate my anxiety, I seek peace and clarity. My work is an attempt to slow down, sort out, and focus information. The seemingly simple, runs away from me so fast, and leaves a cloud of dust so thick, I have to stop and wipe my eyes."
- Michael A. Salter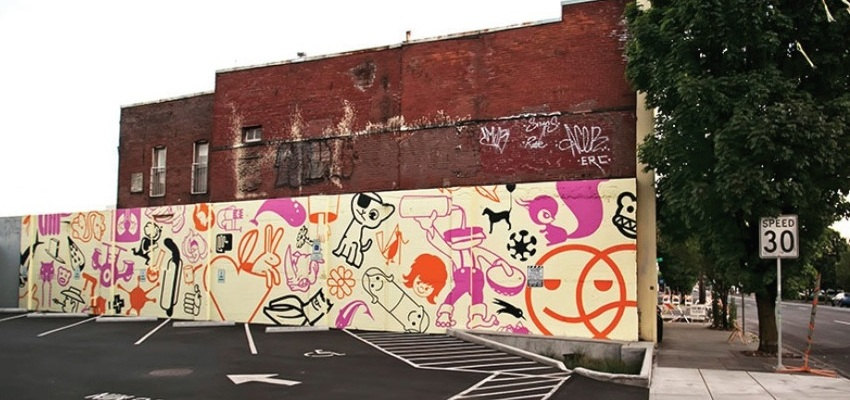 Influences and Style
Influenced by the movements of Minimalism, Dada, Pop, Pop Surrealism, and the artists such as Magritte, Warhol, Murakami, Julian Opie, Martin Parr, Saul Bass, and Shigeo Fukuda, Salter creates his own distinctive visual language, making his style easily recognizable. In terms of methodology, it's all about seeing, thinking, and drawing. Most of his drawing is digital and often his techniques and delivery methods employ highly commercial applications re-contextualized in the context of fine art. His work is quite often conceptually and aesthetically situated between art and design, high and low culture, and realized in a vast range of media. He is inspired by visual culture: architecture, media, fashion, the internet, cities, advertising, branding. Everything we see in the world is fuel for his creative practice.
Salter is a career artist, with solo exhibitions in New York, Los Angeles, and Brussels. Gristle Sausage, his recent solo show at Lump Gallery/Projects, in 2016 is an excellent representation of his current creative practice. There is an all-you-can-eat visual buffet offered to us by globalization and hyper-connectivity, and Salter presents those sweet or salty pleasure responses that provide the awe and terror of his visuality. In his exhibition Gristle Sausage, he is scrapes bits, pieces, and parts from the fringes of visual culture as his ingredients, which he then grinds and stuffs into a resolution. Drawings of pharmaceutical drugs, blurry portraits, psychedelic patterns and goofy faces are the images that comprise a giant billboard sized installation.
The all-you-can-eat visual buffet is offered to us by globalization and hyper-connectivity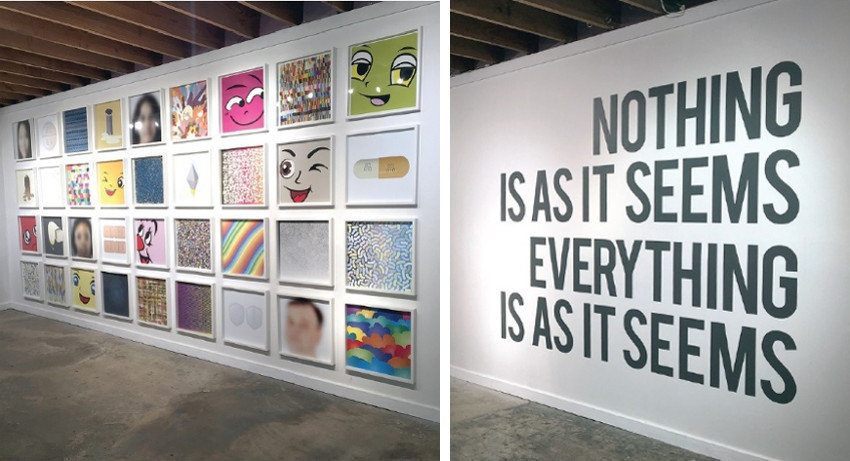 Conceptual Motivations
Michael Salter's life is spent in a constant state of obsessive observation. It is his fascination with visual culture that motivates his creative practice. He culls poignant, absurd, and baffling moments from the avalanche that mass media cascades on to the visual culture. Mining from the visual culture at-large, he pulls, squeezes, and manipulates how visual information is delivered and processed. Salter explores meaning and narrative employing images and objects, using a reductive visual language to communicate conceptual ideas. Salter's style is hyper-graphic and minimalist. His work critically addresses society's relationship with contemporary visual culture through the process of observation, cataloguing, re-interpreting and re-contextualizing. His creative practice repeatedly asks 3 questions: What do we see? What does it make us think? And why? It is this on-going research into global visual culture that constantly creates exciting new developments and possibilities in his work.
Salter's work critically addresses society's relationship with contemporary visual culture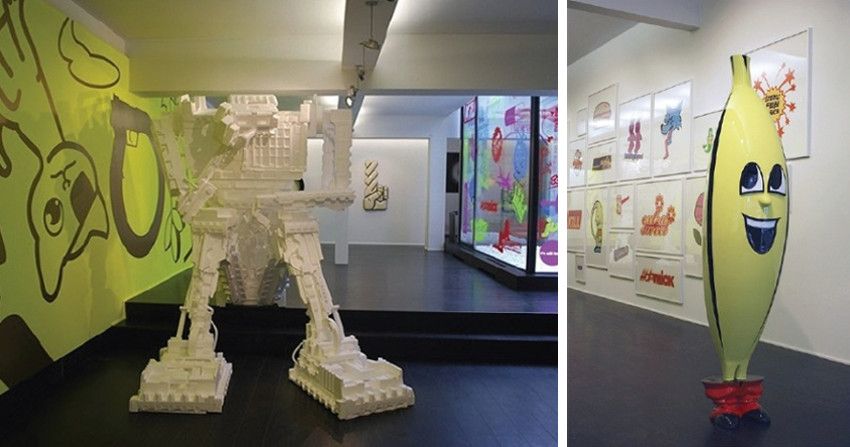 History, Ugly Sneakers
This anecdote is, in many ways, the basis of Salter's creative process. When he was 7 years old his mother bought him a pair of ugly sneakers. They were so unattractive and "un-cool", that he decided to paint his own graphic branding on the sides of the shoes. At such an early age he toyed with ideas of branding, its power, and the subversion of that power.
Salter studied at the Miami University in Oxford, Ohio, where he received his B.F.A. (double concentration in graphic design and sculpture) in 1992, and at the University of North Carolina, Chapel Hill, North Carolina, where he earned his M.F.A. in studio art in 1994. His career as an artist is rooted in the underground and alternative art scene: artist collectives, artists run galleries, one night shows. Salter also has a significant experience in academia. He is an Associate Professor of Art /New Media at the University of Oregon, Department of Art, Art & Technology Program, where he has been since 2005.
Salter began his artistic career with a pair of ugly looking sneakers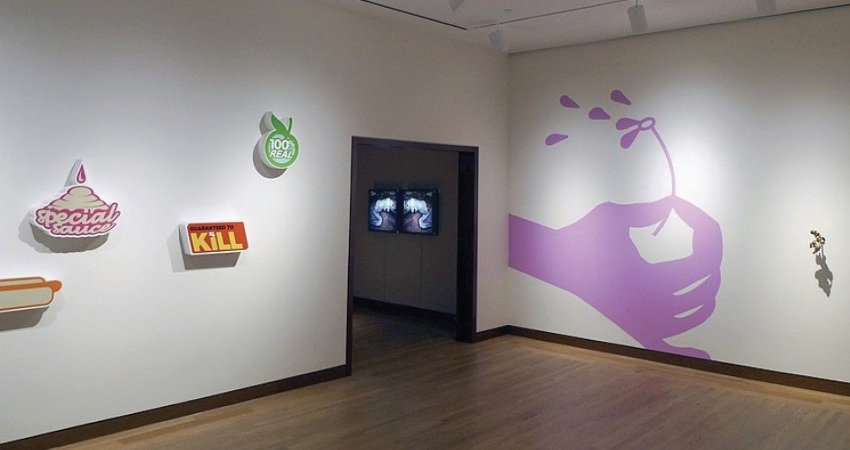 Michael Salter, Questions, and Art
The artist enjoys engaging in addressing the following questions: What does the world look like? What do we see? What does it make us think? What is my role (speaking of the viewers) in the way the world looks? All these topics provide what seem to be endless possibilities for discussion and Salter is prepared and willing to tackle any subject in his artistic quest. As for the future plans, he'll continue to draw feverishly, as always. In 2017, he's going to have another solo show, and it will be treated as another snapshot of his process at the given moment, filled with quizzical drawings to antagonize logic, raise questions and invite narrative.
Featured image: Michael Salter – portrait
All images courtesy of the artist