Over the centuries, one of the main themes in the painting has been feminine beauty and sensuality. While some of the artists explore this subject exclusively, the others only visit it occasionally. Japanese artist Miho Hirano belongs to the first group. She creates outstanding surreal pieces featuring female subjects bathing in natural elements. The hair of these young nature goddesses is adorned by pastel flowers, butterflies, goldfish, and hummingbirds. Her paintings are unique in that most works portray a harmonious coexistence between humans and nature.

Hirano's Fantasy Art
Miho Hirano obtained her degree from the Musashino Art University in Kodaira, western Tokyo, in 2008. She began her professional career soon after her graduation creating a series of paintings portraying beautiful young women that often appear at one with their natural environment. Heroines of her paintings are delicate and alluring women whose hair flows into flowering tree branches, bird-filled bushes, and drifting seaweed. Often associated with youthfulness and beauty, hair plays a significant role in every women's life, and it takes a centre stage in the artist's oeuvre. She uses it to portray various attitudes and emotional interpretations of women, including her own alter ego.
Hair takes a centre stage in Hirano's oeuvre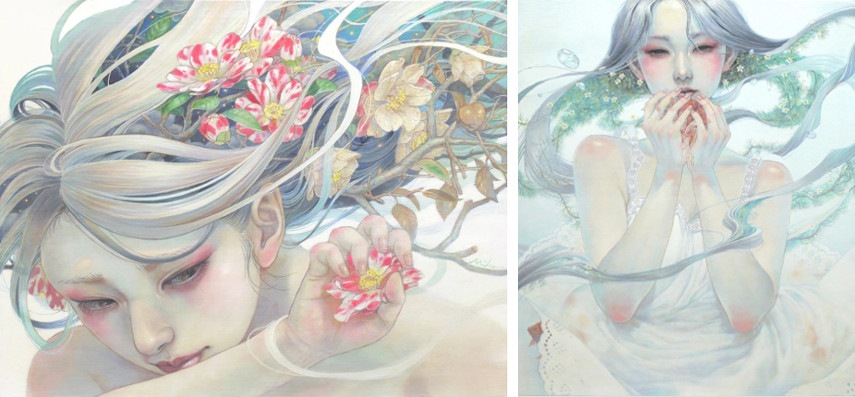 Merging Nature and People
The hair in the artist's pieces reflects sensuality and creates the identity of her subjects. She adorns their hair with elements of flora and fauna, each carrying considerable emotional and symbolic weight, like in her Temptation series. The series of paintings portrays a female character decorated by flowers that attract bees and hummingbirds, representing her power of seduction, rebellion, freedom, and natural sexuality, as well as the vital role that the accessories play in her seduction. In essence, the works by Hirano bring nature and people together merged into one.

Beauties of Nature
Miho Hirano's work has been on display in various exhibitions in her native country, including a group show Ephemeral in August 2015. Her first major show entitled Beauties of Nature took place CHG in Los Angeles from March through April 2016. Her sensual, surreal and layered oil paintings are inhabited by ephemeral spirits at one with their surrounding. The artist creates amazing microcosms of female's hair populated by beings which are not only residents of these almost mythological universes but are also faithful companions of the young women immersed in these silvan sceneries.
The artist is represented by Corey Helford Gallery in Los Angeles.
Miho Hirano lives and works in Abiko, Chiba.
Featured image: Miho Hirano - M8 Canvas (detail), 2015
All images courtesy of the artist