Le château des Ifs, in the Frioul archipelago, is a fortress and a former prison where Alexandre Dumas' novel The Count of Monte Cristo is settled. This is the place where one girl's imagination ran freely - maturing, growing, and waiting for its moment to conquer the art world. When that moment finally came, Mijn Schatje, a French - Spanish – Dutch artist was more than ready.
Mijn gets Inspired by Asian Ball-jointed Dolls
As a child, Mijn traveled a lot. And, when we say a lot, we mean it – Europe, Canada or Africa had no secrets from Marie Blanco Hendrickx, born in France, to a Spanish father and a Dutch mother. On all of her journeys and explorations, Mijn was always surrounded and accompanied by fairy tales, mermaids, ghosts, carnivals and poetry. No wonder her artistic and fantastic art universe looks as if it came directly from the Tim Burton's or Lewis Carroll's head.
Evidently, Mijn is strongly inspired by Asian ball-jointed dolls, articulated with ball and socket joints, known as BJD or ABJD. Even though articulated dolls go back to at least 200 BCE, to ancient Greece and Rome, Mijn chose to be fascinated by a strong (and still growing) cult of eastern dolls, following a distinctly Asian view in aesthetics. These dolls range from highly anime-inspired to hyper-realistic looks, with large heads, big eyes and large feet, so they can stand on their own.
Ivan returned to painting in 2000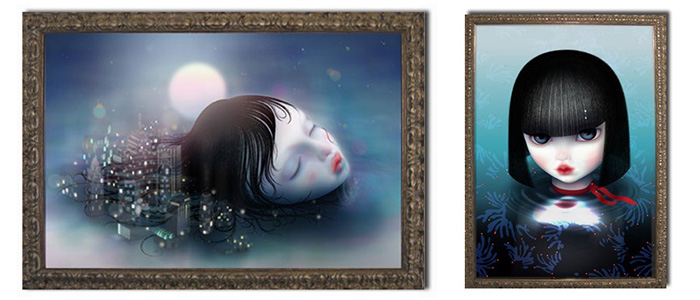 Mijn Schatje Discovers Digital Painting
Mijn's creatures, both romantic and surreal, are settled in a compositions where artist blends digital and typography designs. The very beginning of her visual art career was mostly dedicated to the graphic design. However, she soon moved to digital painting, a method for creating an artwork with a help of computer software and printers. She captured the moment when the majority of cutting edge press and publishers went "crazy" for the Pop Surrealism aesthetics and its subtle mix of darkness and seduction, and she clung to it.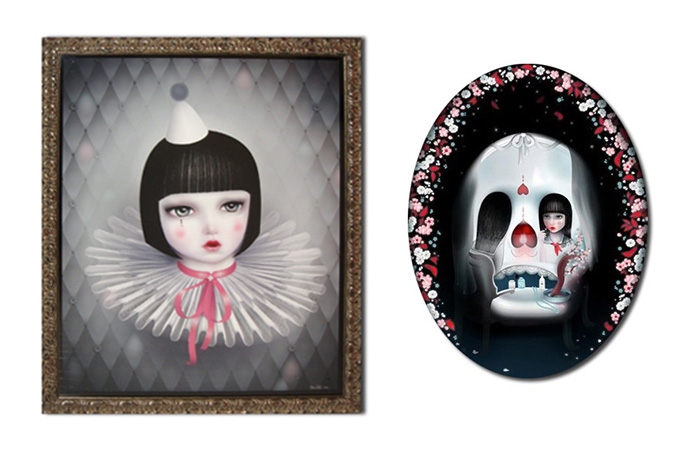 Schatje's Artistic Evolution: From Magazines to Fornarina
Schatje's work was first presented to the public on Paris club flyers and magazines. Afterwards, she created numerous music album covers for French Touch labels, like Ekler'O'Shock or Record Makers, which was founded by the band Air. By that time, Mijn already charmed the public and she was commissioned to collaborate with Reebok and Sony. Also, in 2008, Schatje created the entire collection for Fornarina, a hip Italian fashion house.
Although very young, Mijn brought a lot of attention to her work that really does not lack a creative power or vision. Her enchanted universe is sweet and morbid at the same time, and without the doubt - it will drag in every viewer.
This artist is represented by Galerie Brugier-Rigail from Paris.
Marie Blanco Hendrickx aka Mijn Schatje lives and works in Paris.
Featured image copyright © Blog art&deco
Artworks images courtesy of Galerie Brugier-Rigail