Attracting the audience inclined toward the darker side of life, Mike Egan creates paintings that deal with death and related issues. Having worked as an embalmer in funeral homes, he draws his inspiration primarily from his own experiences, but also from The Day of the Dead, Halloween, horror films, Folk Art, religion and the German Expressionism. Using the acrylic paint, shellac, wood, and nails, he applies the paint with intentionally naïve brushstrokes, insisting on the simplicity of shapes and motifs represented in the painting. His dark and gloomy subject matter is opposed to bright colors and playful visual narrative which could be comprehended as the certain indication of hope.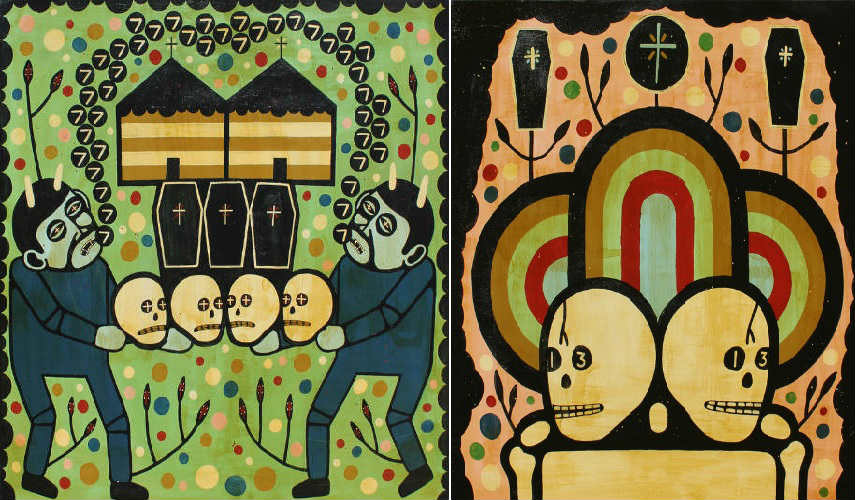 Mortality and Death - Love on the First Sight
Egan was born in Pittsburg, Pennsylvania, where he received his BFA in Fine Art from Edinboro University. Particularly interested in the work of the artists Posada and Kathe Kollwitz, he was focused on printmaking, mainly woodcut prints. Interested in art and death since his early childhood and fascinated with mortality, he has always known that he wanted to become embalmer and funeral director and to study Pittsburgh Institute of Mortuary Science. As a teenager, he liked to draw cartoon and skateboard graphics, mostly interested in presenting skeletons and devils. His working position in funeral houses influenced him to develop distinctive visual language and this experience helped him to create special relation and attitude toward the most intimate and painful moments in life. On his artworks is sometimes hard to distinguish whether the subject is dead or alive, which emphasize the idea that mourners also pass through the suffering. His skeleton-like figures hold coffins, often have eyes fixed on the sky or cry bloody tears. Surrounded by symbolism, such as numbers seven and thirteen and crosses, the artist strives to confront the eternal struggle between the good and bad[1]. Processing the themes that reveal his life, he strives to create artworks that people can relate to when they pass through difficulties, whether it's heartbreak, losing of finding someone new, depression, or death.
Processing the themes that reveal his life, Egan strives to create paintings that people can relate to when they pass through difficulties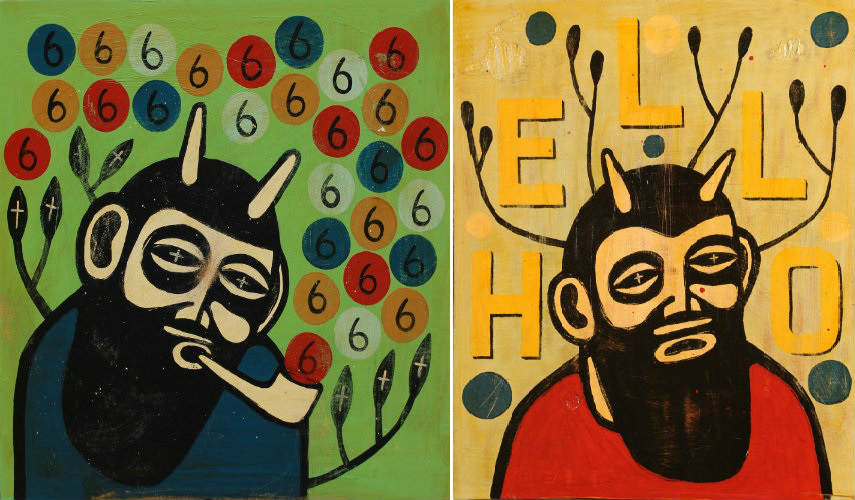 Devil and Skeletons on Panel and in Vinyl
Never keeping sketchbooks, he sometimes works with post-it notes, writing down ideas and sketches, but mostly he paints directly on wood panels transferring the ideas from the head. Some of his pieces have been created on found objects, reflecting the look of a handmade piece, which is so much important to the painter. His Folk Art models, such as Fred Stonehouse, AJ Fosik, Richard Colman, Troy Lovegates, and Barry McGee and German Expressionists Kathe Kollwitz, Max Beckman, and Otto Dix influenced his tendency for bold line and dark imagery. Thanks to the people from DKE Toys who attended one of his openings, Egan started to turn into vinyl toys some of his character designs. He debuted with Bones the skeleton which was followed by Lucky the devil. His solo show I Saw You at My Funeral, held at Rachman Gallery in Chicago, once again remained the audience on his inspiration by questions of mortality and death. In the light of recent world events, more and more violence and its representation in media, Egan thinks that his visual language can be now particularly close to the people: "There are so many tragic shootings and acts of violence in the world and it is constantly spoon fed to us through the media. These paintings act as a reminder to me that there are so many people to say 'goodbye' to and that we must not forget them. You never really know when you are going to walk out the front door and never come back."[2] Considering death as a universal subject matter that anyone can identify with, the painter talks to the wide audience, to the people that like to remember their loved who have passed away.
His work is inspired by the Folk Art, horror films, religion and German Expressionism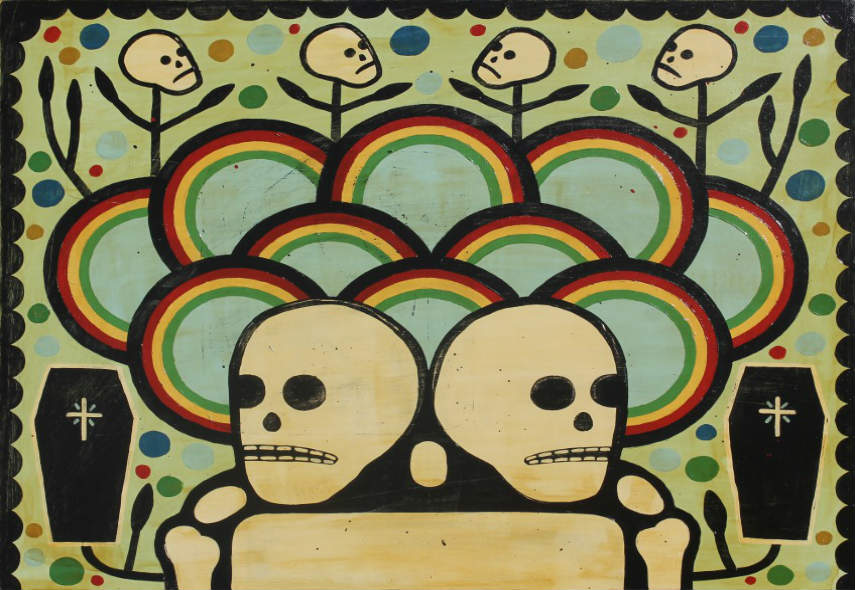 Ideas for the Future
Since 2006, Egan's work has been shown in numerous solo and the group exhibitions in the United States and abroad. Ambitious and dedicated, his goal is to take his art to the next level, getting into larger toys or sculpture, or maybe even publishing the book to embrace the work he has done already. His obsession with mortality led his career toward funeral homes job which only intensified his wish to create art in which he would express intimate and painful moments of those who grieved. Creating visual anecdotes, his stories involve both the characters of people who passed away and of those left behind.
References:
Anonymous. (2016) Mike Egan – Death Surrounds Us – Artist Interview, Wowxwow blog [September 13, 2016]
Anonymous. (2016) Mike Egan – I Saw You at My Funeral – Guest Blog, Wowxwow blog [September 13, 2016]
Featured image: Mike Egan - Artist's profile - Image via urbanvinyldaily.com