A genuine idol of the United States subcultures and their arts, Mike Giant is a celebrated American graffiti artist, illustrator and tattooist. Driven for the entirety of his career by BMX bicycles, tattoos, skateboards, street art and all around rebellious spirit, this artist created an impressive reputation of a true legend that serves as a source of inspiration to all aspiring artists desiring to go down a similarly creative and alternative path of art. Renowned for his versatility, Mike Giant is the go-to man if you are interested in learning a bit more about any of the following art forms: media covering, graffiti, design, photography and tattooing.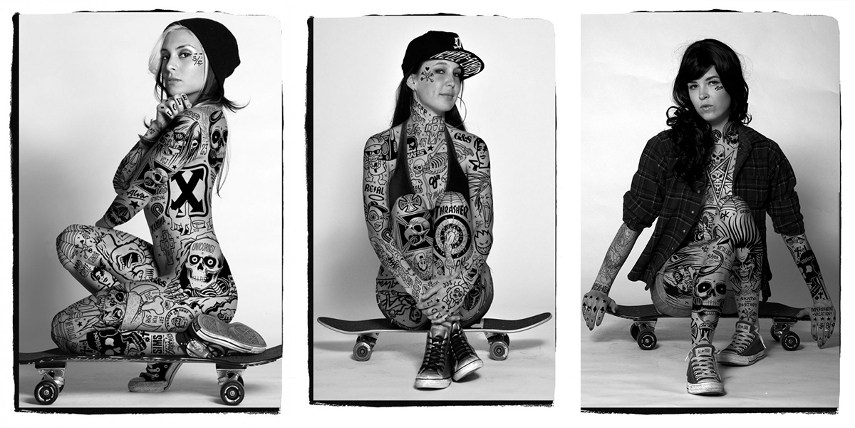 Life and Art of Mike Giant
Mike Giant was born in the year of 1971 in upstate New York and, just like many street artists of his generation, he as well started drawing as soon as he was able to hold a pencil. By playing and doodling, he was learning how to express himself visually and that served him very well in the long run. After his family moved to Albuquerque in 1979, Mike found himself enchanted by the local subcultures of BMX bikes, skateboarding, heavy metal, punk rock and hip-hop. This became an ordinary scenery to Giant who grew up in these urban circumstances, breathing in the pavement of Albuquerque in the 1980s. Soon, he was writing graffiti under the name of Giant and started getting his body tattooed. However, Giant was not quite the same as the rest of the members of Albuquerque's subcultures - Mike graduated in the top 10% of his high school class, which in return allowed him to attend the University of New Mexico on scholarship as an architecture major. However, in the year of 1993, he was offered a full-time position of designing graphics for Think Skateboards in San Francisco and decided to leave the university without a degree as this job opportunity seemed too good to miss. Giant worked here for about four years, after which he set sails for London that became his residence for a short period of time before Mike ventured back to San Francisco. In 1998, he was offered an apprenticeship in tattooing by Nalla Smith. Giant began tattooing full-time a year or so later, slowly learning and advancing his skills that eventually had him working in legendary shops like East Side Ink, Newskool and Everlasting. Then, after 20 years in California, Mike moved to Boulder, Colorado where he currently lives and works. Nowadays, Giant runs his Rebel Eight project and enjoys the free time to draw and collaborate with other local artists.
Here you can take a closer look at ideas behind Giant's art
Mike Giant Prints, Tattoos, Illustrations and Rebel Eight (Rebel8)
Keeping the image of a man with few words alive, Mike Giant's official biography goes like this: Birth. Upstate New York. Drawing. New Mexico. BMX bikes. Heavy Metal. Skateboarding. Punk rock. Hip-hop. Thailand. College. Dishwasher. Raves. Lorelei. First tattoo. San Francisco. Dharma. Think Skateboards. Angi. London. Adult bookstore. Computer animation. Tattooing. New York City. Newskool. Skullz Press. Everlasting. Track bikes. Brooke and Leia. Tokyo. Tattoo 13. Plum Village. Albuquerque. Stay Gold. REBEL8. Manifestations. Ordained minister. Megan. Amsterdam. Pakayla. 41. Right here. Right now. This short play of words is actually quite efficient as a biography as it marks every milestone that affected MIke's life, as well as his art. Giant is a true modern street artist, a product of his generation. Due to the rebellious ways of the contemporary subcultures that Mike called home whilst he was growing up, much of his artistic efforts are based on anti-establishment attitude. All of his graffiti, design, fine art, photography and tattooing are based on this rule, whilst his diversity and openness to different mediums helped him gain the reputation of one of the most versatile artists of his generation. No matter with what he is working with, Mike Giant always uses black ink - this is his specialty regardless from if he is painting on concrete, paper or skin. This signature style has its roots in Mike's obsession and admiration towards Mexican folk art and Japanese illustration. His compositions are full of images of bicycles, old-west figures, women, dogs, weaponry, and of course, skulls, all of which is evidence of Mike's childhood in Albuquerque. Mike painted tattoos for a decade before switching his attention to Rebel Eight, a clothing brand he founded with his old friend Joshy D in the year of 2003. This project focuses on designing clothes designs heavily inspired by classic skateboard graphics, vintage body and street art.
Mike has been successful at every creative endeavor he committed himself to, including photography, graffiti and tattoo painting - as well as the Rebel8 project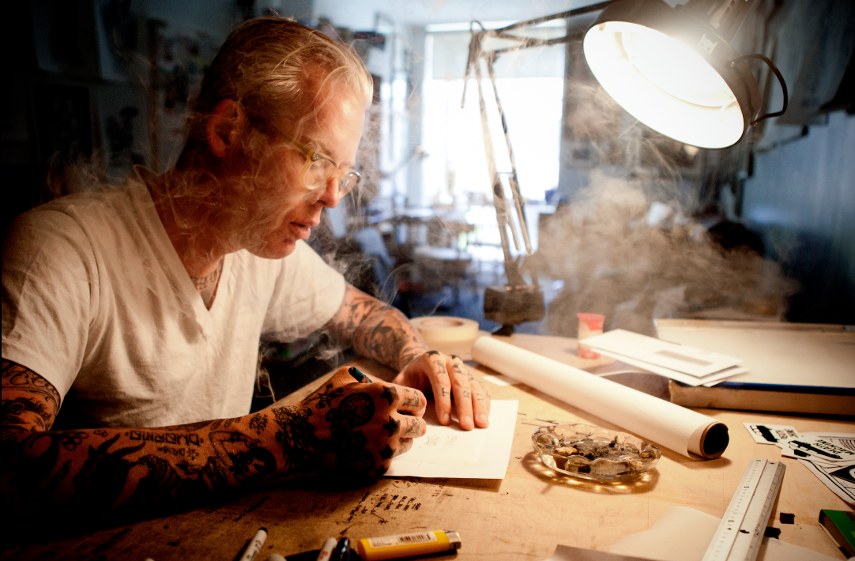 A Genuine Legend
Although this legend recently gave up most of his other efforts to focus on illustrations and the clothing line of Rebel8, Mike Giant remained a crucial figure in both the world of tattooing and street art. Regardless of which one of Giant's mediums you are observing, his control over black ink and general imagination are often enough to blow your minds away - so just imagine the effect his designs have when you witness them upon an urban surface or someone's skin. A true gem of the modern urban arts, Giant remains one of the most celebrated artists the streets have ever seen - let's just hope that at one point he will return to tattooing for it would be a shame to never see a new true MK ink piece.
The artist is represented by MAGDA DANYSZ Gallery Shanghai and MAGDA DANYSZ Paris.
Mike Giant lives and works in Boulder, Colorado.
Featured image: Mike Giant - Photo of the artist - Image via desmondosf.com
All images used for illustrative purposes only.