Michael Mike Kelley was one of the most influential figures in American contemporary art. During his 35 years long career Mike Kelley worked with almost every medium imaginable from drawings on paper, sculpture, performance, music, video, photography, and painting. The versatile artist also produced a number of collaborative works as a result of projects made with artists Paul McCarthy, Tony Oursler and John Miller.1 His interests were as diverse as the mediums he used and included sexuality, repressed memory, religion and spirituality, the class system and post-punk politics. By using an array of the non-artistic object such as blankets and toys in his art Mike Kelley continuously blurred the line between high and low culture.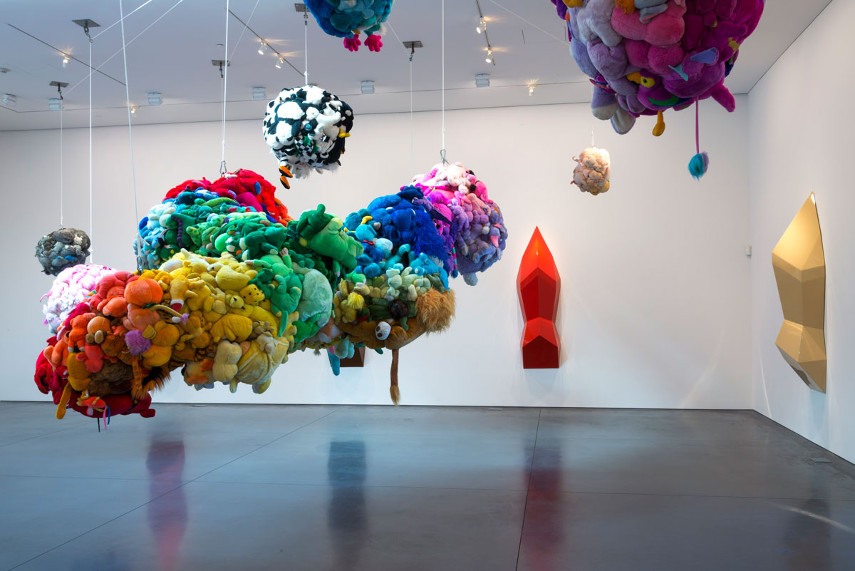 Mike Kelley - Contemporary Art With an Attitude
Mike Kelley was born on October 27, 1954, in a small town of Wayne near Detroit in Michigan. The artist was quickly attracted to heavy metal music and started his first band when he was in high-school. But Mike Kelley's Destroy All Monsters wasn't an ordinary band, but rather a conceptual art project that created, zines, papers and performance pieces reminiscent of Dada theater. He graduated from the University of Michigan before he moved to Los Angeles to study on California Institute of the Arts. During his university days at California Institute of the Arts in Valencia, Calif the artist was influenced by Conceptual art focus nurtured by professors John Baldessari, Laurie Anderson and Douglas Huebler. He began creating multimedia installations that merged large-scale drawings and paintings, writings, along with sculptures, videos, and performances, often scatological and sadomasochistic in nature.2 In the 1980s the American artists moved away from music and performances and started using rags, dolls, blankets and similar materials to create possibly his most recognizable body of work.
Mike Kelley's celebrated More Love Hours Than Can Ever Be Repaid and The Wages of Sin art installation made in 1987, consists of entangled dolls, animals, and blankets sewn onto a large canvas as the artist explored the fictional childhood scene with some visceral pathos.3 The artwork explores the relationship between parents and children and whether the love parents invest in their offspring could be or even should be repaid. In 1988, Kelley attracted attention yet again with an installation entitled Pay for Your Pleasure, that dealt with the connection between brilliance a madness. The artwork featured a gallery of portraits of genius men like poets, philosophers, and artists accompanied with quotes that suggested that madness, criminality and similar tendencies are impossible to separate from creativity. An artwork made by serial killer John Wayne Gacy was located at the end of the installation thus seemingly confirming the theory.
In More Love Hours Than Can Ever Be Repaid and The Wages of Sin, Mike Kelley used toys as tools to explore the relationship between parents and children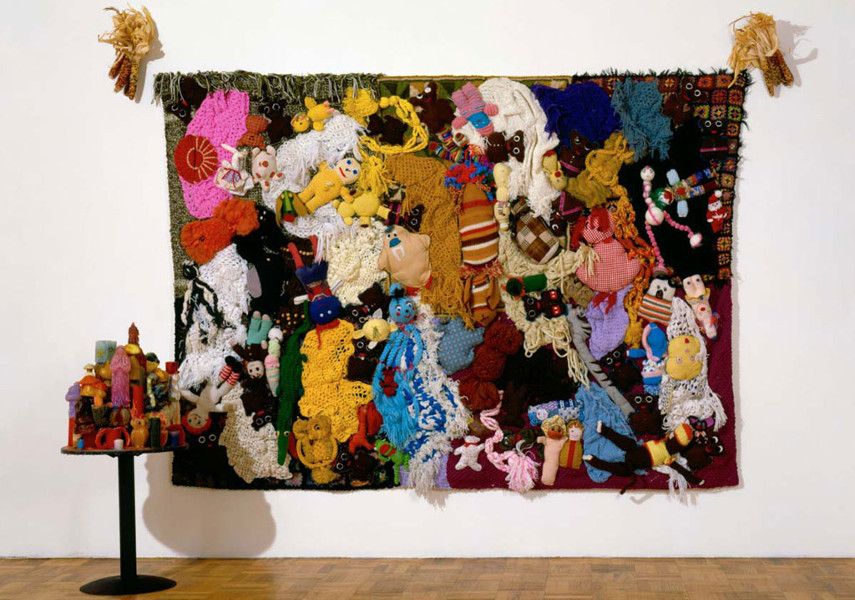 Exploring New Media with Every Art Piece
But Mike Kalley was never afraid of changes and when the audience entered MOCA to visit a group show dedicated to L.As finest artists they were greeted with artworks completely different from the childlike installations they are used to seeing. Mike Kelley's Proposal for the Decoration of an Island of Conference Rooms (With Copy Room) for an Advertising Agency Designed by Frank Gehry installation represented a steady architectural piece that consisted of regular office cubes with generic furniture that were disrupted with an array of vulgar and sexually explicit statements written all over the walls. In November 2005 Mike Kelley stepped out of his comfort zone once again and surprised the audience with an artwork entitled Day is Done that dealt with extracurricular activities of high school kids trough 2.5 hours long video artwork. The piece that futures an array of religious and folk art motifs as well as numerous unusual characters including witches, a dancing devil as well as mimes and demons focus on trauma, abuse and various types of socially acceptable deviations often experienced by teenagers. From 1999 till 2011 the artist spent his time working on his Kandor series that retold the story of Superman. The Superman that believes that his planet Kandor was destroyed when he was a small boy suddenly gets the news that the planet is hijacked by Brainiac and kept inside of a glass bowl. Finally, Superman manages to retrieve Kandor from Brainiac and hides it in his Fortress of Solitude. The mix media installation entitled Fortress of Solitude represents the highlight of the unique exhibition.
Day is Done Video Work by Mike Kelley
Mike Kelley Death and Relevant Museum Exhibitions
In the early 2010s, everything seems to be going great for the prominent artist. His works were featured in the greatest institutions in the world, sold for million dollars at auctions and the artist was getting the recognition he deserved. On January 31, 2012, when the retrospective of his work was about to open at Stedelijk museum in Amsterdam the press and the art world were suddenly shocked with the news that Mike Kelley committed suicide in his home in South Pasadena, Los Angeles County, California. According to the press, Mike Kelley ended his life by carbon monoxide poisoning at the age of 57. Soon after his death spontaneous outburst of grief occurred on the site near his studio in Los Angeles, where people brought stuffed toys, blankets, and wax candles thus creating installations similar to his famous More Love Hours Than Can Ever Be Repaid and The Wages of Sin artwork to celebrate his life and work. This mourning installation was later donated to Mike Kelley foundation that provides grants for innovative projects that reflect his multifaceted artistic practice.
Mike Kelley's famous exhibitions include Eternity is a Long Time at Hangar Bicocca in Milan, exhibition at UMMA - The University of Michigan Museum of Art in Michigan, Under the Big Black Sun California Art 1974-1988 at The Geffen Contemporary at MOCA, Los Angeles, California, ICA - Institute of Contemporary Art - University of Pennsylvania, Philadelphia, video works and a sprawling installation exhibition at Whitney Museum of American Art, New York City, exhibit at Museum of Contemporary Art Detroit, in his home town of Detroit, Michigan, Kelley's Kandors exhibition that (explored Kandor extensively) at Hauser & Wirth New York, Witte de With Center for Contemporary Art, Rotterdam, American Academy in Rome Gallery, Rome, Skarstedt Fine Art gallery, New York City, Centre Pompidou, Musée National d´Art Moderne, Paris, France, Center for Contemporary Art, CCA Kitakyushu, Kitakyushu, ACCA - Australian Centre for Contemporary Art, Melbourne, A Summer of American Masters with Robert Indiana in KM fine Arts gallery, Chicago, Boston University Art Gallery - BUAG, Boston, Michigan A Voyage of Growth and Discovery at Sculpture Center, New York, Mobile Homestead, Museum of Contemporary Art, Los Angeles, and participation in Whitney Biennial, New York City, NY in 2012. His works are included in many private and public collections such as Museum of Modern Art New York, Museum Brandhorst, Munich, the Solomon R. Guggenheim Museum in New York, Tate Gallery in London, Collezione Maramotti, in Italy, Broad Collection and Museum of Contemporary Art, Los Angeles, to name a few.
Kelley lived and worked in various places in Los Angeles, among them the Farley Building in Eagle Rock.
References:
John Welchman K. et all, Mike Kelley: Interviews, Conversations, and Chit-Chat (1986-2004), JRP|Ringier (2005)
Finkel L., Mike Kelley dies at 57; L.A. contemporary artist, Los Angeles Times Magazine [December 14,2016]
Cotter H., Mike Kelley, an Artist With Attitude, Dies at 57, The New York Times [December 14,2016]
Featured image: Mike Kelley – Untitled (detail). 29 67/100 × 17 67/100 in. 75.4 × 44.9 cm. Photo courtesy Kavi Gupta Gallery
All images used for illustrative purposes only