Easily passing as both one of the most notorious and innovative individuals modern art history has to offer from its arsenal, Mike Parr is arguably the most significant active Australian artist who works in the fields of performance art and print-making. Emerging from a background of conceptual art in the early 1970s, Mike is internationally renowned mostly for his provocative performance pieces which have a tendency of pushing the boundaries of extreme and acceptable within art. While working in and between a diverse range of media (performance, video, drawing and printmaking), the autobiographical inclusion is a foundational concept to which the artist frequently returns. It should also be noted that Mike is the brother of the famous installation and photography artist, Julie Rrap, also known as Julie Brown-Rrap.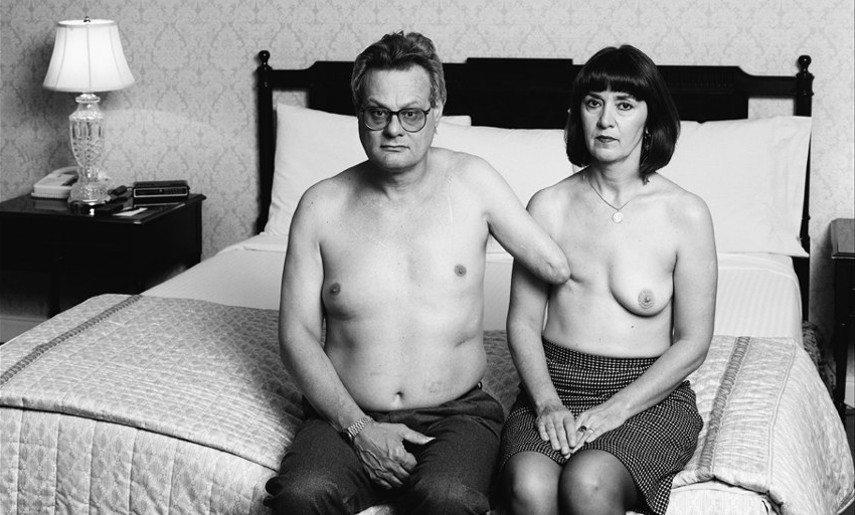 Path to the Extreme
Mike Parr spent his childhood in rural Queensland, an Australian state covering the continent's northeast region, famous for its coastline that stretches nearly 7,000 km in length and is a home to the world's largest coral reef system (Great Barrier Reef) and thousands of marine species. Parr's childhood was marked by a handicap as he was born with a misshapen arm - a fact that will heavily influence his future art. Since he was always attracted to unorthodox artistic expression, Mike pursued a combined degree of arts and law at the local University of Queensland. He began his college days in the year of 1965 but discontinued his studies soon after he enrolled with the second year. In 1968, Parr relocated to Sydney. He started attending classes at the National Art School to study painting for a brief period of time, yet again proving to himself that he is not a good fit with what other people call traditional art. It would take him a few more years before Parr started to feel the success of his artistic endeavors. In 1970, he and his friend Peter Kennedy established now iconic Inhibodress - an artists' collaborative and alternative space where conceptual, video and performance art were treated as focal points and not accessories. It was around this time that Mike started doing his now iconic performance pieces. His early work was designed to have one main goal and that was to get a reaction from the audience, preferably a disturbing one. For example, in one of Parr's earlier works, he sits in front of the viewers and begins talking to them without revealing what awaits them mere seconds away. Suddenly, Mike gets out a cleaver and begins hacking into his prosthetic arm which he has previously filled with minced meat and fake blood.
Mike Parr gained fame due the extreme lengths he was willing to go in order to convey his messages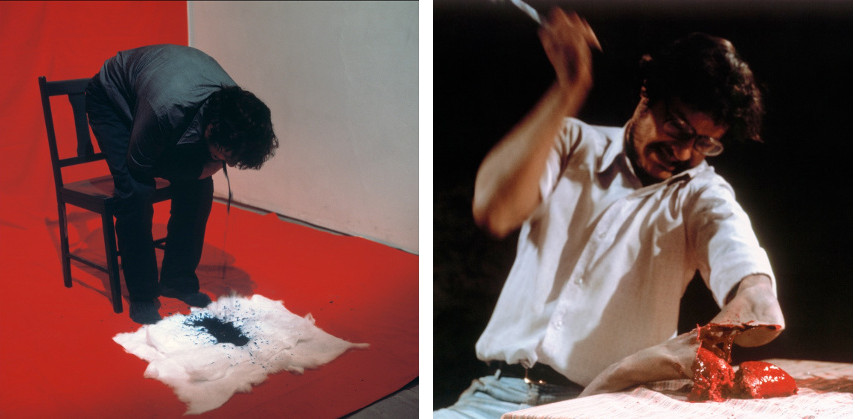 Various Fields
Parr's artistic vocabulary, at least the performance aspect of it, was always marked by a keen exploration of one's physical limits, underlined by a regular note of memory and subjectivity. Dee to such concepts, Mike's performances have often been based on horrific events such as self-mutilation or extreme physical feats as the case was with his famous 100 Breaths or aforementioned Armchop. This is also the reason why Mike's work is regularly described as notorious. After Parr performs his pieces, they are documented both via photography and video. Marking the second part of Parr's artistic career, Mike's prints are a story for themselves. By his own acclaim, the artist started drawing in the year of 1981 because around that time he stopped doing the body art performances of the 1970s. His mature prints represent a strong contrast to his often disturbing performances and consist of beautiful etchings featuring a barrage of raw and spiky lines. Like Parr's other pieces, his prints also explore the potentials and boundaries of one's memory distortions, proving yet again Mike's fascination with this particular field[1]. In a sense, his prints can be interpreted as memories of views that have long passed by. The year of 2002 was the marking point of Parr's most challenging performance to date, titled For Water from the Mouth - Mike was held at the gallery space where the artist was isolated in a room for ten full days, without human contact or anything other but water. Another famous performance piece Parr is the proud author of was A Stitch in Time. In it, Mike recorded himself having his lips and face extensively stitched with threads that shaped his facial expression into a caricature of shame. All the years after that, including 2016, proved that many Australian media shows and Sydney gallery were interested and in search for Parr's artistic self-pieces, evidencing that he is still rather intriguing despite being active for so long.
Besides producing his provocative performance pieces, Parr is also active in other fields and mediums as well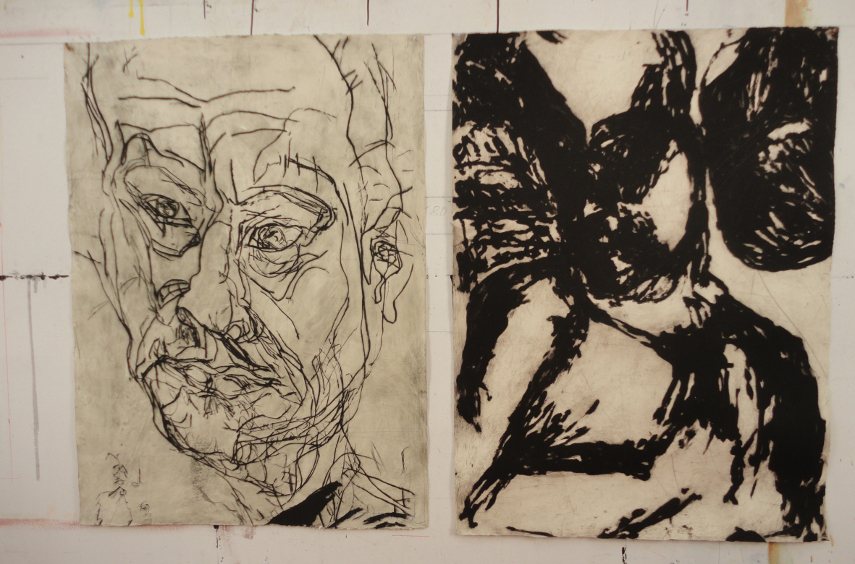 Testing the Boundaries
Mike Parr can safely be regarded as one of those artists who like to see how far they can take their work, how extreme can one's art get and at what price. Due to that fact, the audiences have picked up on his interesting and unique ideas, which naturally reflected on his popularity. Always followed by a notorious note that simply demands attention, Parr's works have been exhibited extensively both in Australia and internationally, with his shows garnering much success in countries like Brazil, Cuba, France, Germany, Hungary, Japan, Korea, Taiwan and the United States of America. Ultimately, another aspect of Mike' work attracts the viewers as well besides its extreme nature - Parr's work confronts the entirely arbitrary nature of meaning in art. And this has been the magic ingredient that will forever ensure this artist's work will always be both intriguing and well noticed.
Mike Parr lives and works in Sydney, Australia.
References:
Marsh, A., Wilding, G., Mike Parr: Edelweiss, Moderne Kunst Nürnberg, April 30, 2013
Featured image: Mike Parr - Photo of the artist in a gallery - Image via thesaturdaypaper.com.au
All images used for illustrative purposes only.