Performance artists are the ones who often break boundaries and blur lines between different disciplines while establishing their own style and approach to art. For Milo Moiré, a Swiss conceptual creator, the use of her body in her art was the crucial departure point. Moiré is best known for her provocative nude performances in public and her continuous efforts to connect the women's rights activism with artistic expression. Moiré has a background in psychology and claims that her interest in human behavior is one of the main factors that helped her grow as an artist.
Interest in Psychology, Performance and New Media
Milo Moiré was born in Switzerland in 1983 and she comes from a Spanish-Slovakian family. Already as a child, she was very good at drawing and nothing could make her happier than a giant pack of crayons. Young Moiré was a curious yet introverted child – she enjoyed observing people and interpreting their moods and behaviors. At the same time, she developed a strong desire express her thoughts visually and she started creating her own paintings, focused on the imagery of human body. When it comes to her interest in behavioral traits, Moiré studied cognitive and neurosciences and she graduated with a degree in psychology. At this point, she decided to do something she has always longed for - she started implementing her knowledge of the human psyche into her art. She also claims that the works of Marina Abramovic have influenced the direction and scope of her own projects. Milo Moiré was captivated by the strength of Marina's performances and she began developing brave ideas for her own works. Nowadays, we can see a lot of pornographic elements in her pieces, which resemble the concepts of highly esteemed creators such as Paul McCarthy or Valie Export. I make art that takes place in the midst of life, because what is important to me is life itself, the unpredictable, the reflection upon established normative notions, claims Moiré. Moiré's work is inspired mainly by sexuality and it explores the moral distance that people commonly take when dealing with explicit sexual scenes. Her work has reached an international exposure following her controversial performance in Dusseldorf, Germany in 2013, entitled The Script System. Over the next couple of years, Moiré was frequently traveling between Dusseldorf, Cologne, Basel, Amsterdam, Paris and London, organizing her public gigs such as PlopEgg Painting in 2014, The Naked Life and Naked Selfies in 2015, and most recently, in 2016, Mirror Box. Moiré regularly collaborates with a notable photographer Peter Palm and they made a large series of artistic nude photography.
Moiré's work is inspired mainly by sexuality and it explores the moral distance that people commonly take when dealing with sexually explicit scenes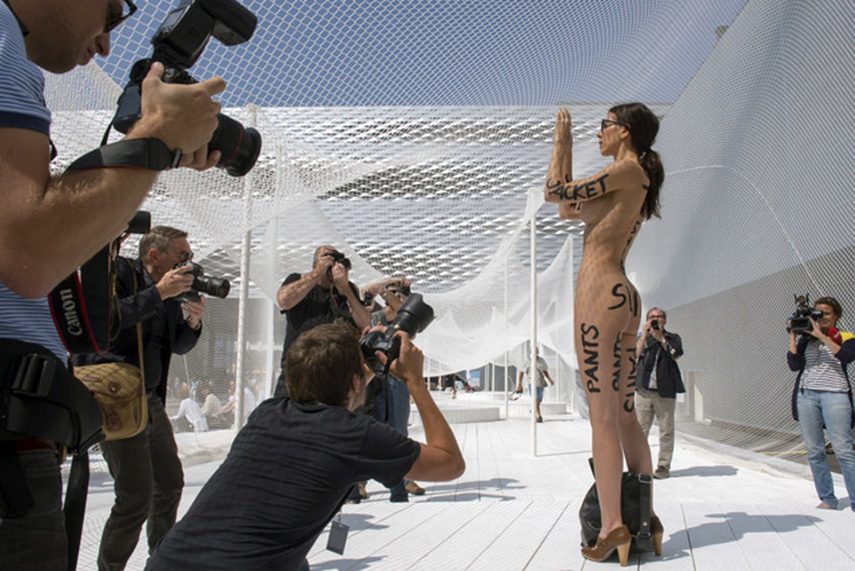 PlopEgg Works
Moiré's PlopEgg No. 1 was initially performed at Art Cologne 2014. This bizarre painting method involves the dropping of paint-filled eggs from the artist's vagina onto a canvas, resulting in an abstract imagery. The eggs are usually filled with ink or acrylic paints and they form versatile stains of strongly saturated colors. There are many video recordings of Moire engaged in this practice and she refers to it as a meditative art birth performance. At the end of her PlopEgg gigs, the artist folds the canvas in half and reveals a symmetrical composition similar to Rorschach tests or human womb. To create art, I use the original source of femininity – my vagina, explains Moiré.
PlopEgg is a bizarre painting method which involves the dropping of paint-filled eggs from the artist's vagina onto a canvas
[caption id="attachment_298205" align="aligncenter" width="847"]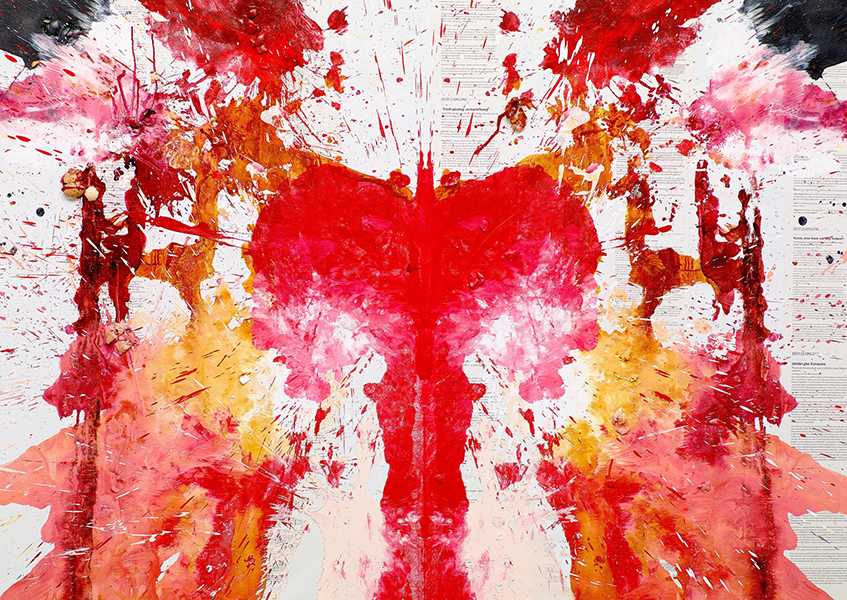 Milo Moiré - PlopEgg #1, 2014[/caption]
The Script System and Mirror Box Performances
Moiré's debut performance of The Script System happened in 2013 in Dusseldorf, while in 2014 she traveled to Art Basel to perform The Script System No.2. The artist's idea was so to come to the festival completely naked, with the names of clothing items written on her skin in paint. She was refused entry to 2014 Art Basel and she had to dress in order to enter the show . Moiré claimed that The Script System is based on the script theory of cognitive psychology and that words written on her skin represent scripts aka repetitive daily entities we're usually not aware of. Her performance was supposed to break through this everyday human blindness. She also said that the lack of clothes helps human bodies regain their power to communicate without distractions such as money or fashion trends. In 2016, Moiré organized even more daring gigs - she performed naked to protest the sexual attacks by immigrants in Germany. In her new work, she shows her private parts inside a mirror box and invites the public to touch them. Everyone who approached her was recorded and there are both censored and uncensored versions of the videos available on Youtube, Vimeo, Facebook and Moiré's personal website. Mirror Box is known to resemble Touch and Tap Cinema work by Valie Export, performed in the late 60s and early 70s.
In her new work, Milo Moiré invited the public to touch her privates inside a mirror box, which was recorded in both censored and uncensored videos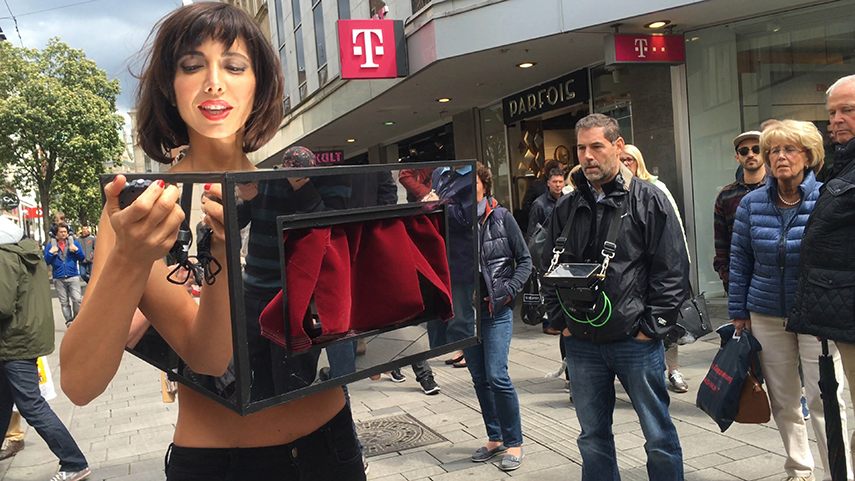 Blurred Lines Between Artistic Material and Pornography
Anywhere but in an art gathering, what Moiré does would be regarded as a satire on modern cultural emptiness, said The Guardian in a review of Moiré's works. Perhaps on purpose, Moiré has placed her art on thin ice between art and pornography, testing the public response. She has even been arrested for public indecency twice while making naked selfies with tourists in Paris and during Mirror Box performance. In a nutshell, the artist and her daring pieces have been receiving a lot of mixed responses from both critics and audiences, but they rarely leave people indifferent. While the artistic value of her works might be hard to estimate and it is prone to heated debates, Milo Moiré has surely succeeded in creating a memorable picture of herself in today's art world.
Milo Moiré lives and works in Dusseldorf, Germany.
Featured image: Milo Moiré's Portrait
All images © Peter Palm