Favoring printmaking as his primary form of expression, Minenkulu Ngoyi is a Johannesburg-born artist, printmaker, publisher and 'zinester.  A substantial amount of his artwork depicts his relationship with the Shembe way of life, an African-initiated baptist church founded by Isaiah Shembe, to which his family has a historical connection. Minenkulu is also active in South Africa's art scene, being involved in a number of exhibitions and designs that often offer social commentary. One such was Sonke One Man Can (2011), for which Minenkulu worked on a mural in Soweto promoting voluntary male circumcision. Minenkulu also constitutes one half of the artist duo Alphabet Zoo, teamed up with Mozambican creative Isaac Zavale. Together they host printing workshops and hope to organize the first ever Johannesburg 'zinefest.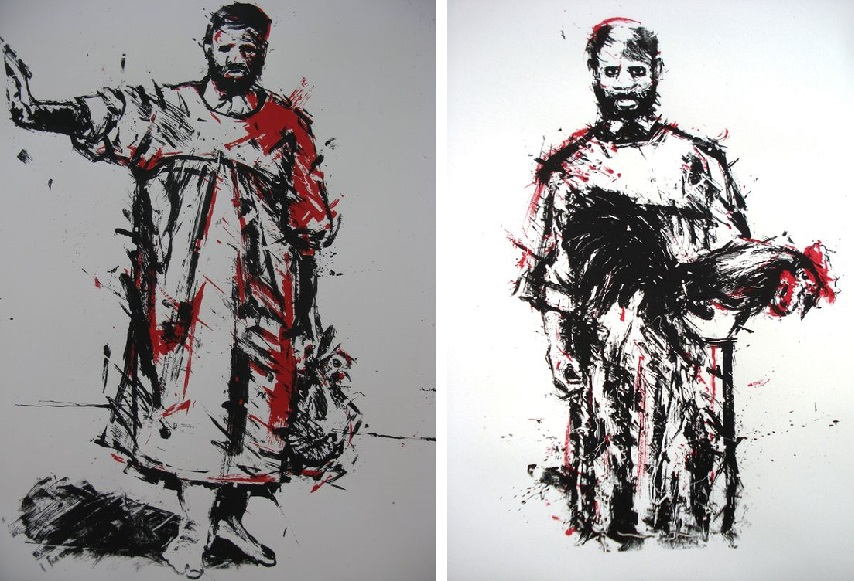 Art Beyond Question
Minenkulu, born 1987, graduated from Artist Proof Studio and now practices printmaking at NewARC Studios in Newton, a suburb in Johannesburg. The people living in it, and his home city itself, provide Minenkulu with his greatest source of inspiration. Some of his favorite topics to discuss in his artwork include religion and politics, the reason behind that being the same reason some people evade those subjects: how difficult they are to discuss. Varying in theme, subject, message, and style, his works often require and offer no explanation. What attracted young Ngoyi to the world of creativity is the freedom of expression without having to explain or answer to anyone, while cooperating with other creatives, exploring each other's ideas and implementing them in a single work, has helped motivate him to advance his career.  His style is influenced by some of South Africa's most prominent artists, such as Nelson Makamo, Wiliam Kentridge and the late Peter Clarke.
Minenkulu uses various printing techniques to tackle taboo subjects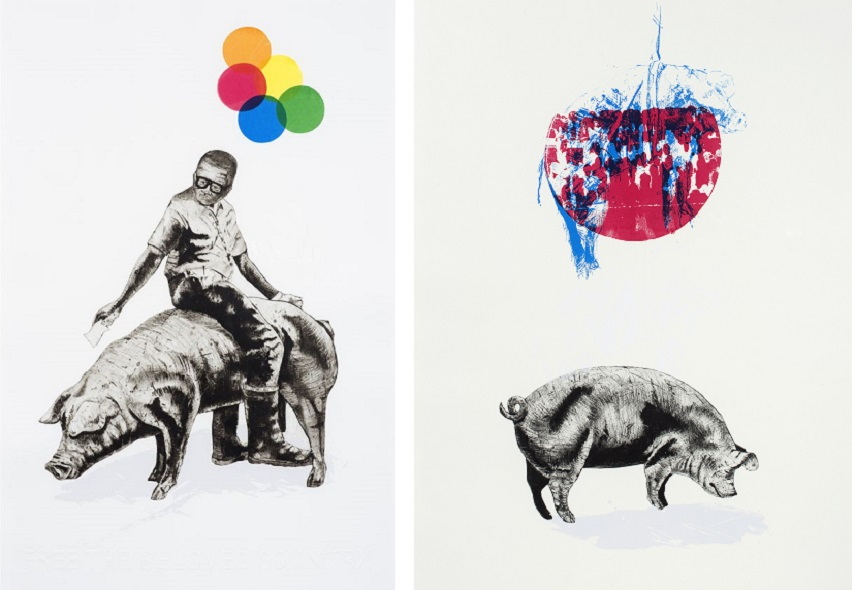 Printing His Way Into the World
Minenkulu's preferred medium is printmaking because of the versatility it offers. He usually begins his works by designing sketches of what he wants to print and then chooses the appropriate printing technique which would best interpret the piece in progress. Minenkulu's early designs had little or no written words in them, while lately he is experimenting with adding text as well. He has been involved in many exhibitions and projects. One of them, Voice and citizenship, A journey through screen-printing (2011), had him participate in a group show and various work that involved screen-printing as a medium of social expression. Through these activities, Minenculu got the opportunity to hold a silk screen workshop at the Johannesburg Art Gallery (JAG). He has also been a part of a number of group shows such as Legend of Culture at Arts on Main (2011), Independent Publishing Project at the Goethe Institution (2012) and Coming of age: 21 years of Artist Proof Studio at JAG.
The artist is represented by Kalashnikovv Gallery and Kalashnikovv Galerie Berlin.
Minenkulu Ngoyi lives and works in Johannesburg, South Africa.
Featured image: Minenkulu Ngoyi - portrait, photo by Anthea Pokroy, via witsvuvuzela.com
Other images via pinterest.com