Miriam Shapiro was born in Toronto, Canada, as an only child of Russian Jewish parents. Both sets of grandparents emigrated from Russia. Her maternal grandfather invented the first movable doll's eye in the United States and manufactured Teddy Bears (named after Theodore Roosevelt). Her father was an industrial design artist who fostered her desire to be an artist and served as her role model and mentor (he was the artist himself and an intellectual, studying at the Beaux Arts in New York City at the time of Miriam's birth). Her mother was a stay at home mother who worked part-time during the depression. She was highly supportive of Miriam's wish to be a professional artist. Miriam began sketching at the age of six. She attended classes at the Museum of Modern Art and learned to draw from the nude model at age 14 when she attended Federal Art Project classes. Miriam Schapiro received her BA in 1945, her MA in 1946 and her MFA in 1949, all from the University of Iowa in Iowa City, where she studied printmaking with Mauricio Lasansky.
Miriam started with abstraction artworks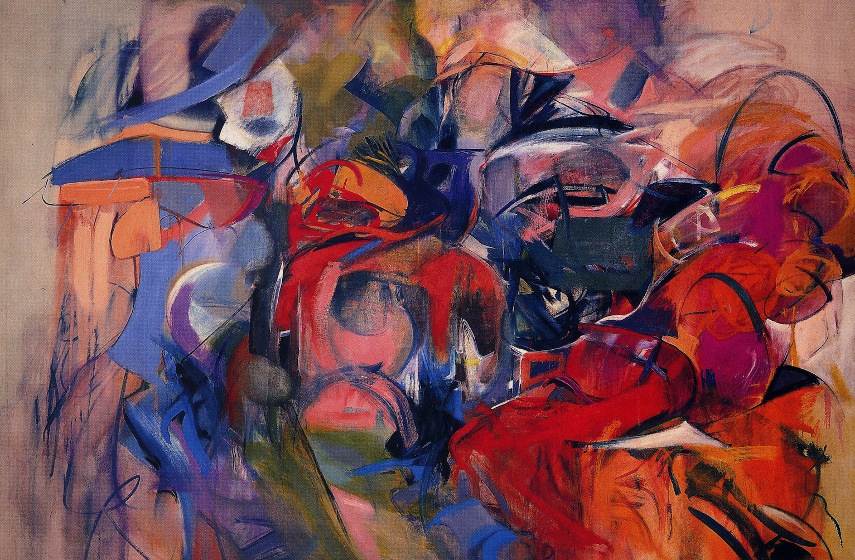 Transformation of Style
At the university, Schapiro met and married fellow artist Paul Brach. The couple moved to New York in 1951, when Abstract Expressionism was exerting a powerful influence. From 1952 to 1955 she functioned as a children's art teacher, real estate secretary, and bookshop assistant in New York. Since 1955, she has been a full-time artist. Schapiro was a member of thesecond generation of the Abstract Expressionism movement in the 1950s. She began to show at the Andre Emmerich Gallery in 1958. Her Cubist-derived style was transformed by this movement's influence, leading her into a series of painterly, calligraphic figural and landscape works. Her art was characterized by subtle colors and painterly, gestural strokes. Women appeared in her paintings during these early years of her career, whether they were appropriations of famous art historical masterpieces or incorporated photographs of celebrities such as Judy Garland or Gloria Swanson.
Miriam Schapiro talks about specific art rules not made by women
Shrine Series of Mimi Schapiro
Beginning in 1960 Schapiro gradually eliminated the abstract expressionist brushwork from her paintings, introducing a variety of geometric forms. Rectangular window-like openings in some works were prophetic of her subsequent Shrine series. Each Shrine painting depicted compartments representing different sections of the woman artist's self. The bottom compartment was a mirror (self-reflection); the next contained an egg (woman/creator); the third was an image fragment borrowed from the history of art, and the top frame contained the color gold (aspiration). The Shrine series was pivotal in Schapiro's career and foreshadowed much of her mature work. Her use of self-referential symbols became increasingly important. Her painting, Big Ox No. 1, from 1968, references Shrine series, however no longer compartmentalized. The center O takes on the symbol of the egg which exists as the window into the maternal structure with outstretched limbs. Big Ox No.1 was inspired by the thought of a large, imposing sense of landscape coming toward the viewer and inviting him to become part of it. It could actually be viewed as Miriam's first feminist painting. The letter O is superimposed on the X in very feminine pink and apricot hues, and the geometry hardly masks a sexual connotation. After joining the new California Institute of the Arts in Valencia as the first female faculty member, Schapiro met Judy Chicago. She visited Chicago's class for women artists at Fresno State College and also met women artists in Southern California. What she realized was that women were not working in studios as did the artists of New York. In the 1970s, she established the Feminist Art Program at the California Institute of the Arts, in Valencia, together with Judy Chicago. The program set out to address the problems in the arts from an institutional position. Often nicknamed Mimi Appleseed, after Johnny Appleseed whose dream was for a land where blossoming apple trees were everywhere (even more often just Mimi), Schapiro has opened paths previously closed and unknown to women artists, past and present, trained and untrained.
Miriam used self-referential symbols in her Shrine series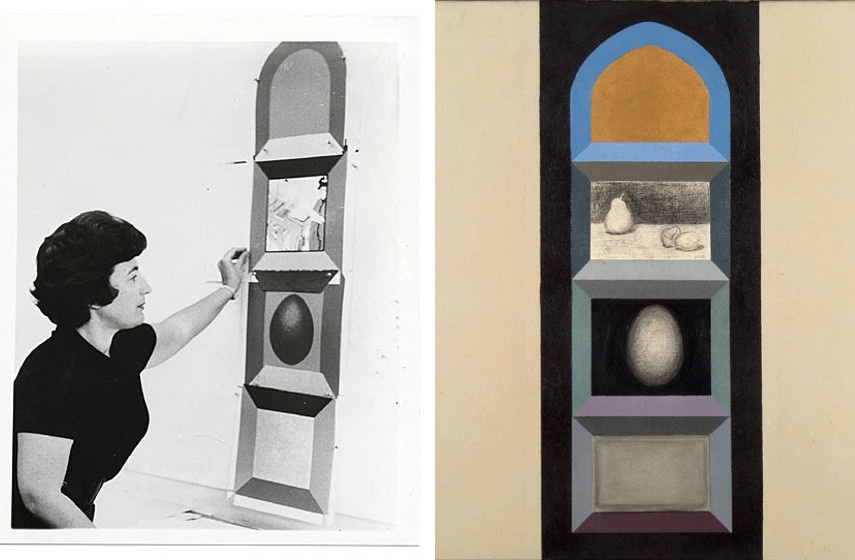 Dollhouse at the Womanhouse
In 1972, the two artists co-created Womanhouse with twenty-one art students. This landmark collaborative art project explored feminist concerns about women's place in the professional and art worlds. The transformation of a Hollywood house, previously scheduled to be demolished, allowed the artists to make traditionally female spaces, such as kitchens, into feminist works of art. She participated in the Womanhouse exhibition in 1972. Mimi's smaller piece within this exhibition was called Dollhouse (one of the best-known icons of feminist art) and it was constructed using various scrap pieces to create all the furniture and accessories in the house. Each room signified a particular role a woman plays in society and depicted the conflicts between them. In this assemblage, with its stage-like settings of toy furniture, wood, fabric, paint and paper, the only male included is a stuffed fabric nude model for the artist's studio. As her career progressed, Mimi Schapiro became interested in art and techniques that had been considered so-called female art or women's work. These techniques included quilting and embroidery, and have often been ignored in canonical, allegedly, high art, using common materials, creating altered and substituted canvases. Schapiro even invented the term femmage to explain her process for creating art, in which she began to combine painting, textiles, and paper into collages. The use of monumental scale and patterned or decorative fabric pieces merged in the femmage was a strong response to a patriarchal history of art. Femmage is work done by a woman, where scraps and recycled material are essential in the process of creation. Preserving and collecting are very important, so are the drawing and handwriting sewed in the work. The theme of femmage work always addresses itself to the audience in a woman-like context. There are abstract patterns and photographs of other printed material.
The center O takes on the symbol of the egg which exists as the window into the maternal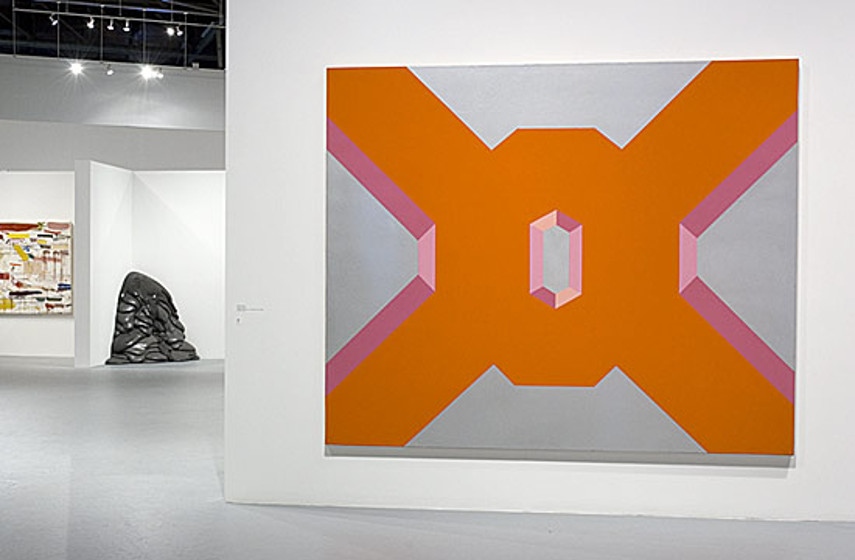 Pattern and Decoration
Schapiro was one of the leaders of Pattern and Decoration (also labeled Pattern Painting), a major movement of the mid-to-late 1970s which offered an alternative to the rigidity and persistence of the Minimalist and Conceptual movements of the 1960s. It is an art movement situated in the United States from the mid-1970s to the early 1980s, sometimes it is referred to as P&D or as The New Decorativeness. The movement was championed by the gallery owner Holly Solomon. The Pattern and Decoration movement consisted of artists, many of whom had art education backgrounds, who had been involved with the abstract schools of art of the 1960s. The westernized, male-dominated climate of artistic thought throughout Modernism had led to a marginalization of what was considered non-Western and feminine. These artists also looked for inspiration outside of the United States. The influence of Islamic tile work from Spain and North Africa are visible in the geometric, floral patterns. They looked at Mexican, Roman, and Byzantine mosaics; Turkish embroidery, Japanese woodblocks; and Iranian and Indian carpets and miniatures. Today, one of the more interesting components of P&D was its challenge to the male domination of the art world, which certainly motivated Miriam Schapiro. In the late 1960s when she was teaching at UC San Diego, Schapiro organized an art program that pioneered an aggressively feminist approach to overlooked materials and art practices. But feminist concerns were only one of the various engines of P&D. Schapiro organized a meeting (at Zakanitch's loft) of several artists interested in using alternative materials and decorative sources in their work. Later that fall, Kushner, Jaudon, Schapiro, Zakanitch, Kozloff and Tony Robbin all met at Golden's Brooklyn apartment to continue the discussion. The fierce gender politics Miriam Schapiro embedded in her "femmages", while historically important and largely successful, by now have been sufficiently absorbed into the mainstream so that the artworks included here hardly seem confrontational. Nevertheless, works like Gates of Paradise (1980) and her large Heartland (1985), a heart-shaped fabric and acrylic collage made with fabric flowers scattered over cascades of interlocking painted polygons adapted from Islamic decoration, have a considerable visual impact.
The transformation of a Hollywood house allowed the artists to make traditionally female spaces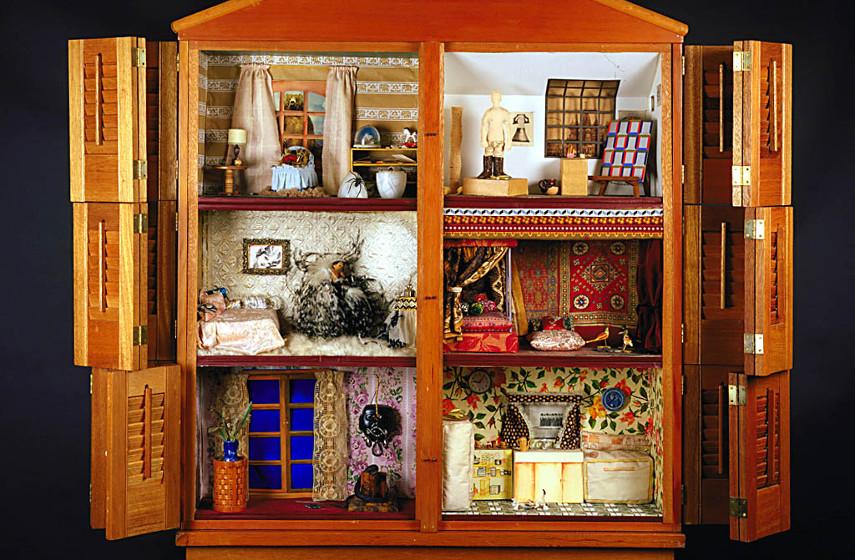 Mimi Schapiro's Collaborations and 80s Return to Figurative Artworks
Miriam Schapiro worked on a series of alleged collaborations in which she explored her relation to other female artists. In her Collaboration series (1975-1976) femmage patterning was employed to frame works by women artists of the past. She used images from the works of women such as Frida Kahlo or Mary Cassatt. In an updated piece Schapiro surrounded the old image with images from her own life. In Homage to Goncharova (1979) she paid tribute to the theater and costume designs created by Natalia Goncharova for the Ballet Russes in the 1920s. Her interest in theater continued in the Presentation series of 1982-1983, in which an abstract figure was enclosed by two borders resembling a proscenium arch and curtain. Anatomy of a Kimono (1976) was a monumental ten-panel work in which she explored the beauty of pattern and color relationships in the traditional ceremonial garment. Since the mid-1980s she has returned to figurative work, using fabric and more dynamic brushwork and motifs. Inspired by theater and dance, her large canvases display the creative woman in action on stage. I'm Dancing as Fast as I Can (1984) and Master of Ceremonies (1985) each presented three dancers on a stage. The lively abstract qualities of the dancers and cut out patterns owed a debt to artists such as Matisse, Kandinsky, Sonia Delaunay. Schapiro maintained her feminist viewpoint in these artworks. Schapiro continued to work with dancing figures in large paintings such as Ragtime (1988) and in her monumental public sculpture, Anna and David, a 35-foot outdoor piece in Rosslyn, Virginia. Her 1989 book, Rondo, contained a colorful accordion foldout with a string of highly animated dancing figures as well as a series of Schapiro signature images: the kimono, the heart, pieces of fabric, a crocheted bag. Since the 1990s, Schapiro's artworks have incorporated figurative elements; the femininity alluded to in her abstract works has become personified and emerged from within femmage patterns as exuberant, dancing women. Some of the paintings from the 1980s to 2008 are very important to Miriam's creative portfolio. Gates of Paradise of 1980, Presenting Eden 1990, are just a few.
Schapiro worked on a series of alleged collaborations to explore relation to other female artists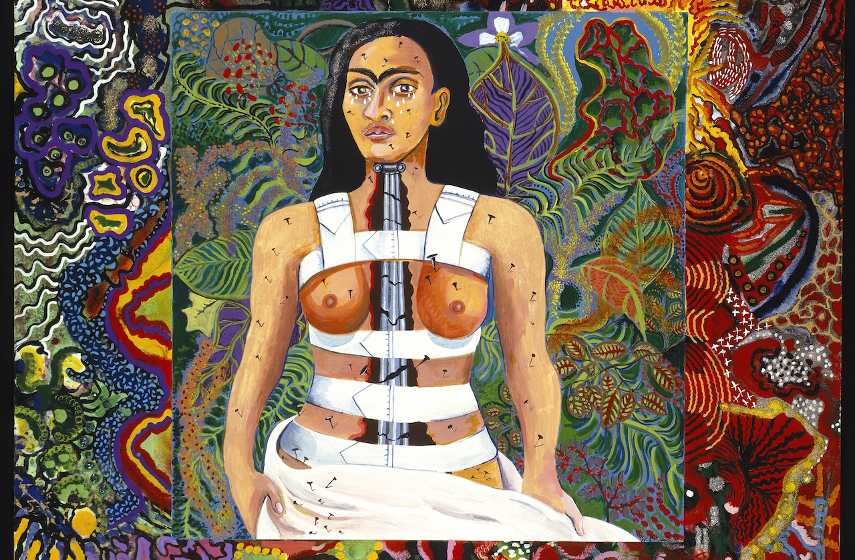 Awards, Recognitions, Education and Public Site Collections
Schapiro has received many honors and awards, including The National Endowment for the Arts Fellowship, the Ford Foundation Grant, the John Simon Guggenheim Memorial Foundation Fellowship, Skowhegan Medal for Collage and the Rockefeller Foundation Grant for Artist's Residency at the Bellagio Study and Conference Center in Italy.
She has also been honored by the National Association of Schools of Art and the National Women's Caucus for Art. She was awarded a Lifetime Achievement Award from the College Art Association and also received the Harrison-Hooks Artist Lifetime Achievement Award from the Polk Museum of Art, Lakeland Florida, as well as the Elan Award from the Women's Studio Center in New York. The Miriam Schapiro Archives for Women Artists at Rutgers University. Miriam Schapiro is the recipient of six honorary doctorates and has been the subject of numerous doctoral and master's degree dissertations and she has been honored with painting retrospectives, a thirty-year works on paper retrospective, numerous one-person exhibitions and has been included in hundreds of group exhibitions throughout the world. Miriam Schapiro's art can be found in numerous private and public collections such as: The Museum of Modern Art and The Whitney Museum of Art, New York, New York; The Boston Museum of Fine Arts, Boston, Massachusetts; The National Gallery of Art and The Hirshhorn Museum, Washington, D.C.; The La Jolla Museum of Art, La Jolla, California; The Minneapolis Institute of Art, Minneapolis, Minnesota; The Indianapolis Museum, Indianapolis, Indiana. International Collections: The Luswig Museum, Aachen, Germany; The Australian National Gallery, Canberra, Australia; The Art Gallery of New South Wales, Australia. Mimi Schapiro was originally known as an Abstract Expressionist, but she has moved through various techniques and innovative materials in her artwork. She was one of the earliest artists to work with computers, geometric abstractions, figure drawing, and various other styles. Schapiro is acknowledged as a feminist visionary and she definitely leaves an artistic legacy that will occupy a considerable place in 20th-century history.
All images used for illustrative purpose only © Miriam Schapiro