Miss Bugs is a London-based street art duo composed of a girl and boy - Miss & Bugs - known for their colourful mixed-media works.
Style and Inspiration
Although Miss Bugs is a collaboration founded in the beginning of 2007 there is no much information about the artist couple. The only info featured on Miss Bugs' website is a Pablo Picasso quote:
"If there is something to steal, I steal it!".
The quote from one of the most important artists of 20th century best sums up Miss Bugs' motto, as the artist pair takes iconic imagery from pop culture and art history and reforms it using different kind of various mixed media methods. Making their own newly reconstructed iconic pieces, Miss Bugs uses an array of techniques from silk screen printing to resin casting.
Inspired by pop culture, superheroes, art history, as well as the artists such as Piet Mondrian, Jeff Koons, and Damien Hirst, Miss Bugs' style is full of contrast - clean animations with dripping paint; colorful bodies with black and white edges.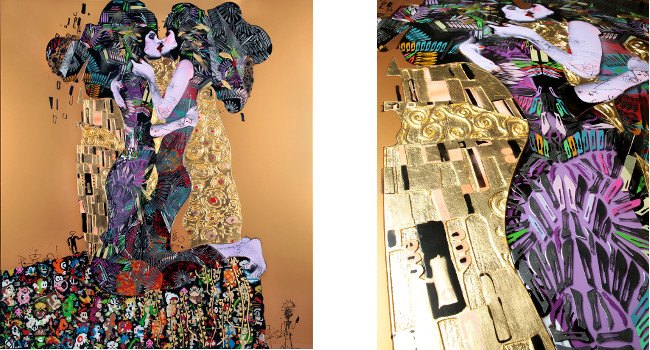 Miss Bugs' Latest Work
In Miss Bugs' latest work, the duo utilizes materials such as pharmaceutical capsules, bullets, syringes and toy cars which are encapsulated in resin to form intensely detailed large scale works.
Their mixed media masterpiece titled Dreamgaze (2014) is over 5 feet wide and nearly 4 feet tall. Dreamgaze is an artwork made of collage elements, gold leaf, and surgical blades cast in resin on wood and aluminum depicting the profile of a young woman.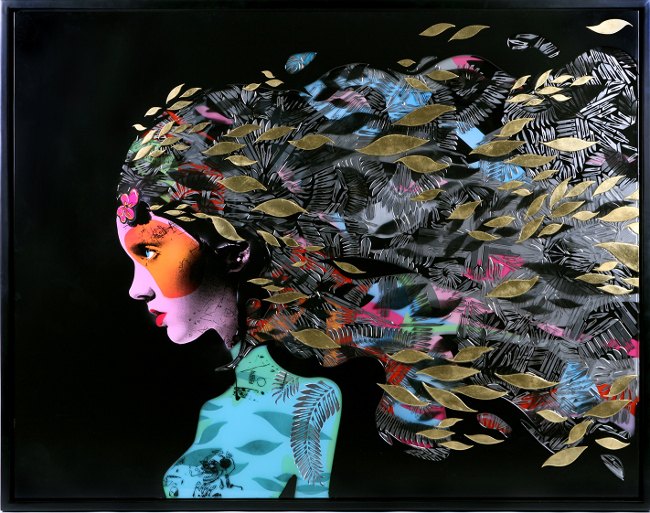 Plastic Grace is a magnificent life-sized (1720mm x 700mm) multimedia art piece made from wood, aluminium, resin, thousands of plastic Japanese charms and paint.
In their work, Miss Bugs questions the very nature of the art establishment. It makes us question the ownership of ideas, working methods, and the relationship and knock-on effect that artists have with one another.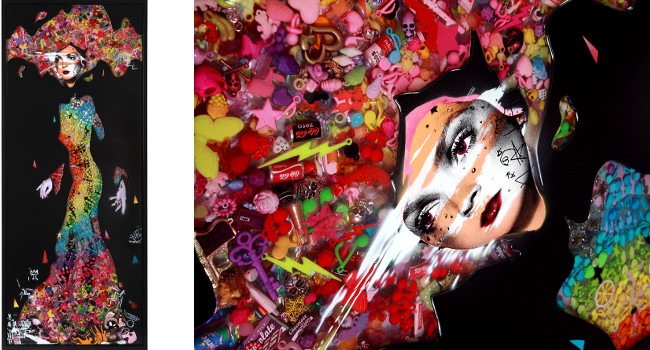 Cut Out and Fade Out
One of Mis Bugs' well-known street projects, entitled Cut Out and Fade Out, deals with the ideas of memory and lost moments in time. Usually over 8ft tall, the artworks are constructed on MDF frames, and feature collages made up of photos of the underlying location overlaid with other found images. Once completed, Miss Bugs places them in position on the street, and leaves them there for the public to respond to.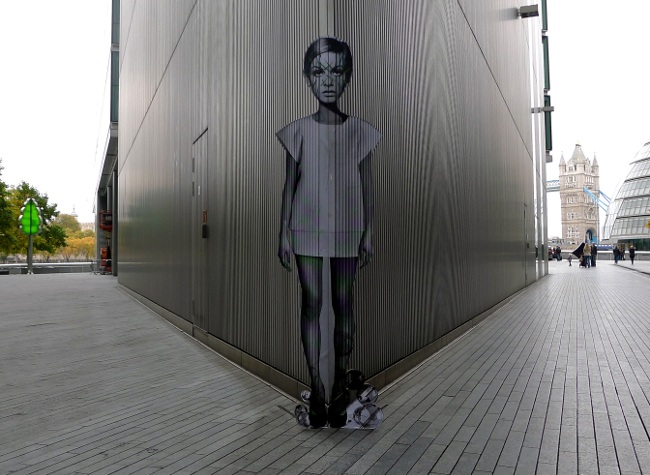 Miss Bugs' work has been included in several exhibitions at Stella Dore, London, UK (2007); Ink-d Gallery, Brighton, UK (2008); Brooklynite Gallery, New York, USA (2009, 2011); New Image Gallery, LA, USA (2010); and Cave Gallery, LA, USA (2011); among others.