Miss Van aka Vanessa Alice Bensimon is a French artist, considered one of the best female painters of the international graffiti scene. She is also known for initiating the feminine movement in the Street Art. Her imagery covers a whole variety of female forms and their turbulent emotions. Miss Van is not only a street artist – she also exhibits in galleries. While her outdoor works are often cheerful, colorful and cartoonish, her gallery pieces are different, darker and more grotesque, often showing bizarre scenes of role play and peculiar human-animal hybrids. Miss Van's recent artistic pursuits have taken her to many different cities in Europe, the United States and South America.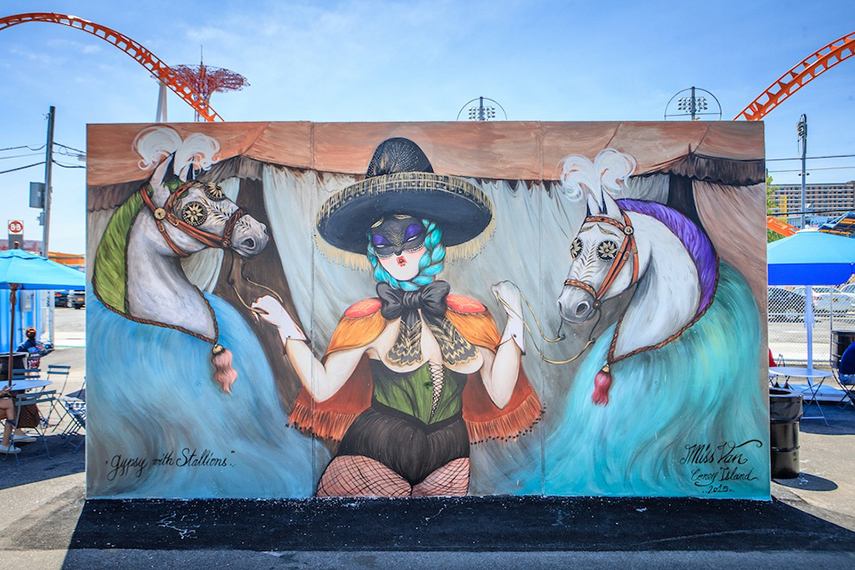 Sultry Poupées
Miss Van is originally from Toulouse, France but she has spent most of her life in Barcelona. Toulouse is famous for its thriving graffiti scene in the early 90s, thanks to Miss Van and a couple of her fellow artists. Ever since Miss Van's interesting cartoonish pieces began to pop up in the center of Toulouse, they gained a lot of public recognition. Her sultry female characters possess a timeless quality, as if women had always painted such art as a means of self-expression. Since the early 90s, Miss Van's characters kept evolving, becoming less cartoonish and more dangerously alluring. Their facial expressions also became increasingly ambiguous. Miss Van's signature aesthetics, built over many years, revolves around eroticized female subjects called poupées (meaning dolls, in French). Using the term poupées, the artist alludes to the elements of fantasy and narrative structures. Her poupées are recognizable for their direct gaze, pouty lips, voluptuous curves and erotic gestures. Besides her feminine characters, Miss Van incorporates also animal figures into her works, such as deer, rabbits and foxes, who have a pet-like relationship with the dolls. The human-animal pairings depicted in her pieces open up the topics of identity, role-play and freedom to express the natural human (or animal) instincts.
Miss Van's signature aesthetics revolves around eroticized female subjects called poupées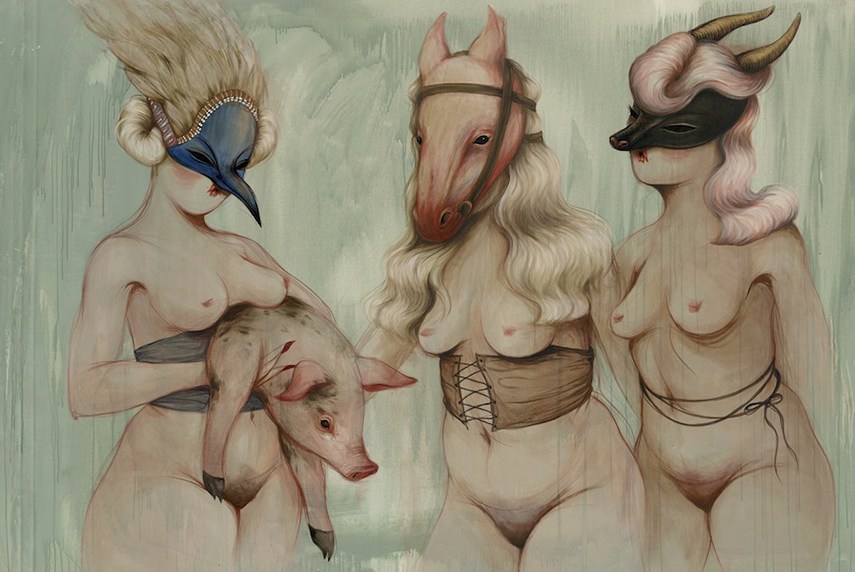 From Streets to Studio
In addition to her outdoors work, Miss Van chose to embrace the enclosed spaces of the gallery scene as well. After she became engaged in gallery work, her characters grew more sensitive and more delicately rendered. There is a clear difference between Miss Van's earlier art and the pieces she creates nowadays. In the beginning, her poupées were visually simplistic with thick graphic outlines filled in with opaque colors. Over time, their contours were replaced by thinner line work, the details became more prominent and the color palette more varied. Miss Van also started using a variety of mixed media in her more recent pieces, which wasn't possible within the boundaries of street art. As a result of the change in technique, her work is now more approachable. It is also important to mention that the joie de vivre pleasure principle is incorporated, in one way or another, in most of Miss Van's pieces. Her acrylic and mixed media pieces on canvas and wood panel feature subjects inspired by dancers and music, driven by the liberating experience of self-expression. The performance aspect of dance reinforces the themes of fantasy, desire and visual storytelling.
The joie de vivre pleasure principle is incorporated in most of Miss Van's pieces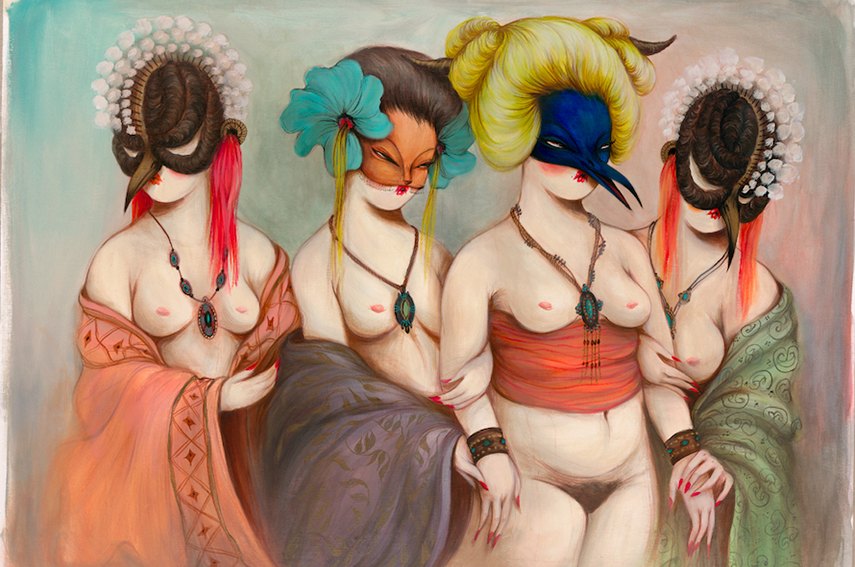 Miss Van's Projects and Residencies
Miss Van's career is full of exciting projects and collaborations. In 2003, she moved to Barcelona, Spain, where she designed prints for the new Fornarina collection. She fell in love with the city of Barcelona because of its art, culture and a lot of sunshine and she decided to stay there. In 2013, she was invited to participate in the project of Jeffrey Deitch and Goldman Family, called Women on the Walls. The show was held at Wynwood Walls in Miami and it gathered many important female artists. In 2015, Miss Van was a resident artist at Soze Gallery in Los Angeles, where she created her Palomita Series, which was later presented at Scope Art Show in NYC. Few days after the show, Miss Van decided to release two of her works from Palomita Series as limited edition prints. The same year she has also painted a couple of murals at Coney Island in New York City and in Detroit, Michigan.
In 2015, Miss Van has painted a few murals at Coney Island in NYC and in Detroit, Michigan
Female Pioneer of Street Art
Miss Van has entered the world of art in a powerful yet meaningful way and she is now recognized as one of the pioneering female street artists. She is exhibiting around the world - from NY to LA,  in Europe and in Asia. She has shown her easily recognizable poupées in art centers and museums together with some of the greatest contemporary artists. After a couple of years dedicated to gallery work, Miss Van has returned to street art, now charged with new energy and increased depth, emotion and sensual darkness of her artistic gestures.
Miss Van lives and works in Barcelona, Spain.
Featured image: Miss Van's portrait - image via upperplayground.com
All other images courtesy of the artist.