mittenimwald is a German street artist, not related to any crew and best known for his work on stencils, collages and stickers.
In the Middle of the Forest
mittenimwald was born in Northern Germany. The birth year as well as his real name remains mystery for the public as he chose not to reveal too much of himself. As for his artistic presentation, there is a rational explanation for this tongue breaking name. At one moment of his life, this artist found himself without a job and any thought of what he might to next. So he stood "in the middle of the forest and couldn't find his way". Middle of the forest, in German translation is: "mitten im wald".
mittenimwald: from Advertising to Punk
He has been involved in street art since 2007 when he began with stickers. He prefers not to be related to any crew as he rather works alone as a full-time artist.
For a long time he has worked in advertising agencies and he learnt there to influence people. His inspirations are coming from aggressive advertising, provocation and punk.
mittenimwald is not working on the street that much. He prefers working in a small garage, on canvas and other supports. His define his work as not art but simply craftsmanship and graphic expertise. To work, he uses a knife, spray-cans, rolls of paper and wood to create extremely detailed, hand cut stencils that he places on ground coated wood panels. Next step is to carefully apply aerosol cans paint.
The results are skillfully applied, multilayered stencils so fine that they look just like they are airbrushed. When it comes to choosing the theme for his artworks, mittenimwald is usually depicting people and text. His imagery varies between beautiful women, revolutionaries, pop-icons and dictators with messages such as "fuck art", "I love $$$", "enjoy capitalism" and the always reoccurring "vandalism", meant to prompt critical self-reflection. By subverting the advertising-colored messages he is balancing his art through the references to punk and revolutionary symbolism.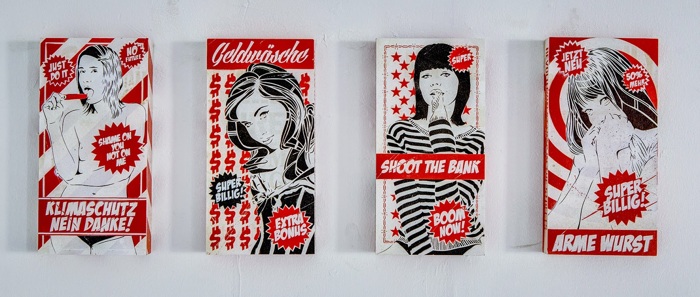 Mundo de los Muertos
In 2014, mittenimwald celebrated the Mexican day of the dead at OZM Space in Hamburg.
His exhibition, titled Mundo de los Muertos, took the visitors into the realm of afterlife and the dead. Over two months the artist presented Mexican folklore inspired stencils in black, white and occasionally subtle colors.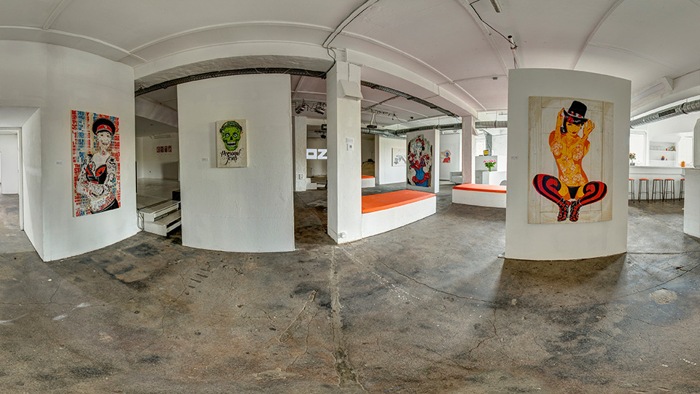 The artist is represented by 30works Gallery.
mittenimwald lives and works in Hamburg, Germany.
All images copyright © the artist