Mobstr is a London-based street artist, famous for his sarcastic and ironic typographic messages that can be seen on walls and billboards. Driven by his instinct for subversion, he found out the huge potential in using spray paint in the urban environment. His artworks are known worldwide for their provocative, often paradox meanings aimed at mocking the local authorities. The core element of Mobstr's art is transparency and openness. The style he uses is simple and minimalistic, leaving a large impact with little work, also known as less is more. The artist uses a variety of techniques and mediums, such as prints, graffiti, paintings, and stencil, in order to communicate with the viewers, by creating a dialogue between two parties, streets on one side, and people's curiosity on the other. His unique sense of humor and witticism are used as a tool in the critique of consumerism, advertising, and society as a whole.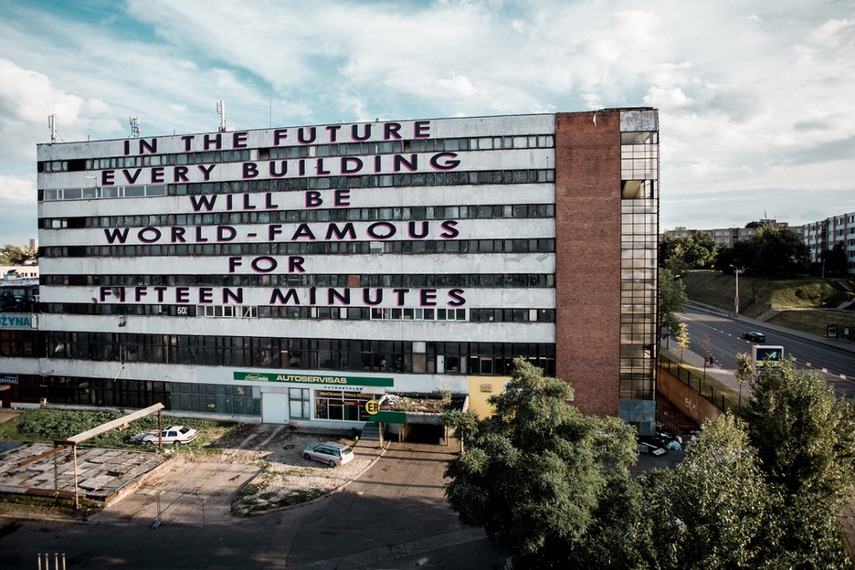 Mobstr's Begginings
Mobstr was born in Newcastle, England. There are three reasons why he chose this pseudonym, the first is because he had a pet lobster called Mobster, the second is the nature of his business, consisted of illegal painting activities applied to walls, not being a member of the criminal gang, and the last one has something to do with mirrors. His first contact with writing something on the wall was when he was 11. After finding a book of blank sticky labels, he came up to an idea to write quotes and musings on them and stuck them up all over the place.
His first contact with writing something on the wall was when he was 11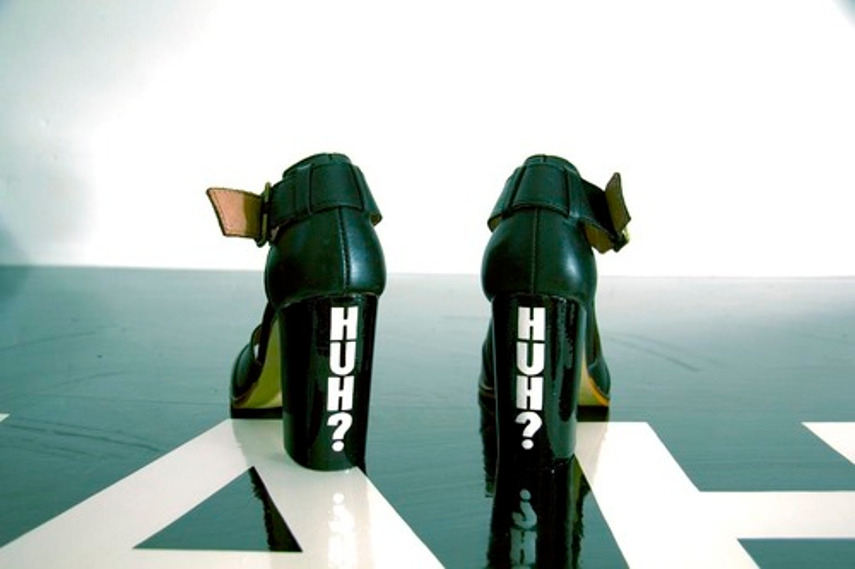 Strong Interventions in Public Space
The main concept is that people find hidden thoughts within their surroundings. His focus is on twisting reality and enjoying in what he does. The artist's bold, funny, satirical, and entertaining intervention across walls and billboards challenge the way public surfaces are seen. For him, public spaces are areas where everyone can access with no limits. Usually simple, but also mature and deeply meaningful, Mobstr's artworks can be found on most surfaces in industrial and urban places. Words and sentences are applied in such a clever and intelligent way that each is more striking than the other.
Mobstr's artworks can be found across most surfaces in industrial and urban places
[caption id="attachment_358302" align="alignnone" width="855"]

Mobstr - Words, mural[/caption]
The Elements of Determination, Stubbornness and Persistence
The graffiti experiment called The Curious Frontier of Red represents a series of images taken during ten months. This project located in Hackney Wick, London, reflects an amusing battle between local council worker and the artist, where graffiti or street art is delegitimized and represented as bad. The game of nerves began by writing the word 'red' on the wall of an electricity station, after which it was painted over and moved several times until Mobstr wrote words 'pressure wash' on the bricks. They were repainted with red color, which the artist smartly used for teasing, by writing 'You went above the line'. In a failed effort to defeat the provocateur, the wall was totally colored in red by the local authorities, but the author triumphantly concluded with the message 'Thanks mate, it's been fun'. Mobstr's another catchy project was made in Vilnius, Lithuania, where he painted a building, suitable because it had lines of concrete similar to those in a notebook. The large scale of 40+ meters stripes of letters was just a plus.
The game of nerves, began by writing the word 'red' on the wall of an electricity station, after which it was painted over and moved several times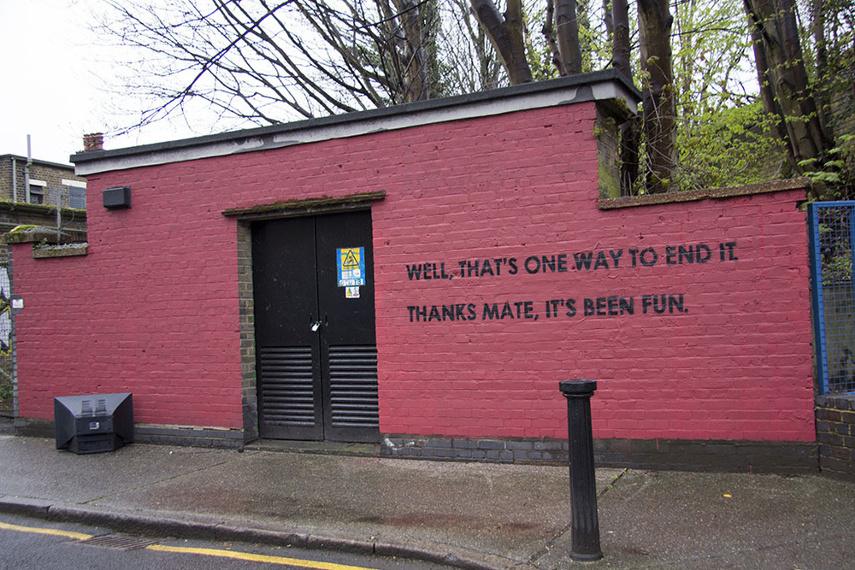 Against the Advertising of the Street Art
Artist's attention-attracting and pavement-stenciling pieces have left a strong mark in UK's street art, so that Mobstr has been compared with the legendary Banksy. He applies anti-advertising approach while painting billboards, in order to make them counter-productive and to make them senseless. It is all about the concept, and the fact that people should do whatever they feel comfortable doing. 'A Wall + A Thought = An Art Piece', the title of this British artist's work, in some way sums up the freedom of artistic expression. Author's paintings and other artistic masterpieces can be seen on walls and streets, as well as in galleries and exhibitions around the world.
Mobstr lives and works in London, UK.
Featured image: Mobstr - A Masterpiece
All images copyright of the artist; All images used for illustrative purposes only