Mode 2 is a part of a British graffiti movement whose work is best known for its lack of posturing and antagonism, concentrating instead on very different themes (Friendship! Love! Dancing! The later stages of pregnancy!).
Mode 2 - Mauritius, London, Punk and comics
Mode 2 was born in Mauritius in 1967, he spent his childhood under the sun of the Indian Ocean, before moving to the UK in July 1976. Punk had just started its own cultural revolution, while reggae and dub were ever present in the neighborhood "blues" parties, as well as from the first real booming systems in the cars that would ever so often drive casually through the streets of Lewisham, South-East London. "I did all of my schooling there, drawing since as far back as I can remember, spending my youth deep into comics, sci-fi and fantasy literature, as well as role-playing games such as 'Dungeons & Dragons'".
So, growing up reading comic books and science-fiction literature in the South-London borough of Lewisham, it is no surprise that Mode 2's art is fun and frivolous. He is now widely considered to be one of the forerunners of the British graffiti and street art movement. He made a name for himself alongside Scribla, Zaki D, Eskimo and Xerox, also known as the Trailblazers and later formed The Chrome Angelz.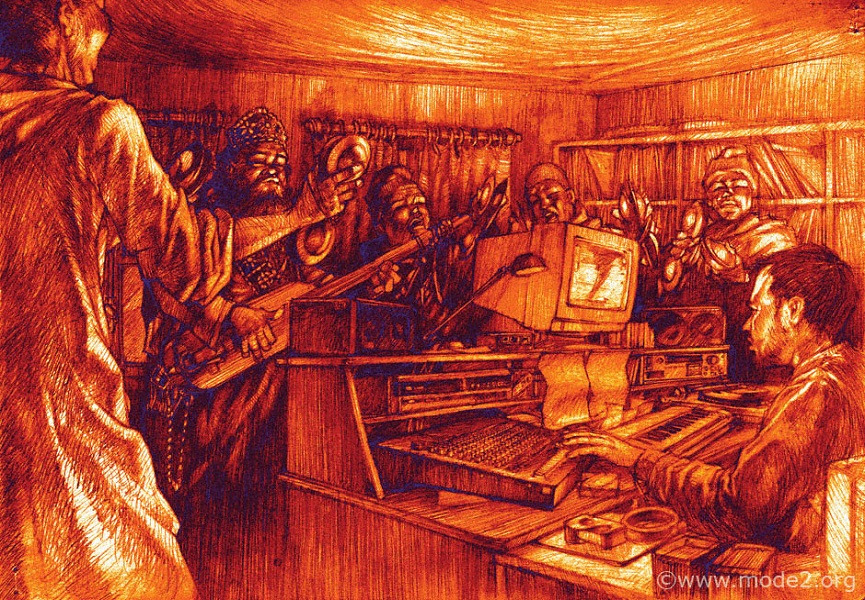 Mode 2 – Inspiration in Hip Hop
When he finished his 'O'-level exams in summer '84, he started hanging out at Covent Garden, in central London, which was then the main hub of the London Hip Hop scene. Because of his ability at drawing, he decided to pick up the spray can, and from that moment onwards, set about making a name for himself within the global hip hop community. Hip-hop was his inspiration and this culture of expression through different artistic platforms is something this artist holds close to his heart. Corporal movement and the notion of rhythm is key to understanding Mode 2's artistic supremacy. Dance is not just an accessory to music or advertising, it is an art form in itself and Mode 2 uses it to emit positive energy from his paintings. Social lives are depicted without the intrusion of mobile phones and computers. His figures dance and flirt, bound together by a world of harmonious syncopation. He tackles themes of love, lust and libidos, all with a style that escapes any posturing or antagonism. He was already getting commissioned work in 1984, and went on to be on the cover of "Spraycan Art" (Thames & Hudson) in 1987; the first book to document the worldwide graffiti-writing scene, as opposed to what had been going on in New York since the early seventies.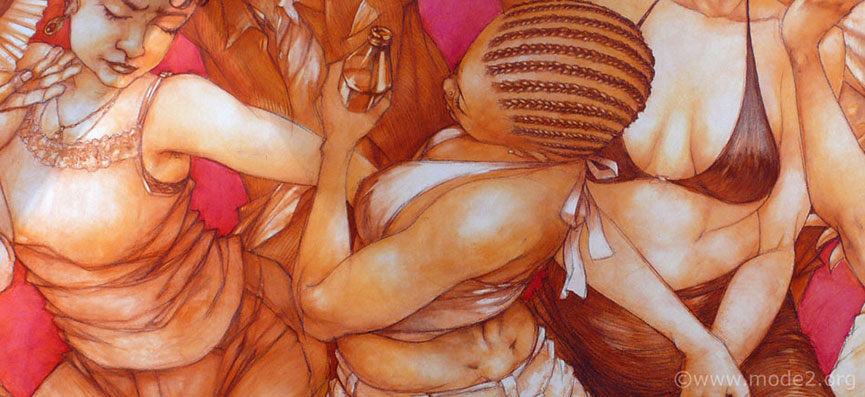 Mode 2 behind the camera
Even though this is what he is most famous for, Mode 2's interests are more into culture in general and its impact on society as a whole. He was already taking pictures of the scene going on around him back in 1985, trying to document something that was for him far more important than just the fun that everyone was having. The culture brought together youth from all backgrounds, and had all basic forms of artistic expression as its disciplines. In today's world, he believes, culture is the only tool by which many of the youth can be made receptive to education, especially in the more deprived communities, and more generally as a tool to ward off many social ills whilst inspiring and empowering the needy. His long years hopping from Paris to London and to the rest of Europe has seen him involved in many diverse projects, whether it be 3D computer animation for a year with Pierre Buffin (Buf Compagnie) from spring 1987, briefly assisting photographer Jean-Baptiste Mondino in 1990, or creating a backdrop for a short film by Costa Gavras in 1991, celebrating the 25th anniversary of Amnesty International.
Mode 2 saying NO to Paris' graffiti scene
In 1989, he was asked to paint different murals around the suburbs of Paris for the bicentennial of the French Revolution. His skills were a valuable tool in creating bridges between the many youth clubs he worked for and their local population. He was asked to participate in "graffiti-workshops" also, but became quickly aware that many ideas coming from the different socio-cultural institutions regarding youth tend not to be in touch with the reality of things, and do not guarantee any long-term solutions to the problems of the inner-cities. He therefore took a step back from work of this kind, and went travelling instead, painting on different hip hop events around the world, and using the opportunity to meet others sharing the same concerns that he has about the future.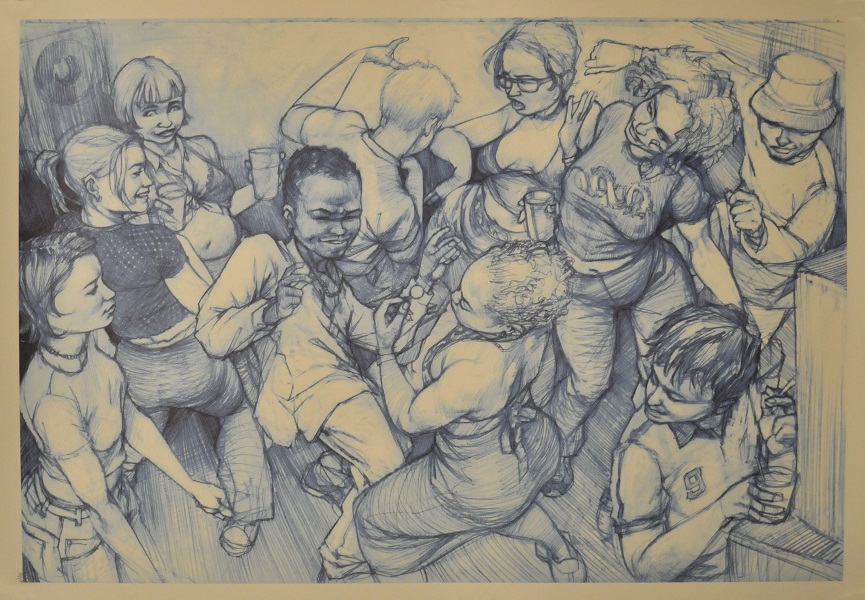 Mode 2 - DEFUMO project and eroticism
While working at Sartoria in Modena, Italy, he initiated the DEFUMO project, working alongside Delta and Futura, with the support of Sartoria and Slam Jam, in creating a project involving the painting of a club called MORE over a week-long period. The whole process was filmed and has had an exhibition and catalogue, as well as a website and limited edition DVD made around it. It was an attempt by Mode to take part in a project that pushed beyond the usual boundaries of what he has usually been asked to do on walls.
On his official web site, one will find a warning: some artworks contain material of an adult nature unsuitable for viewers under the age of 18. This is what he says about it:
"You may have noticed that I'm also generally obsessed by the female figure, which I've always enjoyed drawing, mostly from my own imagination, though also resorting to life drawing, or from my own photos, and even the odd sample from the internet once in a while. I try not to have a fixation on any given body type or shape; trying to draw more natural curves, while also trying to push for an indeterminate racial type which makes it easier for the female spectator to identify with…"
Mode 2 lives in London.