Mohamed Boustane is a Moroccan visual artist, best known for his works in Calligraphy, which he creates on various surfaces like paper, cedar and skin.
Boustane was born in Casablanca, Morocco in 1960. In 1991, he resigned from his job and completely devoted himself to art. He began to expand his knowledge of the craft when he met several influential calligraphers, which prompted him to finally move to Marrakech in 1998.
Mohamed Boustane's Calligraphy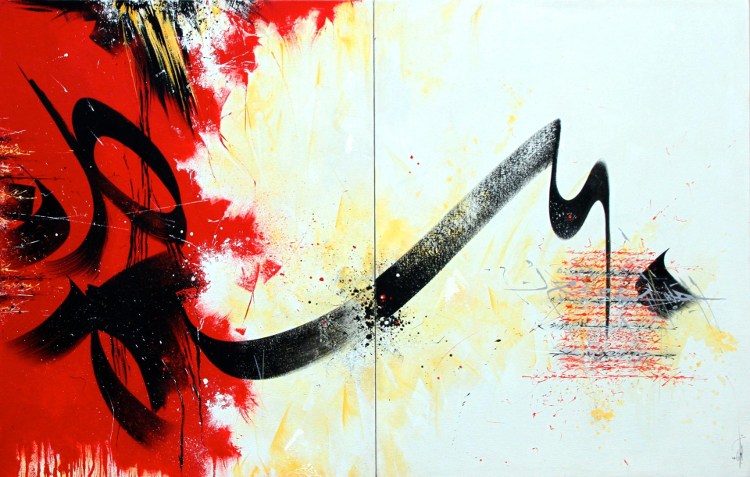 Mohamed's letters, which he beautifully transforms into signs, contain Moroccan cultural identity. He manages to convey that identity to a visual one. The strict form that Arabic lettering requires seems to vanish in Boustane's paintings, as his letters give off the impression of effortlessness. The purpose of letters is to transfer knowledge; they are the embodiment of a culture and its uniqueness. However, Mohamed's pieces appear to transcend this purpose, raising it to a higher, artistic level. The Moroccan artist is primarily interested in the shapes of letters, and not the meanings these letters bear. They are there only to exist, for the viewers to marvel at their beauty.
Essentially, Boustane's calligraphy is a geometric representation of abstract objects. The artist provides us with the opportunity to sneak a peek into his captivating colorful world.
Traditional Arabic Lettering

Mohamed's pieces have captured the imagination of people not only in the Arab world, but also in Europe, as well. His artworks have been exhibited in Algeria, Morocco, United Arab Emirates, Abu Dhabi, France, Italy, and Switzerland, to name a few. He was also featured in numerous art fairs and group exhibitions, such as Hall of Fame in 2013, a group show organized by the David Bloch Gallery. Some of his more notable one-man exhibitions include Les Fils de Mémoire (The Children of Memory), which took place in 2010 in the United Arab Emirates, and a solo show organized by Galerie Agora the following year. The artist is represented by the David Bloch Gallery.
Mohamed Boustane resides and works in Marrakech, Morocco.
All images are courtesy of the David Bloch Gallery