MOMO is a San Francisco-born street artist, best known for his huge, playful, complex and brightly colored abstract murals.
Born in 1974, the artist travelled most of his life. MOMO rarely settles in one place – for six years New York was his home, and afterwards he lived outside – in a cave for a year, in a truck for a year, and in a tent for a year. This lifestyle puts MOMO in some unusual situations – in 1999 he became part of a graffiti crew while living in Spain, found his characteristic use of color while employed in the Caribbean, and fell for outside art while living off the land.
MOMO's thoughtful post-graffiti approach can be seen in some of the many examples of his artistic doings, such as over-sized outdoor collage, tide powered sculpture, a computer script which makes his art for him, and prints, paintings, and videos that mostly rely on chance.
MOMO's Solo exhibition at May Gallery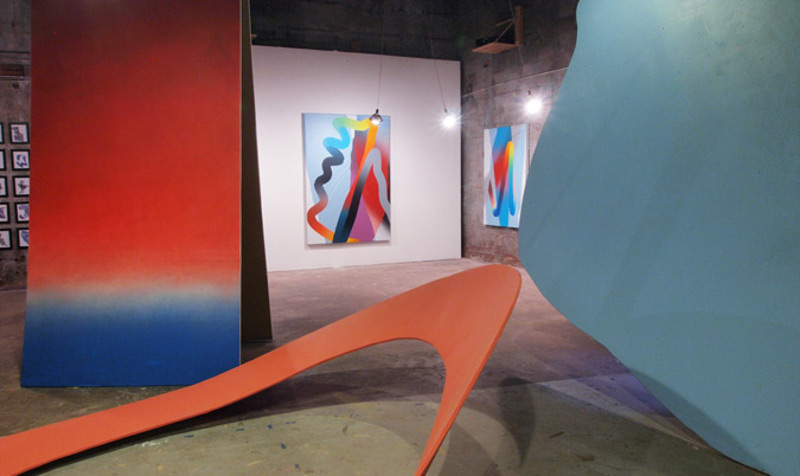 MOMO is probably best known for A Tag the Width of Manhattan, created in 2006. Inspired by a series of purple footprints that were painted on Manhattan sidewalks in 1986, the artist created a paint line that runs about 8 miles long and spells out his name, from the East River to the Hudson River.
Apart from A Tag the Width of Manhattan, MOMO's other works and projects include The MOMO Maker, 100 street Collages, A Totem Pole in the East River and spoofed New Yorker Cover. Over the course of years, he has collaborated with a number of artists, including Zosen, Marie Lorenz, Melissa Brown, Milton Carter, Eltono, and Yohji Yamamoto.
Other projects include his 2009 collaboration with Y-3/Adidas, which produced the MOMO shoe after a collaborative F/W Y-3 show with Yohji Yamamoto. In 2013, the artist worked with Re+Public Lab to develop a fully Augmented Reality mural in St Louis, Missouri. The mural was set to interact with a smart phone app designed by Re+Public. In the same year, MOMO was commissioned by the New York DOT to create a 200 foot long mural between the Brooklyn and Manhattan Bridges in Dumbo, Brooklyn.
Mural for Ace Hotel, California, 2015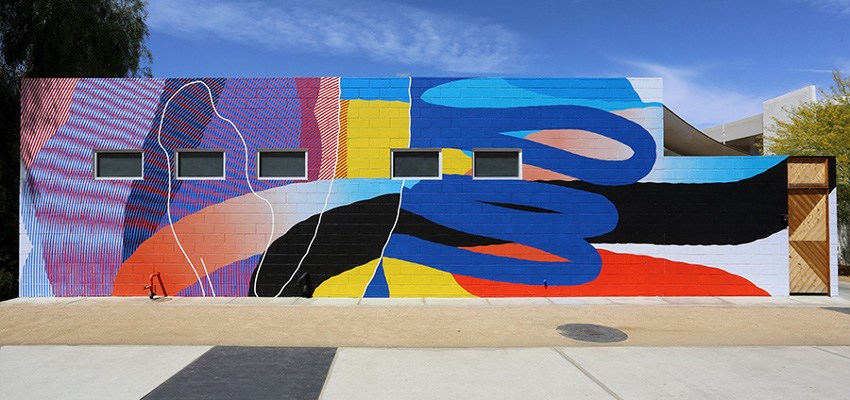 In addition to his street art, MOMO created several monographs and publications. In 2008, Rojo Magazine published his first monograph titled 3AM-6AM, and in 2012 Studio Cromie published In 74 Pieces, his second monograph. He is represented by a Rome-based gallery 999contemporary.
MOMO is currently based in New Orleans, where he has a studio.
All images copyright © the artist