Teo Pirisi, by far better known by his artistic pseudonym of Moneyless, is an Italian artist whose art is an interesting blend of traditional graffiti and fine art backgrounds. Through his unique visual vocabulary and geometric style, Moneyless is able to investigate rawest elements of life and focus on a process of constant evolution. Just as his alias suggestively reflects, Teo Pirisi desires to examine the pureness and simplicity of life - Moneyless rejects commonly found elements of street art such as speed in order to replace it with the purity of thought. His simple yet rich visual dictionary has a keen ability to make the people viewing it enter the state of awe, feeling that the artist behind it opened the window to a creatively free world.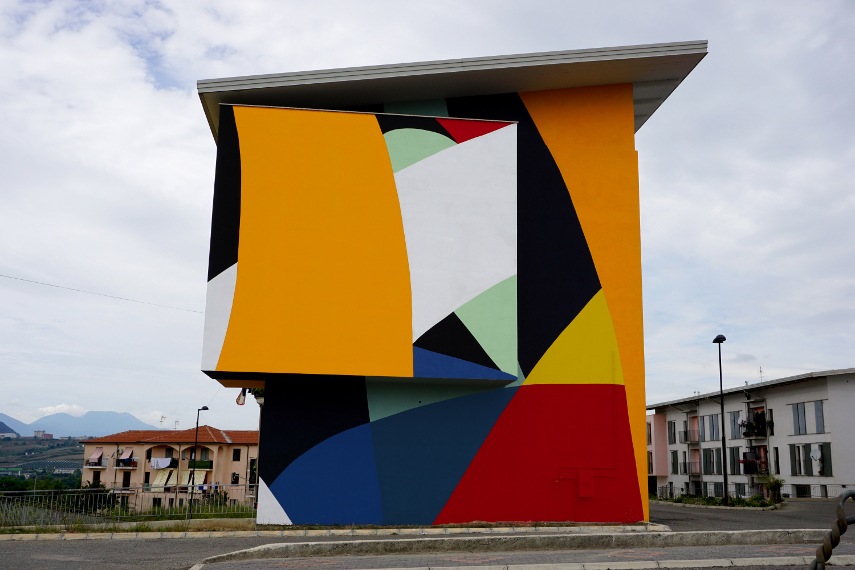 The Path to Geometric Abstraction
By his own claim, Moneyless' art started developing on his bedroom wall when he was three years old. After his parents allowed him to draw on the wall of his own room, Pirisi simply can not recall the time he had no marker or a brush in his hand. After he grew up, the young artist began attending the Art School at the Academy of Fine Arts in Carrara, later going on to earn a master's degree in design of communication in Florence. Since the year of 1994, he was out on the streets regularly, developing his characteristic visual style. During this time, Teo was also an aspiring writer and hip hop culture deeply influenced his creativity. Over time, he got close to nature and discovered the desire of exploring it, he wanted to observe and study it in all its visible and not-visible forms. His earliest street geometric forms can be dated back to 2004. As for Pirisi's greatest inspiration, the artist does not limit himself to any one individual - all the modern artists of the 20th century have been and still are a great source of inspiration to Moneyless. His pseudonym was a very fitting one from the start as this urban interventionist has always tried to create pieces without great expense, looking for most of his materials among industrial and scrap materials. The painter himself explained it the best: I love working with my hands and getting them dirty, I'm not that kind of artist with soft and smooth hands, you know!? All of those factors helped Teo to shape his artistic lexicon, allowing him to start exploring just how far geometric forms are able to take him if he is willing to dedicate himself to such a style. Interestingly, Teo is looking forward to expanding his body of work to sculpture, wishing to find out how will this traditional medium fare with his concepts.
Moneyless presents us with themes that are abstract, sometimes more geometric and static and in other times more dynamic and instinctive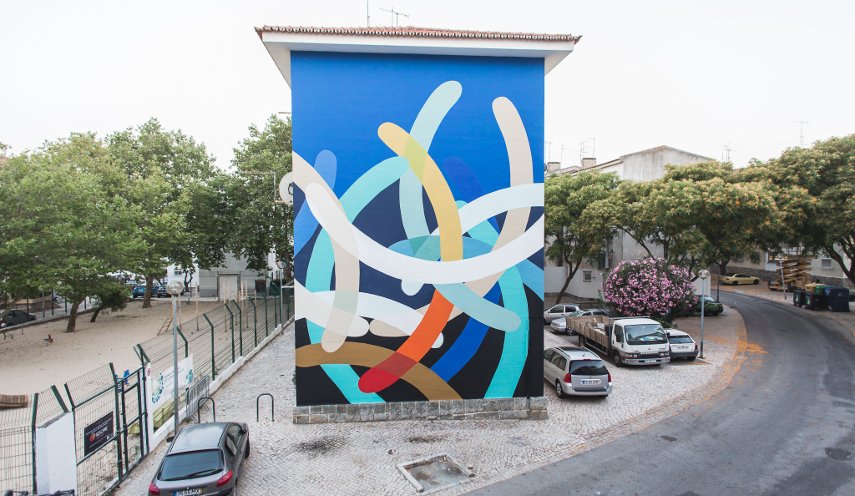 The Dynamism of Moneyless
Ultimately, the strongest impression this urban author makes on his audience is that he is simply dynamic and therefore intriguing, constantly on the move towards new territories on both the physical and conceptual front. Another reason why viewers enjoy Pirisi's art is the characteristic relationship between simplicity and force usually residing in his geometric compositions. The artist explained it best himself: My shapes are reduced to the minimum, at the same time they carry some kind of an intense tension, an invisible movement; most of my patterns hide multiple visions and different perspectives. I think my art now speaks through geometry.
This artist is represented by BC Gallery.
Teo Pirisi lives and works in Milan, Italy.
Featured image: Moneyless - Photo of the artist - Image via Moneyless
All images courtesy of the artist.