Monica Canilao makes art from various types of objects and uses several different techniques of implementing them into one unique piece. She uses only second-hand stuff because she deeply believes used stuff has more soul and more spirit inside. Spiritually driven, this talented artist collects ordinary and everyday items people often throw away, while they are in still good condition. She has an idea of exploring how a man perceives an instrumental object. Sometimes the meaning of an object is derived from its usage capabilities, and sometimes people get attached to things because they look pretty or have some sentimental value. This aspiring woman subsumes this emotional attachment to the idea of home. Home, as a sacred place we live and exist, a place we are born or reborn.
Canilao explores how a man perceives an instrumental object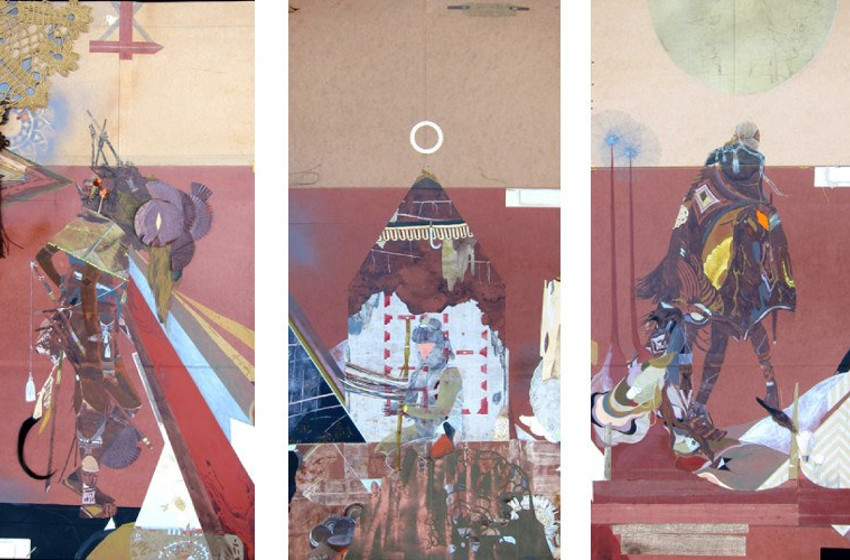 Constant Flows of Creation
She paints, makes prints, stitches, weaves, combines various kinds of material into elaborative installations. Canilao grew up between San Francisco and San Jose in Redwood City, California and is still attached to her home area. She comes from a family of carpenters and artists, and she got used to having constant flows of creation since she was young. Not believing in certainty and static modes of creative existence she keeps changing the extent of her installations. Her upbringing was imbued with a heartfelt philosophy of sharing and communal living. From worn clothes to used appliances, her family distributed everything. She graduated from California College of Arts and Crafts and started making fiber art, and transferred from painting to illustration. That felt more liberating and prolific.
Canilao follows a heartfelt philosophy of sharing and communal living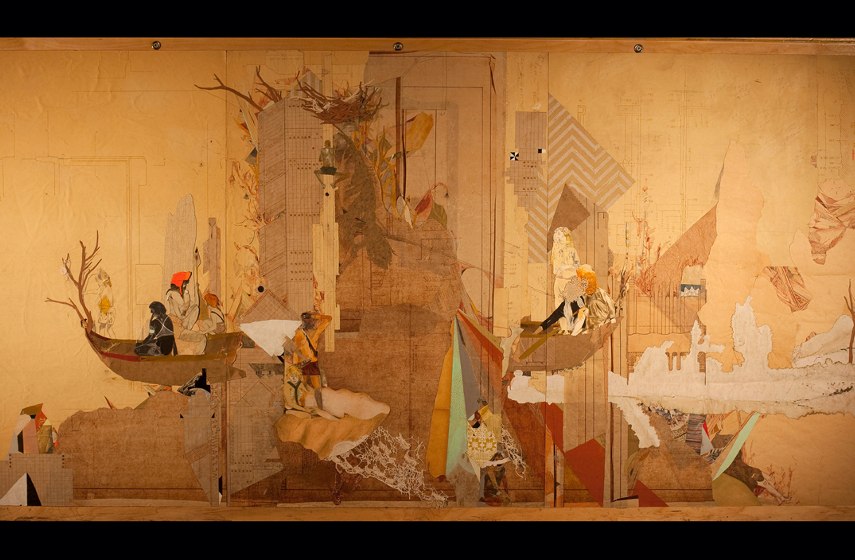 Staying Close to Community
Always being surrounded by friends, associates, and other artists, this young woman pushed herself hard in the real world after college and established her profession. She stays close to her community of creative people while working in shared studios. Not confined by the choice of material, she makes entire walls into scrapbooks, glueing, sewing, stitching pieces of other people's memories together. Installations are always custom made to harmonise with a specific vibe a site has and in those installations, she openly embraces the creative flow. She mixes things, stories, ideas, origin of objects, and bonds them under the concept of holistic relationships. She has a big archive in her studio because she's constantly hunting for memories. Since overproduction leads to obsessive shopping, and then excessive waste production, no wonder her place is crowded.
In Monica's work, all parts intertwine and blend together, creating a peculiar and distinctive alchemic art
Revoking the Desire for Ownership and Sharing
Canillo makes boats, portraits, jewelry, she designs artwork for music records, she even teaches costume to children in kindergarten. This rich fusion of activities inspires her to do more work, more collaborations, to enrich every single aspect of her life. When she takes used parts to build a new installation she weaves a net of meaning that stimulates viewers to remember their own personal history with similar objects, or to revoke the desire for possession. Her collaborative spirit led her to do a project called Alchemy in which she pushes people outside of the box and makes them think openly. Her unchained vision found itself somewhere between wooden houses, shell chandeliers, totems and game boards. In her work, all parts intertwine and blend together, creating a peculiar and distinctive alchemic art.
Canilao creates peculiar alchemic art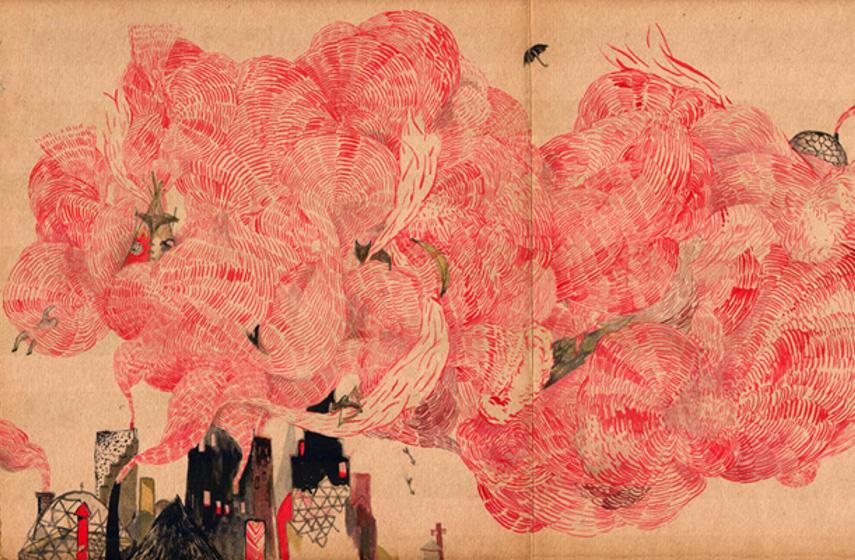 Photography, Illustration and Painting with Juxtapoz artist Swoon
When visiting friends she always inspects how their furniture is put together, how their collections are organized, how their material stuff lives. She believes they put a piece of them in everything they own. For her creations, she only uses items with expired service, the decomposition of the original. After death, there are only ghosts still lingering somewhere between quilts, fabric, glue, paper, tea bags, strings and feathers. Her latest show she did with Juxtapoz cover artist Swoon Witch Wife features 3D sculpture forms, block prints, wheatpaste and painting. The theme revolves around dreams and original dream experiences that were collected from anonymous strangers. All of their work reflects their personal lives and a lot of misplaced or rejected items found their home in their dreamy and magical sculptures.
Monica Canilao lives and works in Oakland, California.
All images used for illustrative purpose only.