Morris Louis was an American artist and a leading member of the Color Field painters, known for his colorful, expressive, and simplified abstract paintings. While living in Washington, D.C., Louis, along with other Washington painters, initiated an art movement known today as the Washington Color School. He also introduced new ways of applying pigment to canvas, such as pouring, staining, and overlapping swaths of acrylic color onto the surface in a flat, modern and compressed manner. His most famous works which achieved the highest prices at auctions are Veils, Stripes, and Unfurled.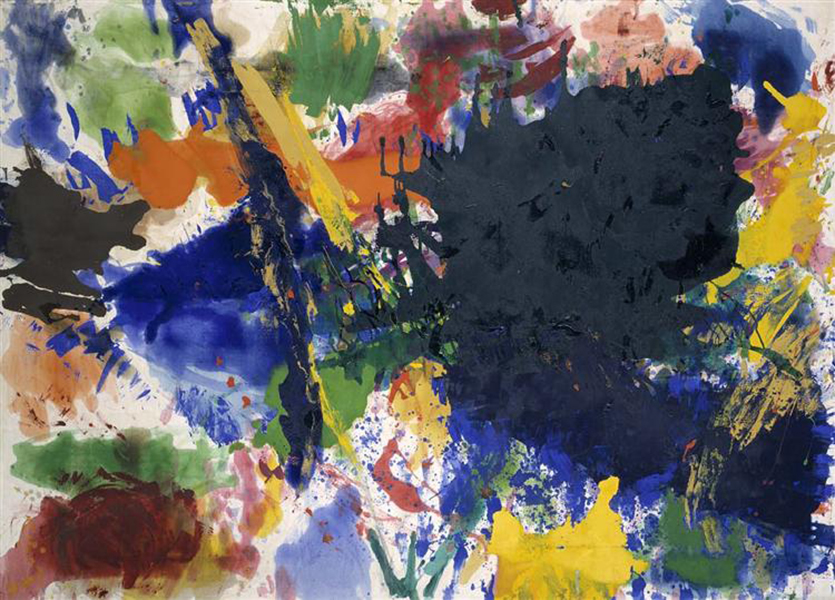 Early Life and Color Field Painting
Born Louis Morris Bernstein in Baltimore in 1912, Louis studied at the Maryland Institute of Applied and Fine Arts. He then worked several jobs to support himself as a painter through the early 1930s and served as president of the Baltimore Artists' Association in 1935. The artist moved to New York and worked for the WPA's Federal Art Project in 1936. [1] He later returned to Baltimore to teach, before moving back to Washington, D.C., where he worked alongside fellow abstract artist Kenneth Noland and held his first solo exhibition. In 1952, he and Noland visited painter Helen Frankenthaler and were inspired by the luminous abstract works she created through staining the canvas rather than through gestural brushstrokes. Louis was also interested in the use of Magna paint – a newly developed oil based acrylic paint made by several New York painters. His curiosity about innovative techniques such as Magna paint led to the development of Color Field Painting during the 1950s. Louis Morris was a central figure of the movement, along with a group of American artists such as Kenneth Noland, Gene Davis, Tom Downing, Howard Mehring Anne Truitt and Hilda Thorpe. The most important point of this new movement was the simplified idea of what a finished painting should look like. Color Field Painters continued a tradition initially developed by Jackson Pollock and Mark Rothko – they kept eliminating history of gestural and compositional rules and focused on large areas of raw canvases. They also utilized the expressive and psychological power of flat areas, intense colors and simple, repetitive composition. Louis' most prominent series of Color Field paintings were Unfurleds.
Louis Morris was a central figure of the Color Field Painting movement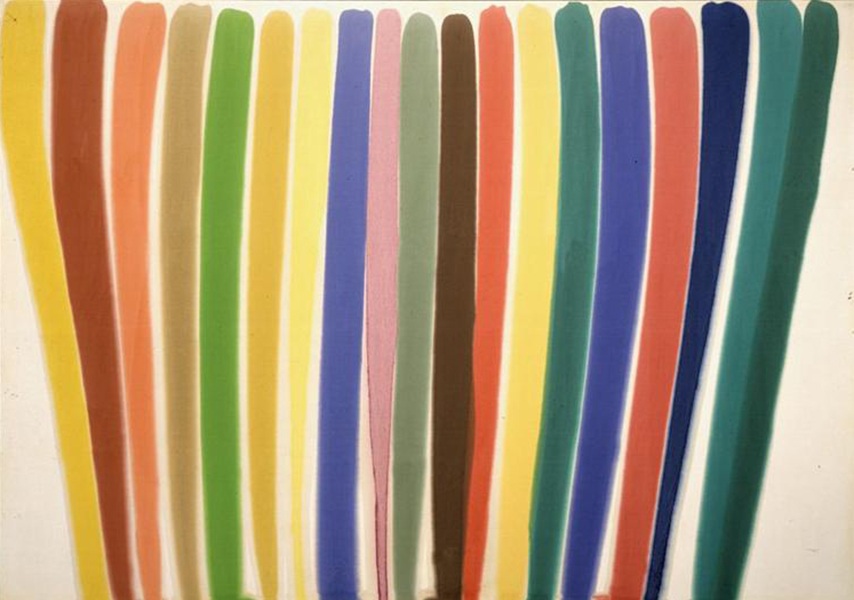 Stain Painting and Mature Works
Louis was particularly impressed by Helen Frankenthaler's stain paintings, such as her Mountains and Sea from 1952 that he saw during Frankenthaler's exhibition. He considered Frankenthaler's work as the bridge between Jackson Pollock and the possible. [1] Inspired by her stain paintings and willing to create something close to her style, he started eliminating the brush gesture even more and focused on the modern use of thin pigments and their billowing and subtle tones. In 1954, Louis has finished his mature series of Veil Paintings, typical for their overlapping layers of transparent colors poured onto canvas. The Veil Paintings is a brilliant series consisting of colors and shapes submerged in transparent washes, with bold colors emerging around the edges. In his another prominent series, the artist utilized long parallel bands and stripes of pure colors arranged like a rainbow. It is interesting to mention that Louis destroyed many of his paintings between 1955 and 1957. This mysterious two-year gap was resumed in 1958 when he continued working on his Veils. This was followed by Florals and Columns from 1960 and Unfurleds from 1960–61. These mature works feature more opaque and more intense colors surrounded by white patches of raw canvas. Finally, in 1962, he created the Stripe paintings. The period between summer 1960 and winter 1961 was an extremely prolific period in the history of Louis' works, when he created about 150 Unfurleds on large, mural-size canvases. In 2013, the large exhibition entitled Morris Louis: Unveiled was held at Baltimore Museum of Art in Maryland and it was the artist's latest solo show in a major museum.
The Veil is a brilliant series produced by alternative painting tools - it consists of color spaces submerged in transparent washes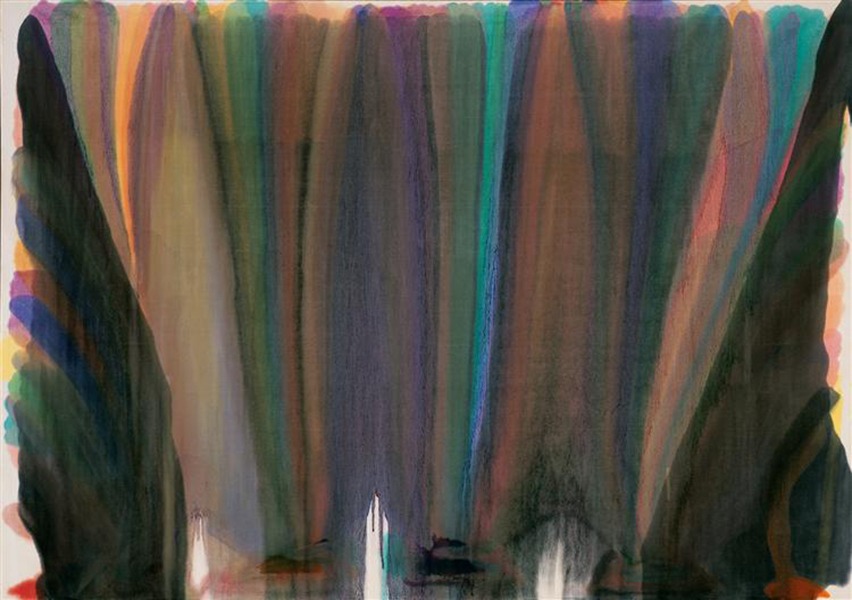 Great Critical Acclaim of Louis' Work
Morris Louis has received an excellent critical acclaim for his work around the end of the 1950s. Unfortunately, he died of lung cancer in 1962, just after finishing his Unfurleds. Louis is nowadays recognized as one of the major participants in the post-war abstract American art. Most important exhibitions of Louis' work have been held at the Solomon R. Guggenheim Museum in New York, the National Collection at the Smithsonian, Sculpture Garden in Washington, D.C. and many galleries across the US. In 2015, his famous work from 1961, entitled Number 36, from the collection of Lord Anthony and Lady Evelyn Jacobs, was sold for £1.5 million at Christie's auction in London.
The artist is represented by Acquavella Gallery.
Morris Louis lived and worked in Washington, D.C.
References:
Upright, D., Morris Louis: The Complete Paintings, Harry N. Abrams, 1985
Anonymous. Louis Morris Biography, Morris Louis Foundation [September 9, 2016]
Featured image: Morris Louis - Theta (Detail), 1961
All images via wikimedia.org