MP5 is an Italian artist widely known for her large and incisive black and white murals which give shape to contemporary myths that underlie a critical and politically engaged vision of reality and that blend into the ground, creating a small 3D effect. MP5 works with different techniques and mediums: from illustrations for newspapers and magazines to political posters, from drawings to video/audio animations. Her way of dealing with orientation in space and apprehension of proportion comes from theatrical scenography studies in Bologna and from animation studies at the Wimbledon School of Art in London.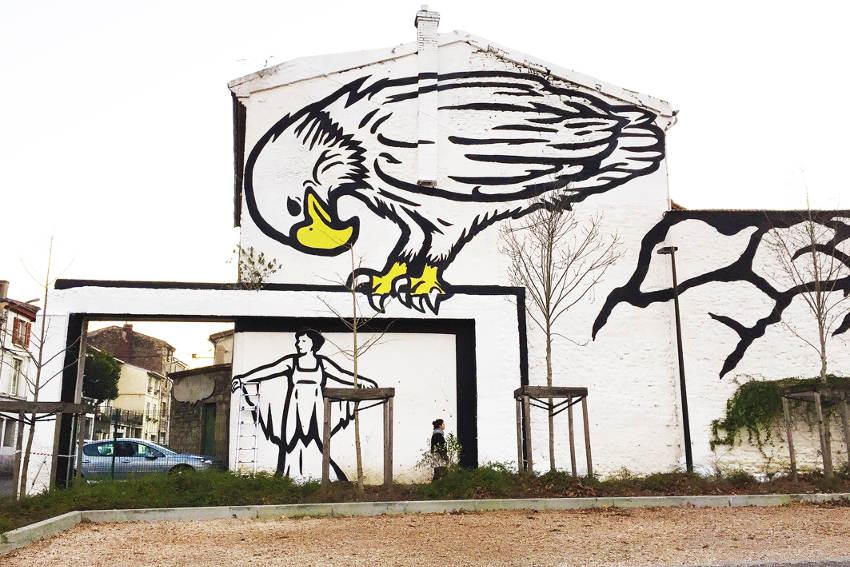 Background and Street Art Festivals
Her background is settled in the Italian and European underground scene and counterculture. MP5 designs posters for political demonstrations, concerts, theatre festivals and her public mural works can be seen on the streets of all over Europe, in countries like Spain, France, Germany, Italy, Croatia, Slovenia, and Sweden. Among her latest participations are La Condition Publique (Roubaix, France, 2017), Le M.U.R de Saint Etienne (France, 2016) and the installation and theatrical project PANDROGENY at Theatre National de Bruxelles (Brussels, Belgium, 2017).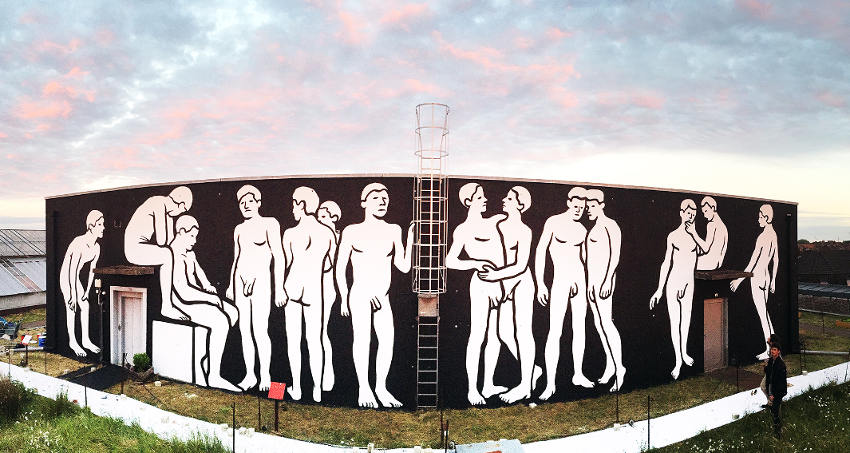 Publications and Exhibitions
Her illustrations were published on newspapers and magazines including Le Monde Diplomatique, Linus, Liberazione, Il Male, Blue, Animals, Il Mucchio, Vogue, Wooster Collective, Juxtapoz, Cosmopolitan China. She worked with several European publishers like the Italian LaTerza, the Spanish Norma editorial, the French La Boite À Boulle, the German Schreiber & Leser. MP5's artworks were exhibited in relevant international festivals and art institutions, such as the XII Biennal of European and Mediterranean Young Artists, the Triennale di Milano, the MACRO in Rome, La Condition Publique di Roubaix, the Theatre of Palazzo Grassi in Venice.
Galleries and Books
MP5 has collaborated with the Wunderkammern gallery in Italy, with the Lazarides gallery in the UK and with the designer and gallerist Agnès B. in France. She also collaborated with the director Abel Ferrara and the musician and composer Teho Teardo for the theatre show Phantasmagorica. She was part of the project La Tour 13 in Paris. MP5 published three books: Changes (ed. GRRRzetic 2016), Palindromi (ed. GRRRzetic 2012) and Acqua Storta (ed. Meridiano Zero 2010, also published in German with the name of Der Frevel am Altar der Heiligen Klara), for which she won the prize as the best Italian drawer at The Napoli Comicon.
MP5 lives and works in Italy.
Featured image: MP5 - portrait
All images courtesy of the artist