Art cannot be criticized because every mistake is a new creation. This is the motto of Mr. Brainwash aka Thierry Guetta, one of the world's most famous and successful contemporary artists. He's a self-proclaimed filmmaker and urban artist. It all started with filming his cousin, the Space Invader, and evolved to making an Oscar-nominated documentary with Banksy. Mr. Brainwash knows the power of good marketing and is considered to be a very successful businessman. He doesn't really have a physical involvement in the creation of his pieces, but rather provides the ideas for his creative team to develop. His style involves copying nearly everyone, but, in a sense, he also embodies the spirit of the streets and possesses an enigmatic character similar to graffiti writers refusing to show their real faces.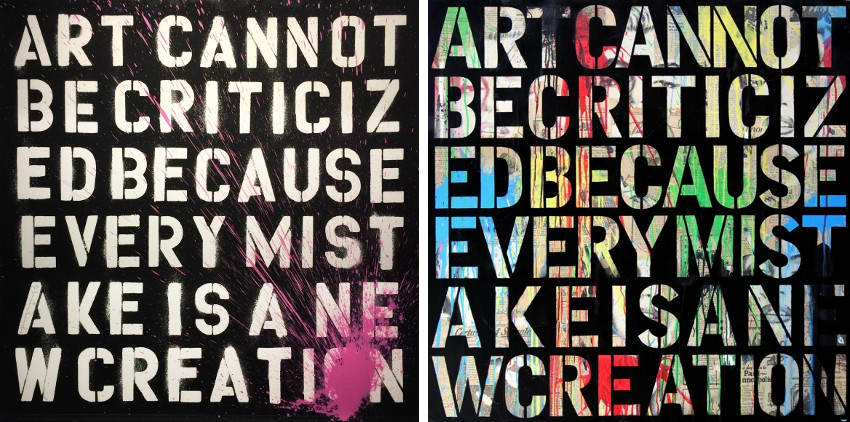 Mr. Brainwash: From France to the States
Mr. Brainwash was born in Garges-lès-Gonesse, Paris, France, but relocated to Los Angeles with his father and several siblings when he was 15, after his mother passed away. Guetta was haunted by the death of his mother since he was a young child, and as a way of preserving family and friends, he picked up a video camera. During his life in the United States, Guetta filmed absolutely everything. He had several cameras set up inside his house to document his family's life and always carried his personal camcorder with him, logging thousands of hours of eventless footage that he kept in large plastic tubs.
On one visit to France, Guetta filmed his cousin, the street artist Space Invader. The experience changed Guetta's life. He was drawn to the immediacy, impermanence and the danger of this kind of work, and as he watched Invader install video game mosaics in Paris, he became fascinated with the role of urban art in modern culture.
In his early years, Guetta was a successful businessman who recognized the power of promotion. So, today he is a Pop Artist and videographer whose Graffiti and Contemporary pieces are highly valued by collectors.
According to the Banksy-directed film Exit Through the Gift Shop (2010), Guetta began as a proprietor of a clothing store and amateur videographer who was first introduced to street art by his cousin Invader, and who filmed street artists through the 2000s and "evolved" into an artist in his own right in a matter of weeks after an off-hand suggestion from Banksy.
His pieces are highly valued by collectors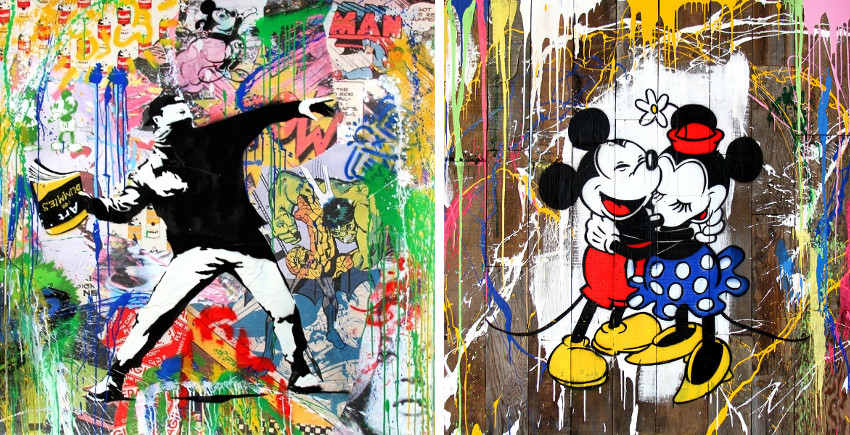 Exit Through the Gift Shop
After returning to the United States from France, Thierry spent another 10 months following Shepard Fairey, the legendary creator of the Andre the Giant OBEY piece. Fairey showed Guetta how to choose walls and how to avoid police detection, skills that Guetta would put to good use over the next several years. Guetta soon realized that he could create a documentary from his hundreds of hours of footage (30,000 hours of footage in 12 years). He documented the creation of pieces by Buffmonsters, Borf, Swoon, Dotmasters, and eventually, Banksy (in 2009, Mr. Brainwash met with Banksy and assisted him in launching his Los Angeles show Barely Legal, which was attended by notable celebrities and collectors).
And so, the Oscar-nominated documentary Exit through the Gift Shop debuted at the 2010 Sundance Film Festival. The film, directed by legendary Banksy, is a story about the sudden and almost incredible rise of Mr. Brainwash at the Street and Urban Art scene. Banksy follows Guetta and witnesses his decision to switch from filmmaker to artist, without any prior experience or training. Exit through the gift shop is presenting some of his first artworks, such as Jim Morrison portrait as well as Charlie Chaplin painting. Following the premiere, Mr. Brainwash presented his work through various exhibitions, accompanied by massive interest. The one show that was held at Opera Gallery in London sold out in only two days!
"Mr. Brainwash was invented around the early '90s. When you watch TV, when you buy clothes, when you come to a bar or a club, when you do anything, how do you get there? Everything's brainwashing and I used to take any kind of brand and twist it. I would take Nike, and I'd make the logo exactly the same, but with an arrow, and I'd write under it, "Just did it." Instead of Kids 'R' Us, I'd put Boys Are Nuts. I couldn't use my name when I started doing street art, so I remembered Mr. Brainwash and decided to use it. At first, I didn't sign anything, but little by little I started signing MBW. A lot of people don't call me Mr. Brainwash, they only know MBW", he says.
A number of critics have observed that his creations strongly emulate the styles and concepts of Banksy, and have speculated that Guetta is an elaborate prank staged by Banksy, who may have created the works himself. Banksy insists on his official website, however, that Guetta is not part of a prank.
He was influenced and taught by Shepard Fairey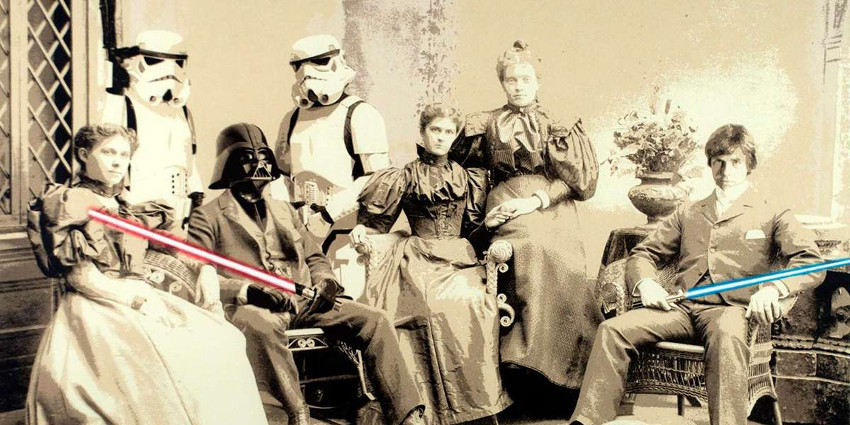 Banksy and Fairey: the Inside Joke got out of Hands?
It is difficult to decide whether he is serious or a clear example of the mainstream art world's reliance on hype and style over substance. He copies nearly everyone but, in a sense, he embodies the spirit of the streets. His personality is as much a part of his allure as his paintings and sculptures. For Banksy and other Fairey, Guetta is something of an inside joke that got out of hand, but the joke has long since faded away. Mr. Brainwash is aptly named. He is as much of an enigma as the professional graffiti creator that refuse to show their faces, and deciding whether or not he's actually serious about his work is all part of the fun.
Guetta has no involvement in the physical creation of his prints and sculptures. He offers ideas which are put into action by his creative team (mostly graphic designers) and handles the publicity and marketing of the exhibitions. Mr. Brainwash also creates commissioned pieces, including a notable work for the Red Hot Chili Peppers. The Chili Peppers initially denied any involvement with the piece, which promoted their single. Even Madonna seemed impressed by Mr. Brainwash's artistic approach. She reportedly commissioned him to design the cover of her greatest hits album, "Celebration." A press release announcing the album cover referenced Brainwash's tendency to "throw cultural icons into a blender."
His ideas are put in action by his creative team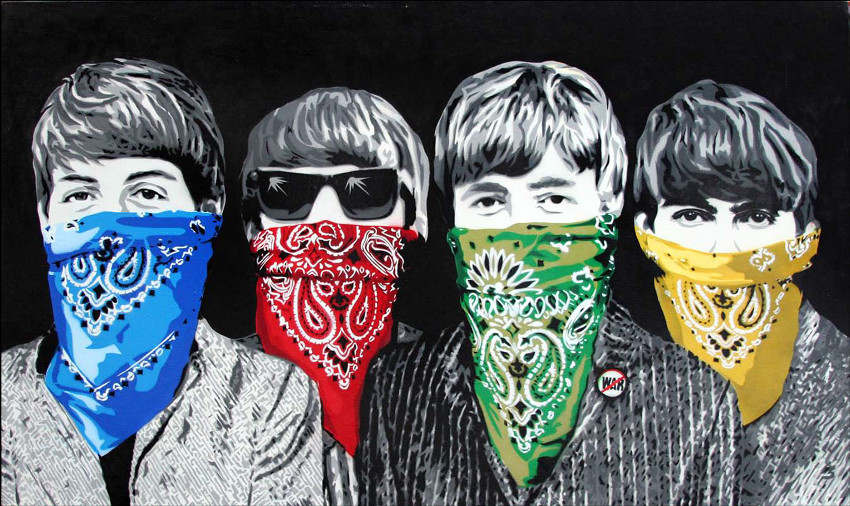 Mr. Brainwash at the Opera Gallery London
In 2011, Mr. Brainwash held a solo exhibition at London Opera Gallery. This event was followed by pretty bombastic ongoing: the night before the opening, the street outside Opera Gallery was sprayed with paint as a sign of indignation and a statement about the false nature of Guetta's artwork. The culprit was immediately discovered: it was RSH - Raymond Salvatore Harmon.
However, Mr. Brainwash said that he really liked the street spray painted like that and that the whole commotion really stirred reactions from the public, as well as other artists. So, in the end, he declared it a success: the whole exhibition was sold out within two days (one private collector bought as much as 14 of the 36 artworks on display).
The show had a pretty bombastic intro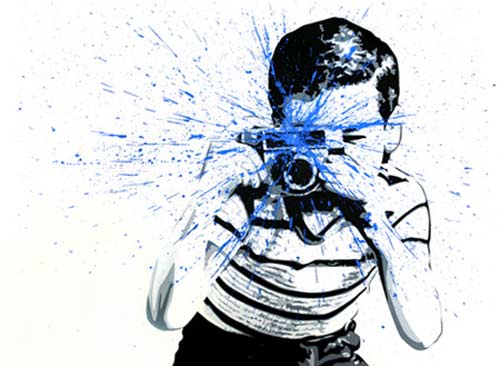 His Art is (un) Related to Other Artists
Guetta's uniformly subversive style fuses historic pop imagery and contemporary cultural iconography to create his version of a pop–graffiti hybrid first popularized by other artists. Working primarily with layers of screen print and stenciled images, his compositions are emblematic of a graffiti wall inundated with 20th century iconography. He is both sly and playful in his juxtaposition of the cultural idols of the past (Einstein, Charlie Chaplin, Marilyn Monroe) with the icons of today (Kate Moss, Madonna). The vibrant palette and imitation of pop artists like Andy Warhol and Keith Haring add a puckish wink. To add to his intentionally derivative persona, Guetta uses a special signature and authentication on all of his artworks. All unique MBW artworks have his mantra "Life is Beautiful", his thumbprint, hand-signature, and assigned dollar bill number sequence.
His compositions are emblematic of a graffiti wall inundated with the 20th century iconography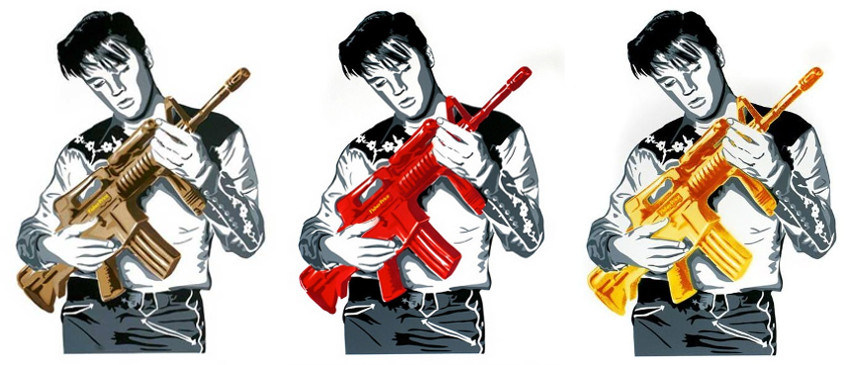 Mr. Brainwash and his 9/11 mural
In 2014, Mr. Brainwash made a New York piece, a 9/11 mural plastered on a downtown department store adjacent to the World Trade Center site. The giant piece was completed just in time for 13th anniversary of the terrorist attacks of September 11, 2001, and was commissioned by department store Century 21:
"When Mr. Brainwash came to us with this idea we were honored," Century 21 co-owner Isaac Gindi said in a statement. "We are such big fans of his work and loved the idea of showing our support and dedication for the Downtown community and NYC's bravest and finest right on our building. His piece exemplifies a tribute to the resiliency of New York City and all Americans after 9/11."
This mural exemplifies a tribute to the resiliency of all Americans after 9/11, and shows that each and every life is precious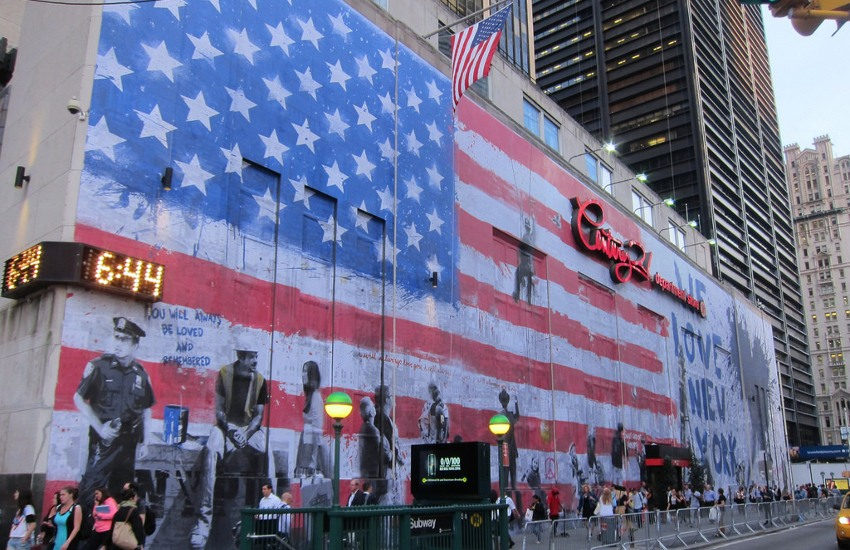 The Son, Hijack
Hijack, the son of Mr. Brainwash, is himself the subject of controversy in the art world... Jacques Guetta, born in 1992, is a prodigy in his own right and one of the most talked-about, up and coming artists in today's contemporary scene. Hijack's works are a revelation in street art - imaginative, brilliantly constructed and seen in cultural hot spots all over the globe, from Los Angeles to London. He targeted Los Angeles' most heavily trafficked areas - from the hikers in Runyon Canyon to the tourists of Melrose Avenue. Whether his creation is on display for an hour or a month, Hijack creates a moment of serenity and introspection for LA's fast-paced culture.
Hijack creates a moment of serenity and introspection for LA's fast-paced culture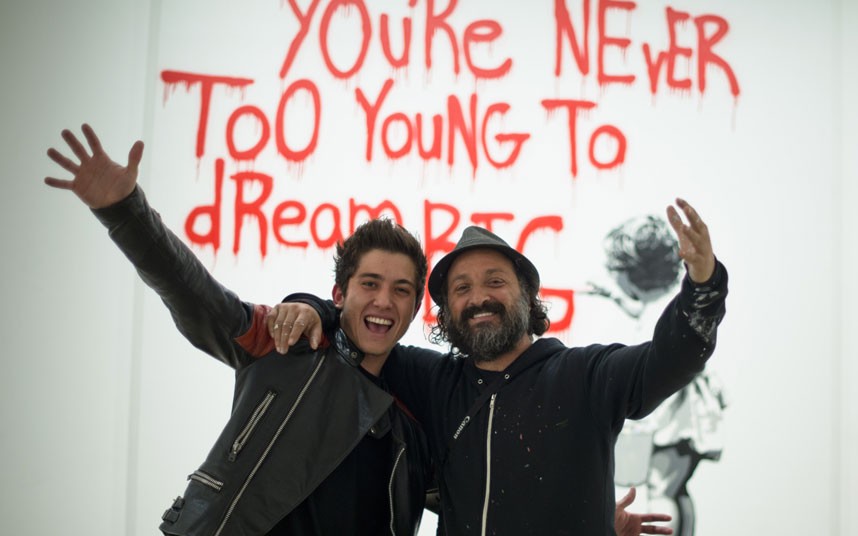 The Final Answer
After all the controversies and all questions coming from everywhere, there is only one logical answer. Mr. Brainwash IS an artist and NOT a carefully designed prank. Yes, his style is a bit different from his fellow artists, in terms that he's not actually involved in the physical creation of his artworks, but, without a doubt, he's one the most creative individuals in the world. Putting the questions of art aside, he's extremely successful businessman and a very active purchaser of Los Angeles real estate.
He is represented by Hang-Up Gallery, Ministry of Walls, Puccio Fine Arts in New York, Galerie Fluegel-Roncak and Puccio Fine Arts in Water Mill.
Mr. Brainwash currently lives in Los Angeles.
Feature image: Mr. Brainwash - portrait. Photo via sunglasshut.com