Duncan Jago, better known as Mr. Jago, comes from the UK, and is considered a veteran of the street art and design community. Coming from the world of graffiti, the artist started his studies in illustration, but soon turned his interest to more abstract colorful paintings. He had the honor to design and create artwork for some of the biggest international brands. His works represent the deepness and latitude of nature, and its interconnection with people through intensity of colors, textures and forms. Jago dismissed strict rules, shapes and norms and chose leisure flow of paint to determine his style, which emphasizes the problems of warfare, biosphere, and climate change that surround us.
From Mimic Work to a Renowned Painter
Mr. Jago was born in 1972, in a small village of Eye in Suffolk, where he spent his childhood surrounded with animals and beautiful landscapes. From an early age he was addicted to sketch books like comics. He graduated illustration at the University of West England in Bristol in 1998, which he thought would help him find his own aesthetic. Instead, considering his tutor's tips, he decided not to be deterred with previous experience, so he started experimenting with new methods, and finally found himself in the abstract world. The author is one of the pioneers, beside Will Barass and Nick Walker, of the Scrawl Movement.
From an early age he was addicted to sketch books, especially comics and graffiti characters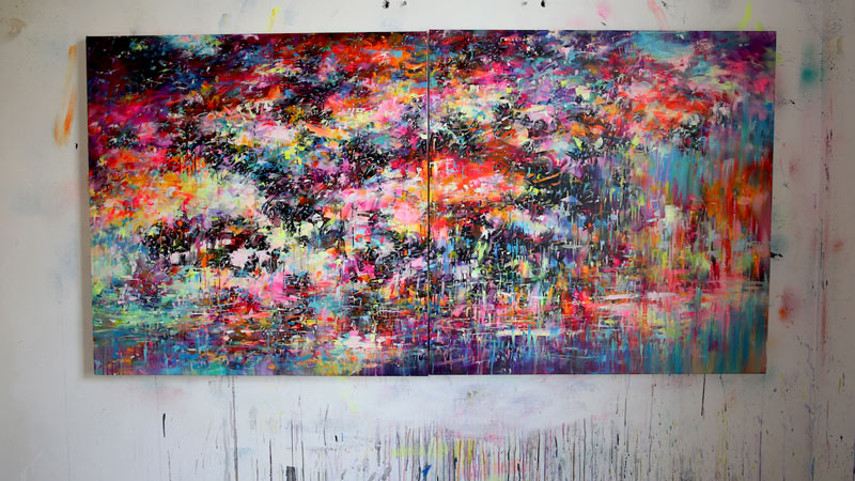 Style and Inspiration
Throughout 1990's and early 2000's, Jago's orientation has shifted, and gradually developed towards abstract art. During this transition robot and droid-like figures were constantly part of his creativeness. Even today when using oil, acrylic colors, or spray paint for paintings and canvases, he thinks there are some elements that remind on his previous pieces. Regardless of the number of people artist met during the years, he strongly believes that the biggest inspiration for him comes from nature and environment with all their adversity. Mr. Jago has taken spray paintings to a completely new level, giving them a sophisticated and expressive look that is hard to forget. The similarity of his prints with the outer space, allow viewers to enter parallel universe where everything is different from what it seems like. Painting is a therapy which Jago uses to deal with his anxiety and everyday worries. For him the best thing about abstraction print is its accessibility and openness.
The similarity of his works with the outer space, allow viewers to enter parallel universe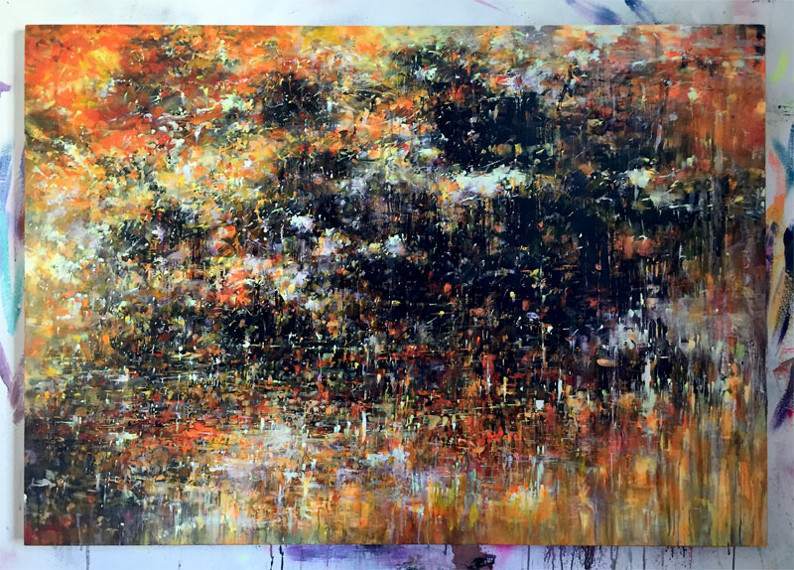 Message to the World
By using trembling and sensibly composed colors that leave striking and evocative effect, the author wants to influence the society on a much noticeable way. His mission is to make the audience environment friendly and socially responsible. His prints, paintings and other artworks have been displayed in numerous editions around the world like at the Don Gallery in Milan or at the Gallery 1988 in San Francisco. In 2016 he also participated in a group exhibition called W/K Show at the Fousion Gallery in Barcelona. His show from 2015 named NIL, that was held in London, represents two opposite processes, the beginning and the end, the start and the finish.
Mr. Jago lives and works in Bristol, UK
Featured image: Mr. Jago - In front of one of his pieces - Photo via Artelgallery
All other images copyright of the artist