Fun cartoonish characters and cynical sense of humor have become trademark characteristics of Muretz a street artist from Brazil. Unlike his fellow artists from Brazil who are known for the complexity of colors and shapes, Muretz is known for his use of black and white colors and simple yet effective strokes to create an array of characters often placed in awkward situations. In his works, Muretz focuses on content and ideas he wants to transfer while leaving his style simple, clean and uncomplicated.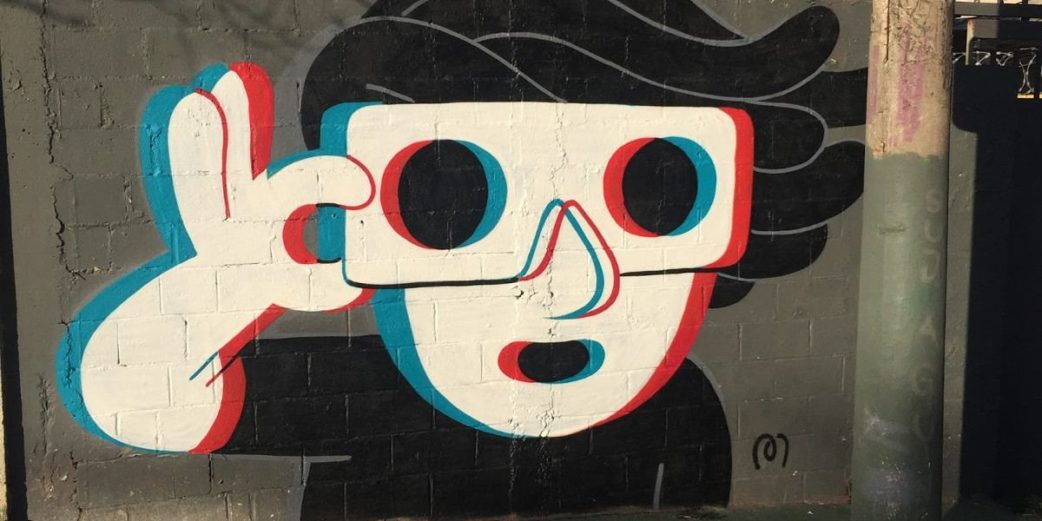 Muretz Original Street Art Style
Mauro Golin aka Muretz was born in Sao Paulo in Brazil. At first, the artist studied Social Communication in Brazil but later on decided on an art career and enrolled into a Design program at Central Saint Martins University in London. After graduation, the artist began painting on the street and people's positive reactions to his works encouraged him to peruse a street art career. Soon he began traveling all over the world joining street art interventions that always reflected on the life of the surrounding community and its customs. Though he spends his days painting on the streets of mainly Sao Paulo and London his influences can be found outside of the graffiti and street art world, in cartoons, children's books and illustrations that he loved since his childhood.
Muretz continuously searches and finds ways to add a touch of humor to his artworks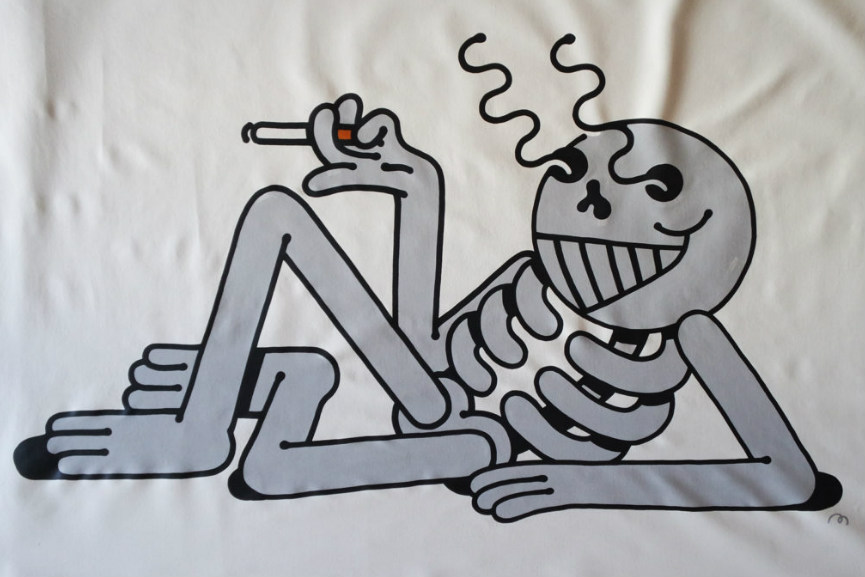 Adorable Characters Wondering Through Every Artwork
The simplicity of style and recognizable characters have always been the differenta specifica of the artist's work. Conspicuous black and white subjects often reminiscent of skeletons are capable of transferring a variety of emotions and scenarios thus making people easily relate to them and their adventures. Muretz transfers the subjects and situations straight from his imagination to the streets and gives a fun and humorous portrayal of our everyday lives. The artist scenarios are often morbid and unusual but with a humorous undertone that provides a lighter atmosphere to his pieces. 3D glasses similar to those used to see the first 3D films are also a recurrent topic in the artist's works. They are modeled based on the glasses the artist keeps as decoration at the space of his home and are definitely one of the artist's and the crowd's favorite motifs.
Conspicuous black and white subjects often reminiscent of skeletons are capable of transferring a variety of emotions and scenarios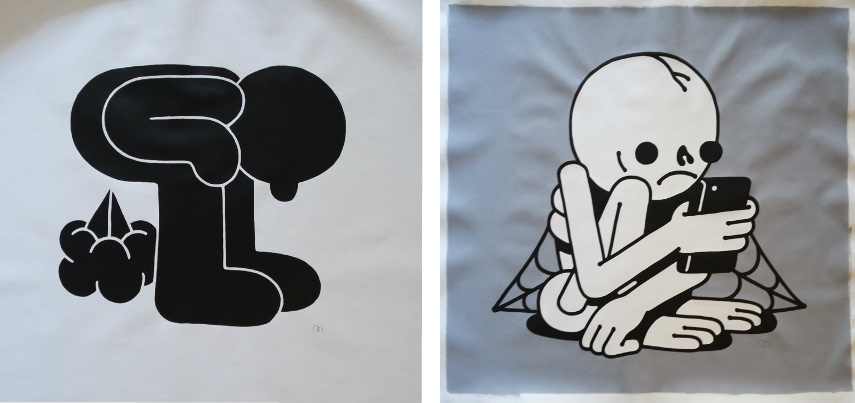 Expansion to Print Screen and Paper Works
In time the artist began creating a series of studio works including drawings, screen prints, and riso prints. These small scale studio artworks future the array of his trademark subjects adapted to a smaller scale. Muretz's original artworks and prints were exhibited all over the globe and were on view in numerous exhibitions in Sao Paulo Barcelona and Madrid. His works were featured in TV cartoon series, newspapers and magazine editorials but despite his increasing popularity the artist newer stopped embellishing the walls all over the world.
The artist lives and works in Sao Paolo, Brazil.
Featured image: Muretz - Portrait
Images courtesy of Montana gallery.