Nadib Bandi is a Swiss graffiti artist who often calls himself abstract graffiti constructivist or post-graffiti artist. Just like many of his fellow street artists, he started from scratch, which means simple tags and vandalism, but he managed to reach a high artistic level when it comes to his murals and also drawings, paintings, frescos, and sculptures. His unstoppable passion, creativity and productivity have made him one of the most prolific aerosol artists through Europe and even further.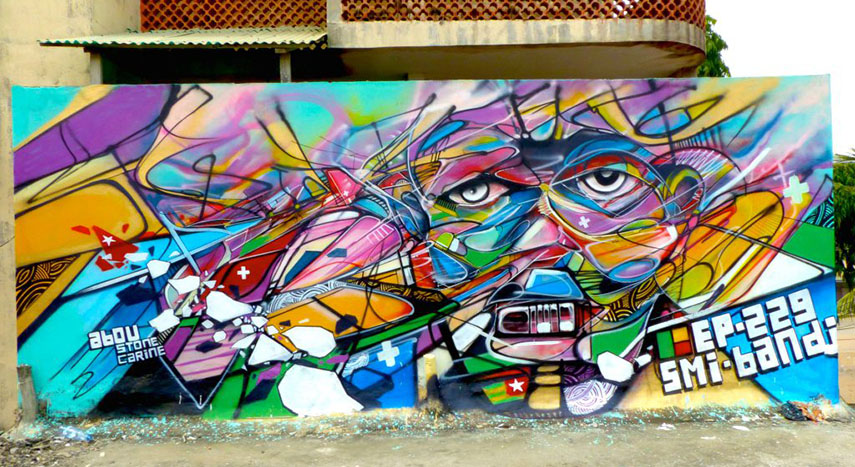 Early Graffiti Influences
Nadib Bandi was born in 1980, close to the French border region of Geneva. He was very talented and successful at drawing since his early childhood and eager to learn more about visual arts. His first experiences related to graffiti happened in the mid-90s, which was the golden era of Hip Hop culture in France. Because of this particular situation, the European graffiti scene was a very fertile ground for young street artists. Bandi has begun his practice of Graffiti influenced by these traditional, old-school works. However, in the 90s, the street art scene in Europe was refreshed and enhanced by the arrival of the first magazines. Around the same time, the artist moved to Paris and started using several different tags for his pieces but he eventually chose the name Bandi. The life in Paris in the late 90s was very chaotic yet amazingly exciting and for Bandi aerosols quickly became more than a means of self-expression – they became his true, genuine lifestyle.
Bandi's first experiences related to graffiti happened in the mid-90s, during the golden era of Hip Hop culture in France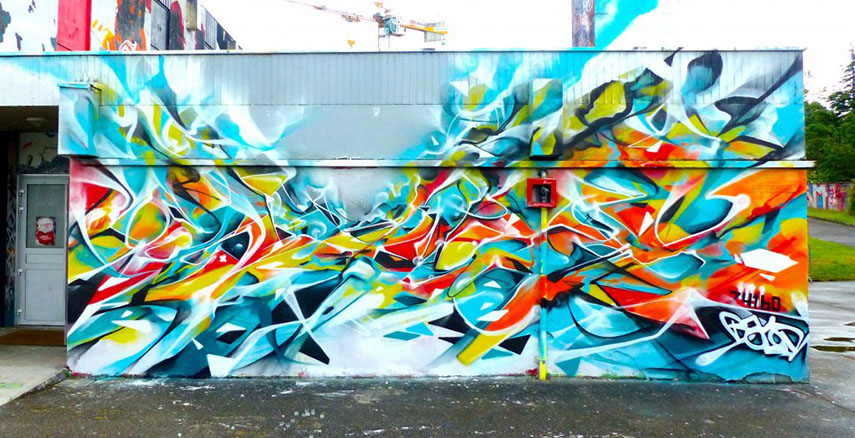 Bandi's Admiration of Abstract Paintings
In 2000, Bandi moved to Marseille, where he started painting urban areas as well as railway architecture and trains. However, this was the time when Bandi also became impressed by abstract paintings, especially lyrical abstraction style. It was in Marseilles that Bandi got engaged in pictorial experimentations and inhaling fine art into regular graffiti pieces. He traveled often to Marseille, Geneva and Barcelona and he became amazingly prolific, able to transform any color or idea into a splendid work. After he has returned to his home region in Switzerland, his work has become much more advanced work because he already develops his unique style. Since 2012, Bandi has participated in numerous exhibitions around the world. His first solo exhibit, under the name Swiss Dream, was opened in June 2016 at iDRoom Windsor Art Hotel in Geneva and it features a splendid 3D graffiti installation, which brings a new dimension to Bandi's work.
Bandi's first solo exhibit under the name Swiss Dream was opened in June 2016 at iDRoom Windsor Art Hotel in Geneva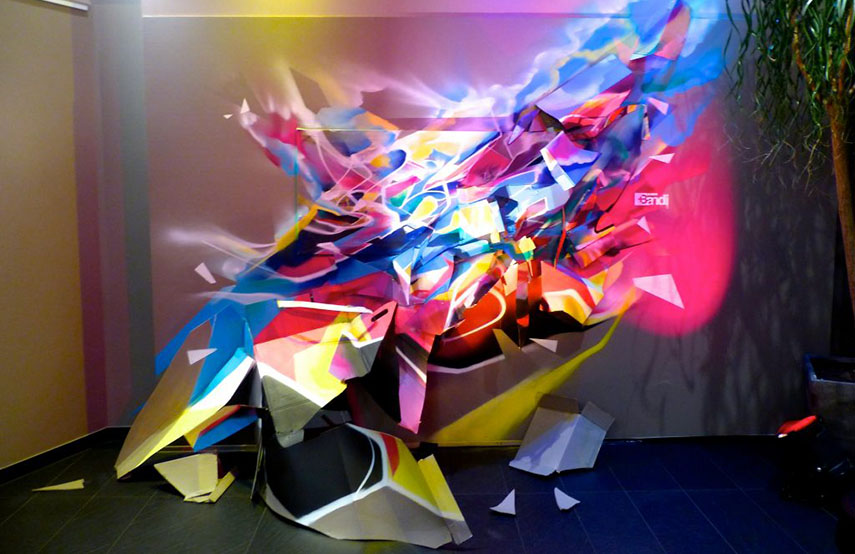 Exporting Authentic Aerosol Art
Since 2005, Bandi has been travelling often and showcasing his paintings and installations internationally - in Mexico, the USA, Canada, India, even the Middle East, and Africa. This worldwide success has given him a lot of energy and enthusiasm, because the nowadays world which is permanently changing has embraced the beauty of his authentic ghetto street art, which he considers pure graffiti or even better graffiti without any compromise. At the same time, he is trying to reach people who are not so much into street art by his canvas-based works.
The artist is represented by IDroom Gallery and Magazine.
Nadib Bandi lives and works in Geneva, Switzerland.
Featured image: Nadib Bandi - Springize (Detail) - image via streetart.limited.com
All other images courtesy of the artist.