NALL, whose given name is Fred Nall Hollis, is an American multidisciplinary artist from Alabama. He makes sculptures, copper plate line engravings, carpets, porcelain modeling, photography, and quilting. This talented artist also does painting, flower decorating, etching and carving. He is well known for using found objects, seashells, driftwood, and random finds from flea markets. Everything he collects he later uses in his artwork, blending it perfectly into in a coherent item. NALL is celebrated worldwide, for his ability to adorn and embellish the physical space, and for his strong vigor that leads him to imaginative and ingenious creations.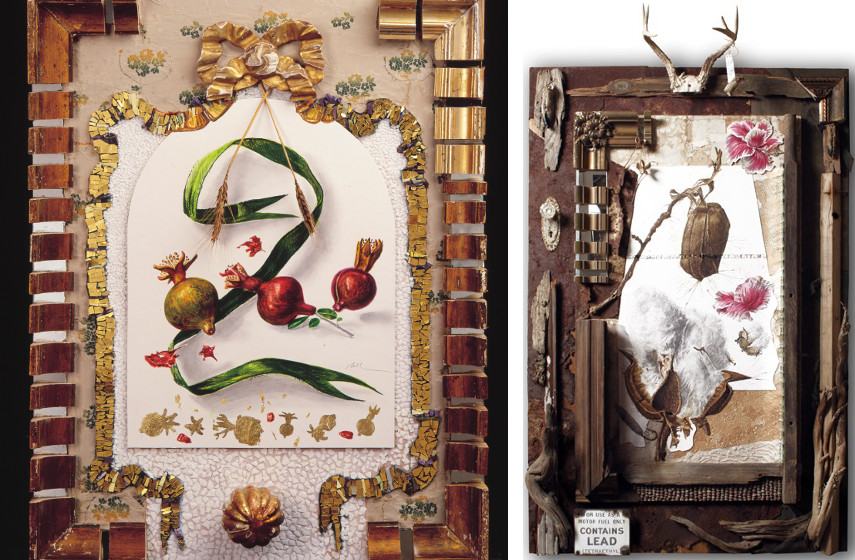 Education and Adventure Travel
NALL is strongly connected to his roots in Alabama, and his love for his hometown of Troy influenced many of his works. He attended the University of Alabama, where he graduated with BA majoring in Art, with a minor in Political Science and Psychology. The turning point in his life was the acceptance to the prestigious school of Fine Arts in Paris, the Ecole des Beaux-Arts in 1971. His life changed completely, as he was spending days practicing art and being associated with painters, musicians, and other creative minds. His mentor was Salvador Dali, who advised him to seek for inspiration from his own personal experience. His wise words moved him to another level of contemplation, and he started exploring the depths of the mind, symbolism, national folk from his Alabama, and from various places around the globe. His interest in culture and myth, also folklore, customs, and traditions, enriched his personal feeling of aesthetics. NALL used motifs from Japanese drawings, American psychedelic art, and impressionism in general. He spent those years perfecting his drawing skills and working on black and white pieces. After the Ecole des Beaux-Arts, he got a serious case of wanderlust and traveled to Africa, Middle East, and India. When he visited Beirut in 1974 he was astonished by Byzantine art. He absorbed the beauty of his surroundings, architecture, and spirituality. His new themes were geometrical shapes combined with natural elements, such as flowers or fruits.
NALL explores the depths of the mind, symbolism, national folk from his Alabama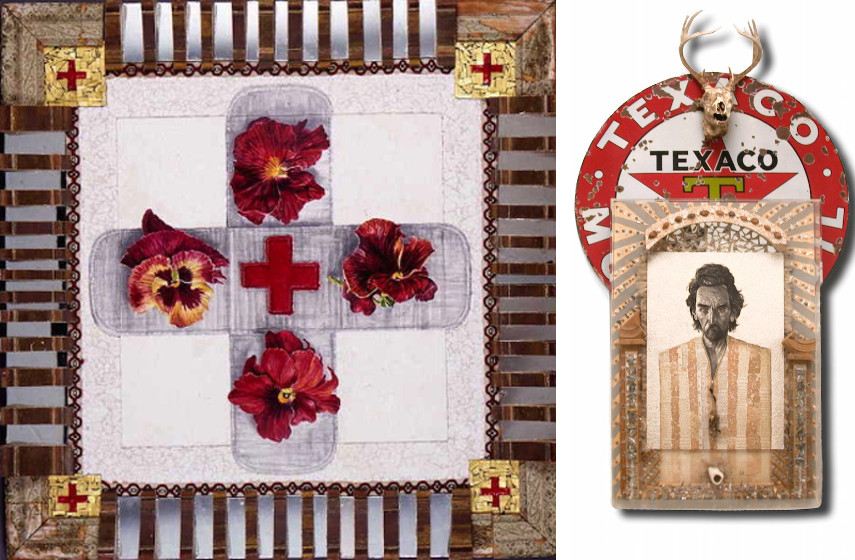 Something Old, New, and Different
After completing his exotic traveling adventures, NALL returned to France, where he bought his first studio in Vence, France. His studio is located in the hills of Alps, surrounded by olive groves and Mediterranean flora and fauna. He created N.A.L.L. - Nature Art & Life League organization. Surrounded by wonderful nature, soaked in sunlight, his association offers many workshops, training and artistic courses for a young artist, college students or individuals who want to pursue art. While studying there, students can also enjoy the rich cultural life through many exhibitions, conferences, and creative gatherings. Back in the United States, he opened a studio in Fairhope, Alabama. There he collects his precious market finds, exotic etchings, line engravings, Alabama quilts, paintings, drawings, paint and artistic tools. He is known in the art world for his spirited personality and his ability to work with various materials. NALL's traveling adventures influenced his work and he incorporated many souvenirs and cultural impressions in his artwork. His relationships with other artist, friends, and students are very important to him, and he befriended some of the most celebrated artists in the world. He made a special flower cross and portraits for Ringo Starr and his wife Barbara White. Prince Albert of Monaco selected Nall to create for the Grimaldi Forum.
NALL is known in the art world for his spirited personality and his ability to work with various materials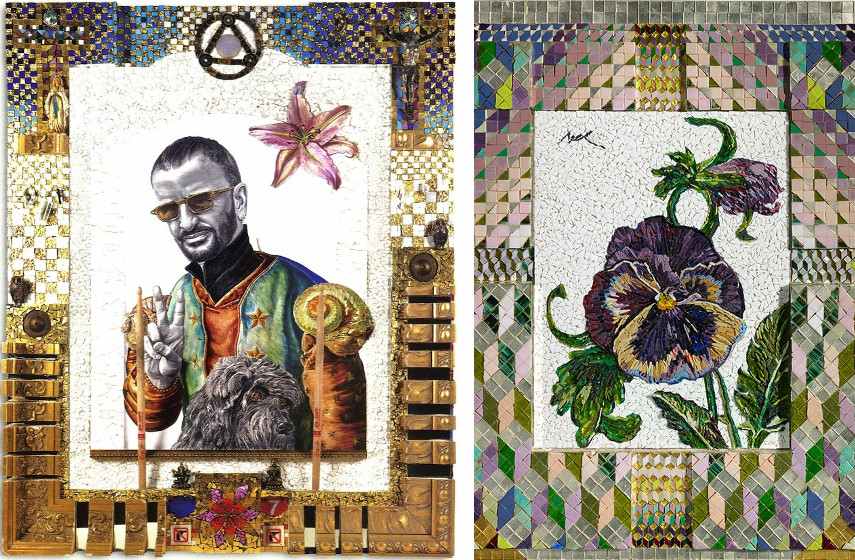 Art is Window to the Soul
NALL's paintings bring a sort of natural wisdom into the room. His flower paintings exude the colorful energy and grace, being done in a smooth palette with nothing painted too bright or too artificial. His flower crosses, inspired by Eastern culture, incorporate folklore elements, and contemporary zest of mix-match ornamenting. His work may seem chaotic to an untrained eye, but beyond all the assembled materials lies the social and political message, the symbolism aimed to provoke inquest. When his pieces seem very turbulent, NALL uses repetitive mosaic patterns to bring order. In his three-dimensional pieces, he uses fabricated materials, such as soda tops, vintage stamps, pieces of clothing. To achieve a balance, he mixes it with natural objects, such as pinecones, pebbles, beans and rice. A touch of luxury is achieved by using Italian golden leaves, that he puts into the frames. It is maybe true that the eyes are the window to the soul, but for NALL, it is more the case that the art is the window to the soul. The fusion of classical and traditional, mixed with religion and symbolism, spiced up with the dash of impressionism, is the reflection his inner life. He is, without a doubt, one of those artists who works outside of the box, and whose unconventional thinking helped him to free his mind and create an unconventionally beautiful artwork.
The artist is represented by Kunzt Gallery.
NALL lives and works between Alabama and France.
All images © NALL
Featured image: NALL - With a Loaf of Bread (Detail), 2015