Widely credited as the founder and key practitioner of video art, Nam June Paik was a Korean American artist known for his radiant, large-scale television installations. In one of his most famous statements from the 1969 manifesto, this installation maker stated the following motivation that served as a drive for his creative endeavours: I want to shape the TV screen canvas as precisely as Leonardo, as freely as Picasso, as colorfully as Renoir, as profoundly as Mondrian, as violently as Pollock and as lyrically as Jasper Johns. Besides pioneering the use of televisual electronic media in art, Nam June Paik was also an integral member of the Fluxus movement. This artist sought new modes of artistic expression and cultural exchange through an intoxicating and unexpected manner[1], offering the audience remarkable experiences via his music, performances and different media installation works. Inspired by the engrossing performances of legendary composer and artist John Cage, Paik was determined to translate electronic sounds to the visual realm. This resulted in his mixed media video art which was so new and original that the American art history has only but a few more innovative authors in its arts arsenal.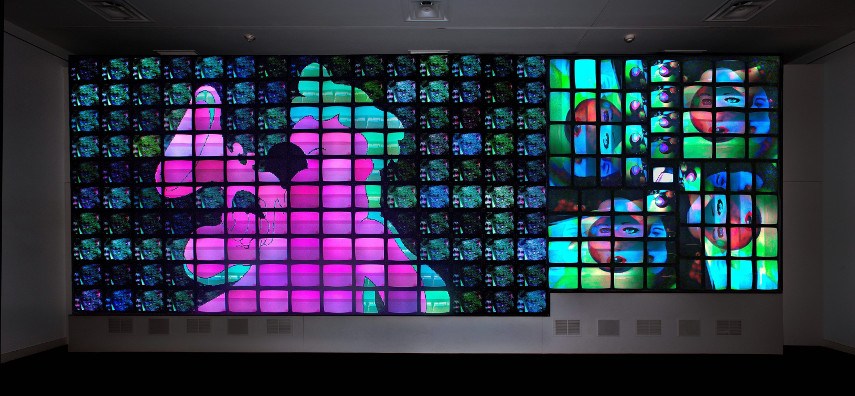 Korean War and Fluxus
Nam June Paik was born in Seoul during the year of 1932 and was the youngest of five siblings. His father owned a major textile manufacturing firm and was making a nice living for himself and his family. As Paik was growing up, he was trained as a classical pianist by the best local instructors money can buy. His parents had high hopes that Nam would grow up and become a global sensation behind a piano, sparing no expense for achieving such a goal. However, historical circumstances suddenly stood in the way of every plan Paik's family was making at the time. In 1950, Nam June Paik and his family were forced to flee from their home because the Korean War had just broken out. Initially, they fled to Hong Kong but later moved to Japan. Nam spent his teen and student days here, graduating from the University of Tokyo where he wrote a thesis on the composer Arnold Schoenberg. After receiving his diploma, the young artist moved to West Germany to study history with composer Thrasybulos Georgiades at Munich University. Here, Paik met the composers Karlheinz Stockhausen and the aforementioned John Cage. These two new friends opened the door for the young Korean who suddenly found himself in the company of such individuals as George Maciunas, Joseph Beuys and Wolf Vostell. From the year of 1962, Nam June Paik was an official part of the Fluxus movement. He would not make too many artworks at the time being, rather opting to listen and learn. Many experts believe that the initial Fluxus experience is what shaped Nam June Paik's artistic vocabulary.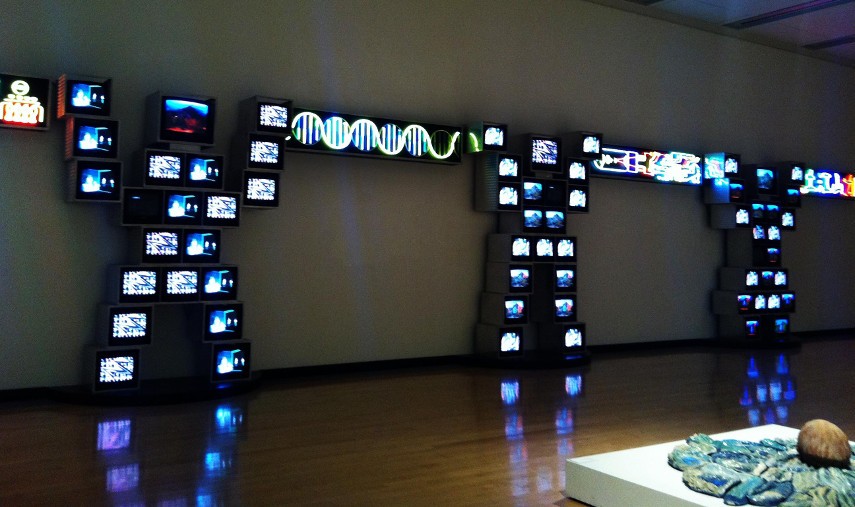 Reinventing Video Art
The main idea behind the Neo-Dada art movement of Fluxus was also Paik's biggest inspiration at the time - John Cage's use of everyday sounds and noises in his sounds. The Korean artist made his official debut in the year of 1963, at an exhibition known as Exposition of Music-Electronic Television held at the Galerie Parnass in Wuppertal, a city in North Rhine-Westphalia, Germany. For this show, Paik scattered televisions everywhere and used magnets to alter or distort their images. As a result, he was left with an impressive installation that was unlike anything else at the time. This was his first television installation piece and was a nice alternative to Paik's previous performances in which he pretended to be attacking members of the audience with scissors. After that successful exhibition, Nam moved to New York City, believing that the New York will prove to open up more opportunities than any other place in the world. During the remainder of the 1960s, Nam would continue to experiment and interfere with the flow of electrons in color TV sets, as well as develop his music and performance pieces. Throughout this period it was his goal to bring the music up to speed with art and literature[2], as well as to make sex an acceptable theme. With these goals in mind, Paik would create pieces such as the Opera Sextronique (1967) and TV Bra for Living Sculpture (1969). In 1974, he coined the term super highway wishing to somehow label his application to telecommunications. The 1980s were marked by a slightly different and more subtle approach as Paik was making piece such as Something Pacific (1986) - a composition in which a statue of a sitting Buddha faces its image on a closed-circuit television. Interestingly, many of Paik's art pieces were surprisingly useful to scientific advancements at the time as his radio and TV sets were used in many new technological breakthroughs.
Although he was the author of many performance pieces, the greatest achievement of Nam June Paik is his work with television sets and installation works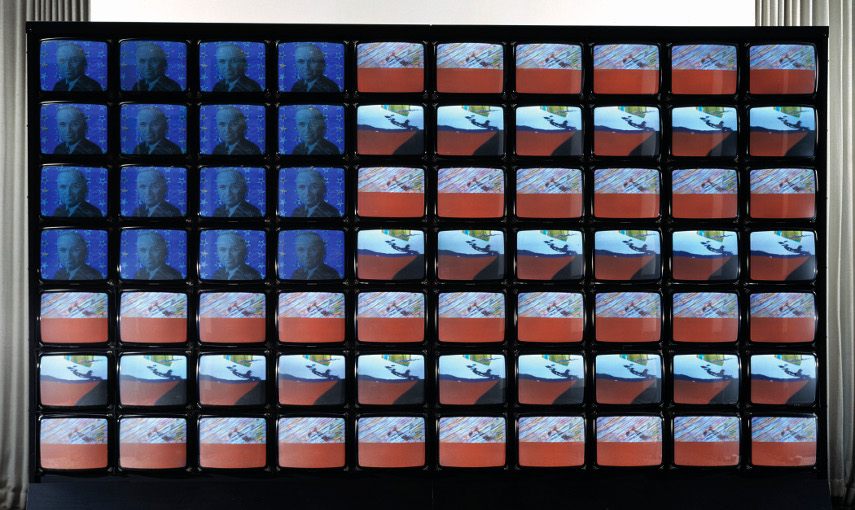 A True Celebrity of Art Making
As he matured, installation works Nam produced were becoming even more impressive. Paik's 1995 piece called Electronic Superhighway: Continental U.S., Alaska, Hawaii is arguably the most stunning example of his cultural criticism ever made. By presenting us with it, the author offered up his commentary about an American culture obsessed with television, the moving image and bright shiny things. Paik was also known for making robot-like sculptures[3] out of television sets. Originally, these were constructed using pieces of wire and metal, but later the author used parts from radio and television sets in order to stay true to his recognizable style[4]. This way of constructing a piece via radio and TV sets never truly changed as Paik rather chose to develop and evolve it depending on the current global circumstances and personal interests. A great deal of inspiration for his art came from the video author Shigeko Kubota who Paik married in the year of 1965. Combining technology and video art, Paik was a treat for any American art museum and American arts gallery. Nam's archive was full of site-specific video art installations which were extremely revolutionary to the 20th-century American art history.
Nam remained a celebrity for the rest of his life, always finding ways to make the headlines either through his installation pieces or interesting facts such as the one he never drove a car in his life because of his religious beliefs. In the year of 1996, Paik had a stroke that paralyzed his left side. He used a wheelchair the last decade of his life, though he was able to walk with assistance. He died on the 29th of January of 2006, in Miami, Florida, due to complications from his one-decade old stroke. At the time of his death, only one thing was certain - the world lost a true pioneer of art making. Fortunately, Paik's artworks and ideas remained behind, offering influence and guidance to anyone interested in pursuing a similar career. If we search for any kind of media in any museum, we'll have a hard time finding a video art piece from American arts as innovative as Paik's art was. Indirectly, Nam continues to inspire many generations of new artists and we do not see that changing anytime soon. Some contemporary authors considered to be influenced by Paik include the likes of Christian Marclay, Jon Kessler, Cory Arcangel, Ryan Trecartin and Haroon Mirza.
Due to his impressive and game-changing contributions to the medium, Nam June Paik is often praised as the father of video art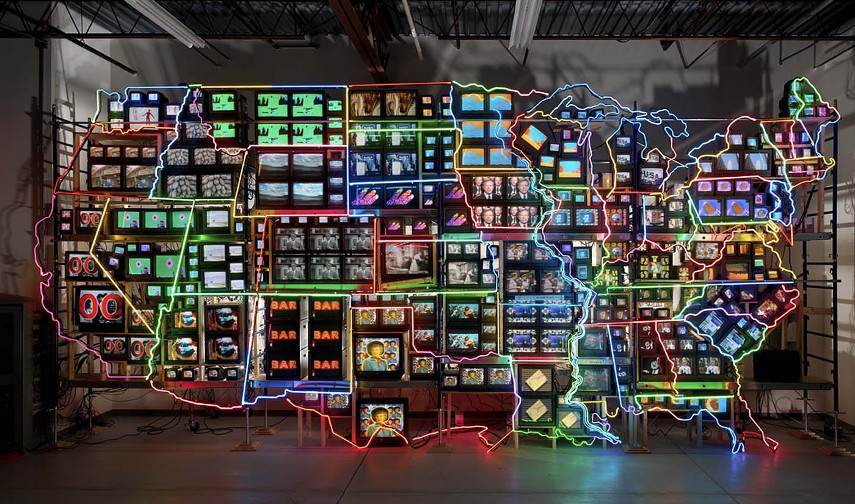 The Pivotal Role of Nam June Paik
Ultimately, the impressive title of father of video art seems to be well earned for Nam June Paik. Such a recognition is only underlined by numerous awards that came his way, including such prizes as Venice Biennale's Golden Lion in 1994 and the Lifetime Achievement in Contemporary Sculpture Award in 2001. Nam June Paik pioneered the use of televisual electronic media in art, recognizing the TV as more than a content delivery mechanism and making some of the 20th century's most impressive installation artworks. Through the prism of his art, Paik imagined the world[5] in which human beings would be connected through radio waves and television broadcast channels, presenting us with his electronic superhighway. And by doing so, we believe Paik managed to achieve what he wanted from the very start of his career - to shape the TV screen canvas as precisely as Leonardo, as freely as Picasso, as colorfully as Renoir, as profoundly as Mondrian, as violently as Pollock and as lyrically as Jasper Johns.
This artist is represented by Galerie Mitterrand Paris.
References:
Hanhardt, J., Nam June Paik: Global Visionary, GILES, 2013
Ammer, M., Nam June Paik: Exposition of Music, Electronic Television, Revisited, Walther König, 2009
Society, A., Nam June Paik: Becoming Robot (Asia Society), The Asia Society Museum, 2014
Harnhardt, J., Nam June Paik: The Late Style, Gagosian / Rizzoli; Bilingual edition, 2016
Harnhardt, J., Ippolito, J., The Worlds of Nam June Paik, Harry N. Abrams, 2000
Featured image: Nam June Paik - Photo of the artist - Image via thecreatorsproject.vice.com
All images used for illustrative purposes only.