Widely treated as one of the most controversial and uncompromising modern photographers to date, Nan Golden is an American artist famed for her personal documentation of alternative life choices in the United States. Throughout her career, she made projects and series based on many provocative topics, highlighted by her takes on drag queens, sexual acts and the downfalls of drug dependency. What makes her work even more exciting and frightening is that Golden fully emerges herself inside the worlds she captures within her frame, believing that only her full-time presentence is capable of providing the most honestly brutal depictions possible out of her chosen subjects.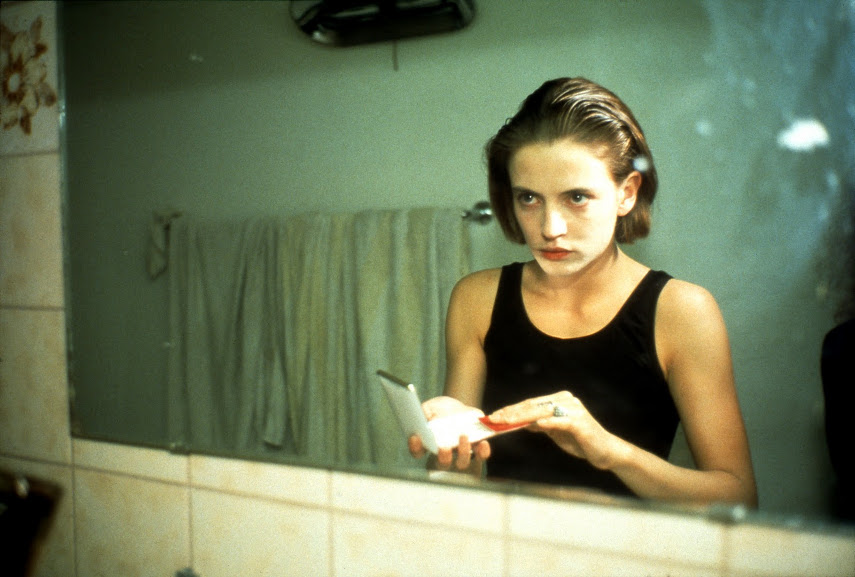 Nan's Drag Queens
Nan Goldin was born in the capital city of Washington but spent her childhood in the Boston suburb of Lexington. A child of middle-class Jewish parents, young Goldin had a father that worked in broadcasting and was a chief economist for the Federal Communications Commission. However, when Nan was about 13-14 years of age, she left home for good. She started to attend classes at the Satya Community School in an attempt to find herself a new place to call home. It was in this school that philosopher Rollo May's daughter introduced Nan to her first camera in the year of 1968. Fascinated by the possibilities of photography, Goldin started to explore what cameras were capable of. Her early influences were found in Pop art movies, Federico Fellini, Jack Smith, Guy Bourdin and Helmut Newton - additionally, she enjoyed both French and Italian editions of Vogue, more precisely, the photos these magazines utilized. Slowly, but surely, Nan's name was starting to find its way to photo pundits around the state of Massachusetts. Her first solo show was held in Boston in the year of 1973 and was based on her documentation of city's gay and transsexual communities that were extremely marginalized at the time. Nan was introduced to this alternative lifestyle by her friend David Armstrong and homosexual communities would become one of Goldin's focal points in terms of her artistic output. It should be noted that she was not the only photographer working with the infamous drag queens - however, most other artists were trying to analyze the gay's psyche or simply expose them to the public, whilst Goldin admired and celebrated their sexuality, as well as their bravery. Concerning this early part of her career, she once stated the following: My desire was to show them as a third gender, as another sexual option, a gender option. And to show them with a lot of respect and love, to kind of glorify them because I really admire people who can recreate themselves and manifest their fantasies publicly. I think it's brave.[1] Furthermore, Goldin also admitted that she was romantically in love with one of the drag queens who were her early subjects, so that put an additional emotional and personal note to her pictures.
Soon, Nan started to live with the drag queens full time, literally becoming a part of their everyday world. And they became a vital part not only of her career but of her entire life which was completely immersed in the queens. However, that special bond was forced to a breaking point when Nan started to go to the school of Museum of Fine Arts in Boston, seeking advancement in the field of photo making. Luckily, one of her professors demanded that she goes back and photograph the queens again. Although this provided Nan with a lot of familiar pleasure, her pictures were ultimately far inferior when compared to her earlier, more honest photos made during her actual long term stay with the gay individuals. Eventually, Goldin graduated from the School of the Museum of Fine Arts, Boston/Tufts University in 1978, with her highlight project mostly concentrating on Cibachrome prints. Much of that work can be associated in one way or another with the Boston School of photography. Following graduation, Goldin moved to New York City, seeking new surroundings, opportunities and challenges.
What launched Nan Goldin into stardom of photography was her full-time project of depicting drag queens in Boston, Massachusetts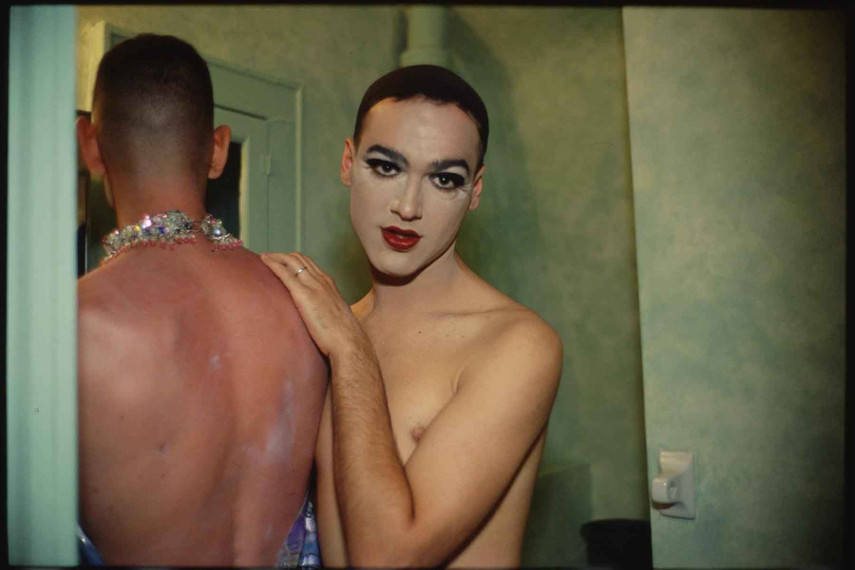 New Life in The Big Apple
When she made her way to the New York City, Goldin began documenting the post-punk new-wave music scene. Yet again she wanted to emerge herself into a subculture, believing that the magical aspect of her earlier work was directly associated with her commitment to spend most of her time with the chosen subjects. Becoming a part of the music scene also meant Nan was in direct contact with the city's vibrant, post-Stonewall gay subculture of the late 1970s and early 1980s, oftentimes considered to be a key time of the homosexual modern history. Furthermore, Goldin was drawn especially to the hard-drug subculture of the Bowery neighborhood - most of these photographs were taken between the years of 1979 and 1986, amounting to an impressive project titled The Ballad of Sexual Dependency[2]. The name of the series was taken from a song in Bertolt Brecht's Threepenny Opera. These snapshot aesthetic pictures were published with help from Marvin Heiferman, Mark Holborn and Suzanne Fletcher. They mostly focus on depicting drug use, violence and aggressive couples, all underlined by carefully implemented autobiographical moments that show a transition through Nan's travels and life. Goldin described this rather personal project as a diary of both herself and her peers, individuals she liked referring as her tribe. Unfortunately, most of Nan's Ballad subjects were dead by the 1990s, as the AIDS and overdoses proved to be fatal for many addicts who were her close friends and often-photographed subjects. Nevertheless, The Ballad of Sexual Dependency managed to document their downfall with much grace and celebration of life despite the dark context and the inevitable ending. Over fifteen years after its release, this project's impact was nodded by The New York Times. The famed magazine described the series as a unique take on the 80s subculture unrivaled by any other photographic piece of documentation. The New York Times also stated that Goldin forged a genre of her own. It should be noted that the legendary Ballad photos were not limited to only one project as these images were combined with pictures from two other series: I'll Be Your Mirror and All By Myself.
Goldin's most famed artworks were assembled within the The Ballad of Sexual Dependency project - this was also her most disturbing series to date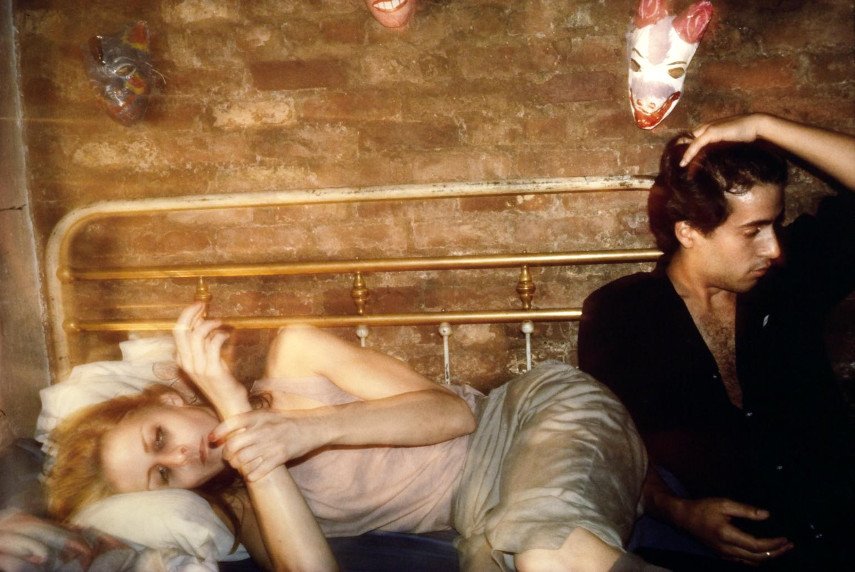 Presentation Choices and Later Work
Over the years, Goldin has always preferred to present her work in a form of a slideshow, believing that the images make full sense only when they are presented as a whole. This way they are able to tell a full story and not only reveal some aspects taken from an entire narrative. Due to this choice of the slideshow presentation, Goldin's photos have often been shown at film festivals - her most famous show was a 45-minute long collection of over 800 pictures displayed. It's interesting that her early works which explored themes of love, gender, domesticity, and sexuality were usually shot with available light, whilst more mature and darker topics of her later career do not share the same characteristic. Another common aspect of Goldin's art is affectionately documentation of women looking in mirrors[3] - this has been a recurring theme in many of her projects as Nan photographed hundreds of subjects this way. These kinds of compositions are intended to present private journals made public - a regular goal of Goldin's portfolio. Her personal relationship with both the subjects and the photos is rather unique, as she explains in her book Auto-Focus - her images are described as a way to document the stories and intimate details of her and those closest to her. This book as well speaks of her uncompromising and unrelenting manner when photographing acts such as drug use, sex, violence and heated arguments. It also references one of Goldin's famous photographs, the Nan One Month After Being Battered - this iconic 1984 photo depicts the artist with severe bruises all over her face. Goldin's work since 1995 has included a wide array of subject matters, with most impressive projects including the likes of the collaborative book with Japanese photographer Nobuyoshi Araki, depictions of New York City skylines, mysterious landscapes and images of her lover, Siobhan. She also garnered a lot of media attention for her pictures of babies that centered on emphasizing parenthood and family life. Goldin has also undertaken an expansion to commercial fashion photography, working usually for Australian label Scanlan & Theodore and Italian luxury label Bottega Venet.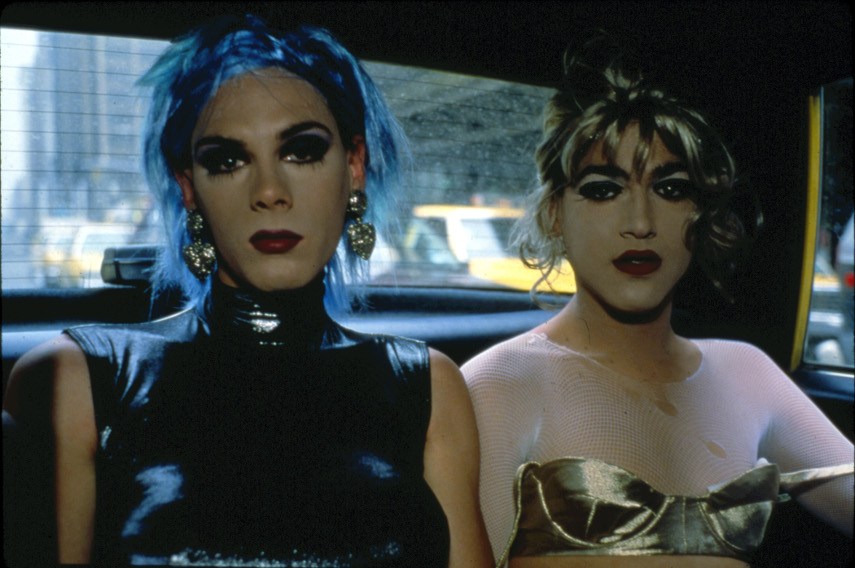 Later Years
In the more recent periods of her career, Goldin seems to have expanded her art to the field of installation. In the year of 2006, her exhibition titled Chasing a Ghost opened in New York and it was the first show to display her installation, a piece heavily relied on moving pictures, disturbing video and a narrative score. However, her earlier projects seem to have stayed the definite highlight of her career and this is intended as in no way disrespectful towards her installation works - her drag queen depictions and The Ballad of Sexual Dependency are simply so fantastic and unparalleled that they are impossible to top. They will surely enter art history as some of the most iconic pieces depicting the subcultures of the late 20th century - if they haven't already made their way into legends.
This artist is represented by Gagosian Park & 75 New York, Gagosian West 24th Street New York, Gagosian Beverly Hills, Gagosian Britannia Street London and Gagosian West 21st Street New York.
Nan Goldin lives and works in New York, United States.
References:
Goldin, N., The Devil's Playground, Phaidon Press, 2003
Goldin, N., Nan Goldin: The Ballad Of Sexual Dependency, Aperture, 1986
Goldin, N., Sussman, E., Nan Goldin: I'll Be Your Mirror, Scalo Publishers, 2002
Featured image: Nan Goldin - Photo of the artist- Image via bedfordandbowery.com
All images used for illustrative purposes only.