Under the influences of her Japanese-European heritage, Nanami Cowdroy juxtaposes foreign and familiar making illustrations that are products of her exotic imagination. Using the pen and ink techniques she depicts strong and deep compositions characteristic for her monochrome palette and recognizable for the signature in Japanese characters stamped in red (Nanami means "Seven Seas" in Japanese). Intertwined detailed objects and composite characters are often connected to the pattern of contradicting elements, such as urban landscapes and underwater creatures or technology and nature, creating the fantastical world of art.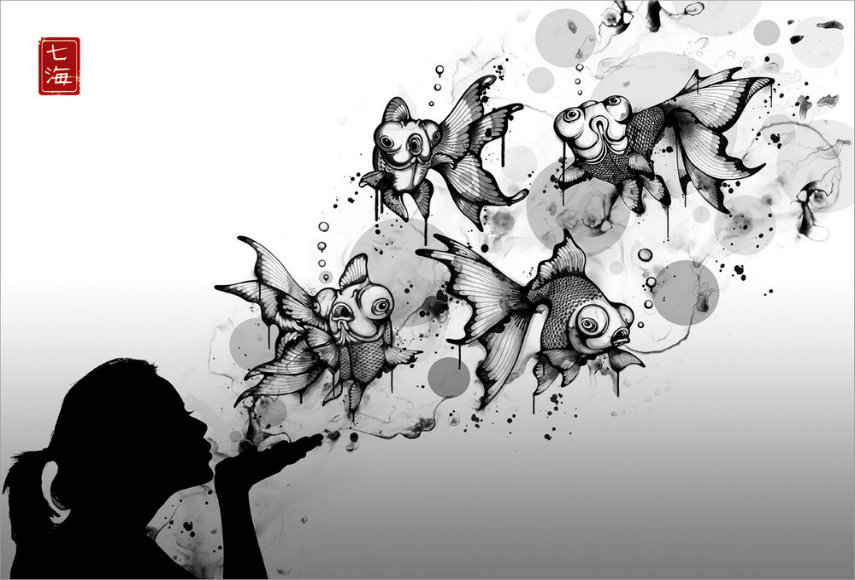 Art as Heritage and Multicultural Influences
Cowdroy was born in Sydney, Australia but she frequently visited her mother's family in Tokyo that highly influenced her early creative development. Coming from an artistic family, that naturally became a part of her commitment and future career. Her mother was an Ikebana teacher whose floral arrangements were very inspirational for a curious young girl and her father's ancestry refers to the painters, writers, and designers. On their home walls were hung oil paintings of Australian landscapes beside Japanese Ukiyo-E woodblock prints and Sumi-E scrolls of bamboo, photos of Sydney in the same frames with Mount Fuji and hand-made clay vases from the Blue Mountains together with the images of cherry blossoms.
The artist is influenced by both Sydney and Tokyo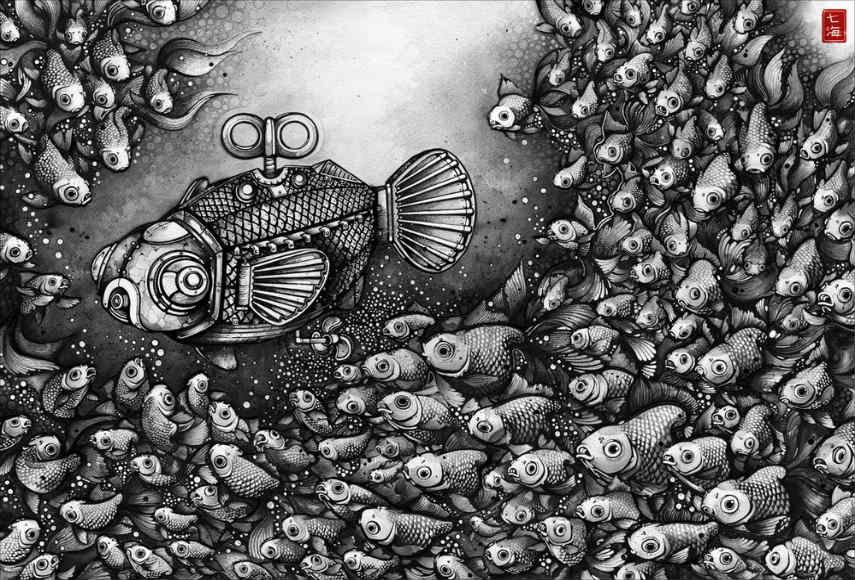 Origami Cranes: Ink Illustrations of Peace and Longevity
One of the most dominant elements in her work is fishes and water creatures that she admires since she was a child. Thanks to the good memory and vivid dreams, the artist easy finds the material and inspiration for her works. Depicting origami Tsuru (paper cranes), a symbol of peace and longevity, she remembers her grandmother who taught her how to make these paper creations. Having a problem with patience, but also hand and eye coordination, she found more convenient to transfer the origami pieces onto her drawn works. According to an old tale, whoever folds a thousand cranes, will have their heart's wish come true. She combines her black and white palette with the shades of gray on a white paper.
"Whoever folds a thousand cranes, will have their heart's wish come true"
Detail as a Driving Force for Nanami Cowdroy
Growing up in contrasting cultures, the artist considers her childhood as a formative factor. Through her illustrative style and mixed media compositions, she strives to stay true to her artistic instincts. Trying not to do preparing sketches, her final work is a reproduction of things she sees in her mind and a kind of visual evidence of her thoughts and feelings. Encouraged and inspired by disorder, the driving force of her creative expression is in detail that gives her great sense of freedom and possibility to make hidden things, seen only if looks closely enough. Her work has been exhibited in numerous group and solo shows in Australia, Canada, the United States and the United Kingdom. She collaborated with global brands such as Smirnoff and Nissan Micra, creating characteristic design for their products.
Featured image: Nanami Cowdroy, Image via justinfox.com.au
All images copyright of the artist