Does the artist have ethical and political responsibilities in this world of cruelty and so much suffering? During entire career, Nancy Spero was devoted to the search for an answer to this question, struggling with the brutality of human race. As a pioneer of feminist art, her work was directed against the abuse of power, Western privilege, and male dominance, processing the subject matter from both current and past events, as the oppression of Jews and the Holocaust, the torture of women in Nicaragua or horrors of the Vietnam war. Spero's enormous courage and great imagination moved across painting, collage, printmaking and installations, creating a distinctive piece of art that she once called a "peinture feminine".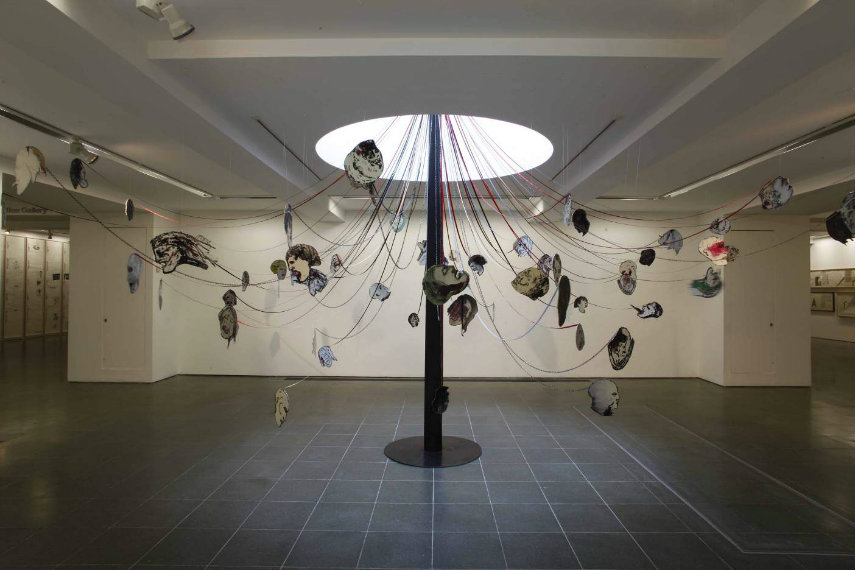 Early Career and Marriage with Leon Golub
Spero was born in 1926, in Cleveland, Ohio, but she grew up in Chicago, where she graduated from the School of the Art Institute of Chicago. Continuing her education in Paris, she studied painting at Ecole Nationale Superieure des Beaux-Arts and at Atelier of Andre Lhote, early Cubist painter, and critic. In 1950, Spero returned to the United States and married Leon Golub, a fellow artist from Chicago school of art. Finding European society and atmosphere more varied and inclusive to artists, the couple lived in Italy, and later in Paris, creating and bringing up their three children. Inspired by Etruscan and Roman frescoes and sarcophagi, her style was the closest to Abstract Expressionism. During her Paris years (1959-1964) she worked on series of Black Paintings, depicting androgynous figures and scrawled text fragments incorporated into the themes of mothers and children, lovers and prostitutes.
Nancy Spero lived in Paris where she created series of Black paintings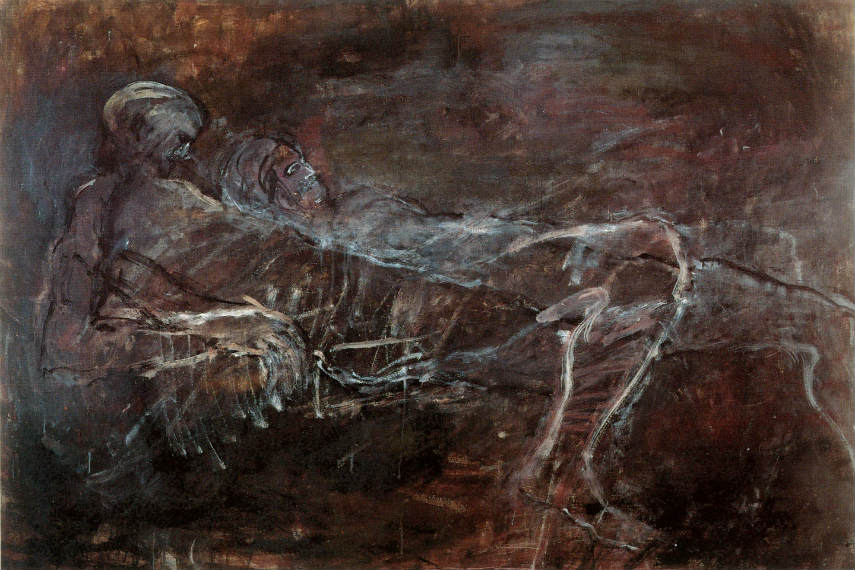 New York as the Final Residence
In 1964, they returned to the United States, in New York where she remained for the rest of her life. Deeply affected by the violence and atrocities of the Vietnam war, Spero began her War Series (1966-1970). Abandoning the oil on canvas, she chose gouache and ink on paper that allowed her to create more rapidly, making the "angry works, often scatological, manifestos against a senseless obscene war; a war my sons could have been called up for, though they were very young. These works were exorcisms to keep the war away." One hundred and fifty pieces depict horrors of war – bombs, serpents, fire, swastikas, atomic mushroom clouds, and among them, the most characteristic is anthropomorphic helicopters as the birds that destroy from above.
As one of the first feminist, Spero was active in several movements, as Art Workers Coalition, Women Artist in Revolution and even was a founding member of the first women-only cooperative gallery, A.I.R. (Artists in Residence). From 1971 to 1972, she was committed to her series of scroll works named Codex Artaud, distinctive collages that use juxtapositions of text and image with the horizontal and linear partition of elements that recall hieroglyphics, showing the parts of text taken from Antonin Artaud's writings. The sum of her activism and female artists' empowerment, found its expression in Spero's encyclopedic work Notes in Time on Women (1979). On the 210-foot-lons scroll, she was charting the female status throughout history, representing figures of different women who move among quotations about misogyny in the canon of male European philosophers.
Spero was among the first feminist artists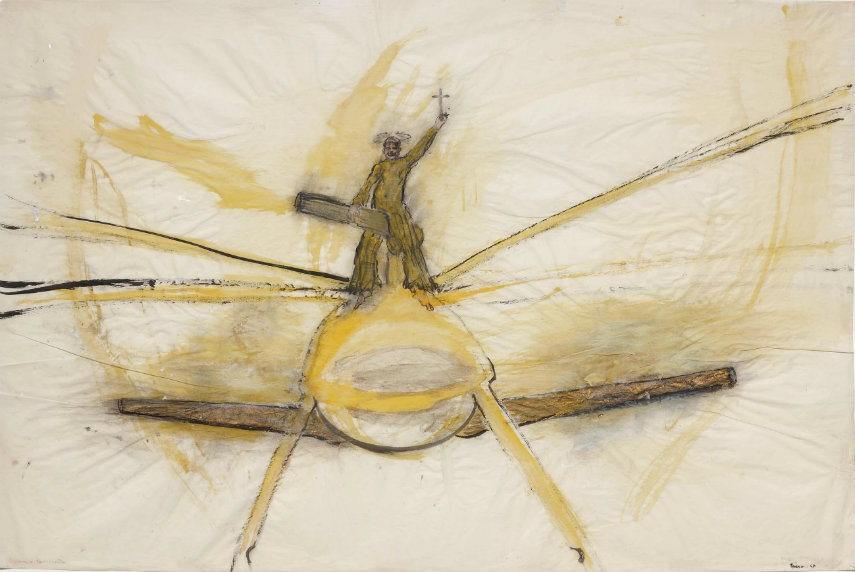 Feminist and Pacifist for the Rest of Her Life
From the 1980's onward, she continued to make a powerful influence on the younger generations of artists, constantly working with the strong sense of hope, despite problems with health during the last years of her life. Nancy Spero died of heart failure in New York on October 18, 2009. Never utopian, her work varied in mood from lacerating and shocking to playful and comical. Her figures co-exist in nonhierarchical compositions on monumental scrolls, visually reinforcing principles of equality and tolerance. Throughout her entire career, Spero performed from the radical pacifist and feminist position, highly dedicated to her political, social and cultural convictions, constantly asking the questions and challenging injustice and violence.
Featured image: Nancy Spero - Untitled (detail), Image via rachel-and-yoga.blogspot.com