At first glance, one would think that Naoto Hattori's paintings were created digitally. Only when inspected up close you would be able to see that his work is actually created with acrylic paint with a perfect technique this artist has mastered over the course of his career. His artwork is full of strong psychedelic influences and represents a contemporary version of the Surrealism movement. Drawing much inspiration from the legendary Salvador Dali, but also sharing a lot of characteristics of his modern colleges such as Marion Peck and Mark Ryden, Hattori managed to create a world that's both totally bizarre and completely his own.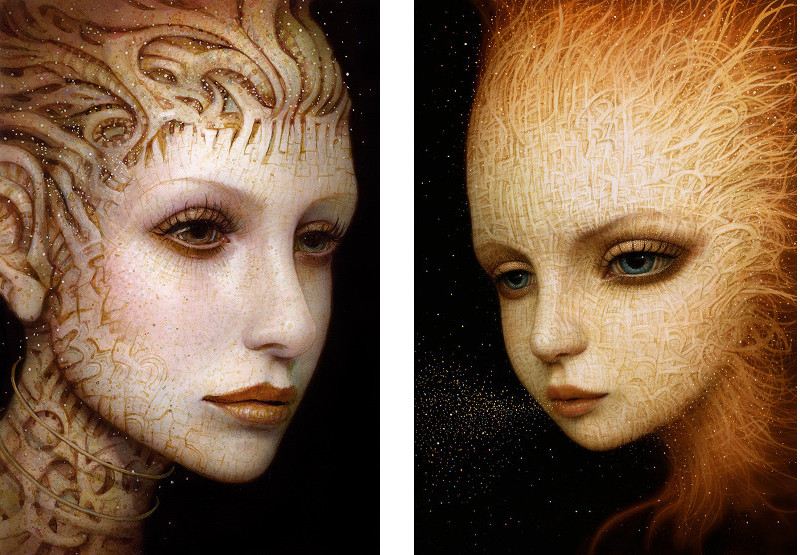 Before Surrealism
Naoto Hattori was born in 1975 in Yokohama, a Japanese city south and not that far from Tokyo. His first contact with art was when he was still a toddler and was impressed by street art and graffiti. However, this never attracted him to a level high enough for Naoto to try and do something more then simply doodle on walls. Some time later, in his early teen years, he was introduced to and became fascinated by Graphic Design, so it was only a natural turn of events when he decided to pursue a career in that department. After merely starting to scratch the surface of his future profession in a Tokyo school, Hattori moved to New York and enrolled in the School of Visual Arts. He completed all the exams with flying colors, receiving a BFA in Illustration during the year of 2000. Although Naoto came to New York with the intention of developing his graphic designer skills, ultimately he was provided with exceptional knowledge of art in general. This led him to a whole new world he fell in love with - oil painting. Hattori slowly discovered what this medium was capable of achieving and could not resist but to test himself in acrylic painting. Interestingly enough, this turned out to be his true calling as he discovered he was extremely talented at it. After wrapping up the education he intended for himself in America, Hattori decided it was time to go home and returned to the Land of the Rising Son. However, the dynamics of New York sunk into Naoto's habits and he was not able to stay away from the Big Apple for too long, eventually coming back and settling here permanently. Over time, he managed to establish a personal visual dictionary he applied to his paintings. He explains, I create something from my stream of consciousness, where I see my feelings and those weird creatures. I capture the feelings and try to visualize them, I paint them, and then free the image back into my stream of consciousness again.
Hattori developed a personal visual dictionary of surreal themes
The Character Of Hattori's Paintings
Hattori has a distinct style that is evident in his works. Most of his pieces have a strong surreal note to them, with floating heads, 3-eyed creatures, structures on clouds and other visuals that you would only be able to see in your dreams. Such elements are clear evidence of just how much influence Hattori found in the works of Salvador Dali, probably the most famous surrealist painter of all time. Since we are on that particular subject, inspiration has never been a hard thing to find for Hattori - by his own admission, he has been known to paint for up to 12 hours per day! It has been noted that he annually announces more than a hundred pieces. Putting so much of his heart and time into his work could only end up paying off for Naoto. Of his work, Hattori says: My vision is like a dream, whether it's a sweet dream, a nightmare, or just a trippy dream. I try to see what's really going on in my mind, and that's a practice to increase my awareness in stream-of-consciousness creativity. I try not to label or think about what is supposed to be, just take it in as it is and paint whatever I see in my mind with no compromise. That way, I create my own vision. Naoto managed to give birth to a universe filled with amazing creatures and human-like beings, as well as things that simultaneously resemble both man and monsters. His artwork has served as an inspiration for many aspiring artists who believe themselves to be fit for surreal expression. Hattori was recognized for his work on many occasions, most notably when he received awards from the Society of Illustrators, the New York Directors Club and the Communication Arts. Hattori was displayed in numerous exhibitions, both of solo and group character. He has also been published in many magazines and is often used as a name to represent the focal point of the Pop surrealism art movement.
A big part of Hattori's pieces are the bizarre creatures that inhabit them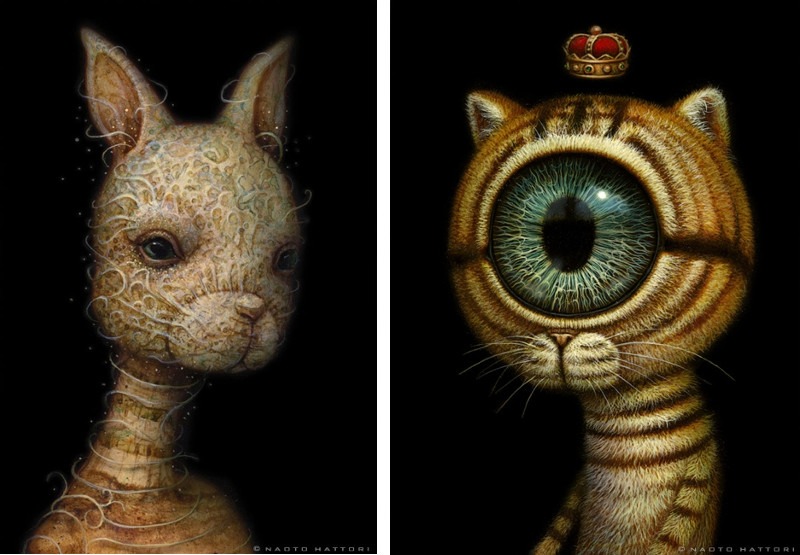 The Weirdness Of Hattori's Art
Naoto Hattori is a true artist of the bizarre. He depicts fantastic creatures, animals, and a world observed by thousands of eyes, unveiling a reality that is totally impossible to define and subject to a constant flowing metamorphosis - very similar to the aforementioned Dali. The method with which he depicts such a universe has been brought to a perfect level, so it's not easy to choose if you will first admire Hattori's technique or the contents of his compositions. His artwork is priceless to the art scene and there is no reason to for us to believe that Naoto will eventually lose his sixth sense for depicting such an odd realm.
The artist is represented by Corey Helford Gallery in Culver City, California.
Naoto Hattori lives and works in New York, US.
Featured Image: Naoto Hattori - Creator Deity (detail) - Photo Credits Naoto Hattori
All Images Photo Credits Naoto Hattori